In my last article I highlighted one of my top 3 picks for 2020 and now it's time to highlight another even more exciting opportunity with even bigger potential – Adveritas (AV1). Regular readers will know that I introduced the Company back on October 11, 2019 – Adveritas: Using Machine Learning To Stop Download Fraud – with the business progressing well since then with additional contract wins. In fact, my confidence in AV1's outlook has grown even more since then that I can call it my number one pick for 2020.
To recap AV1 have developed sophisticated ad fraud prevention software called TrafficGuard that is available as a software as a service model. Using advanced machine learning TrafficGuard runs a series of real-time algorithms that "check" whether a users' app download is fraudulent. In real-time fraudulent downloads are blocked, at the click level, thereby improving ad spend rates and returns.
Ad fraud is a multi-billion dollar problem forecasted to reach US$87 billion by 2022 – it's a massive market. Considering that the global ad display market will reach $236 billion by the same time, this equates to 37% of advertising spend ending up in the hands of fraudsters. This percentage is consistent with the general statistics on the amounts of ad spending that is generally lost, with forecasts of this problem only growing. These numbers begin to quantify the real size of the problem and certainly the business opportunity to anyone that can solve it.
In my original introductory note I discussed some of the various forms of fraud (click farms, bots etc) and how they operate, but here I want to spend more time covering the existing revenue of the business and put it into a global context so we can all understand where this business could be in a very short period of time.
AV1 has several key and important clients that on a global scale are significant and are helping pave the way for mass market penetration. Go-Jek, Rappi, MUV and Plarium are their notable clients but unfortunately many local investors may not be aware of the significance of these clients. Firstly MUV, is owned by the world's largest global ad agency WPP Plc, is UK listed and has a market cap of US$13 billion. This deal gives AV1 its first break into the very lucrative US market. Go-Jek is a $9 billion Google-backed ride sharing business operating across Asia Pacific while Rappi is a billion dollar food and logistics business operating in Latin America.
The chart below shows the most popular downloaded apps in the world – called super apps. Under the category of Food & Drink the Rappi app is ranked number 7 and in Travel Go-Jek is rated number 10 globally, reflecting the significance of these two companies as AV1 clients. Both of these super apps experience millions upon million of downloads and "clicks" run into the billions – all of which AV1 earns revenue on.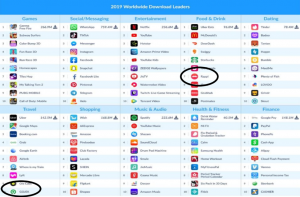 To me the significance is in the global relevance of these two super-apps in the sense that in any industry, competitors are always watching and monitoring what their peers are doing. When Rappi has noted a 25% increase in return on Ad spend as a direct result of using TrafficGuard, I would expect that the other super-apps above and below Rappi have taken notice.
Moreover, when we look at all the other super-apps in all the other categories it is clear that the market is enormous. And I truly believe that the competitive nature amongst these apps, translates to what one business is doing to improve their return on ad spend, the others must follow or be left behind. After all, to maintain relevance in an ever changing and competitive world these businesses must spend big not only on advertising to attract new customers but to also improve their apps and increase their services to a wider audience. That all translates to increased revenue scope for AV1 from each app. When I look at this this image below and see two download leaders circled, tells me that AV1 is only just scratching the surface of a mammoth industry and business opportunity. A path that is only 9 months old and already secured key Tier-1 clientele.
AV1's latest contract win with Plarium is equally as significant in my view. Plarium is a subsidiary of ASX-listed Aristocrat Leisure and with over 1200 employees ranks as one the biggest game developers in the world. Plarium boasts 290 million – yes 290 million registered users and with each new game and each new version converts to millions of fresh new downloads for TrafficGuard to protect. As these businesses grow so too does the contractual value for AV1.
One of the points in the Plarium announcement that caught my attention was the ongoing discussions with other game developers, including other subsidiaries of Aristocrat Leisure. A quick roll through the Aristocrat website reveals other huge game developers – Big Fish Games and Product Madness – as the other subsidiaries. Each boasts millions of users and represents a huge opportunity for AV1. Taking a look at the Top 5 Mobile App Categories and the sheer size of this category shows not only the number of individual downloads that occurs but also how significantly larger it is over other categories. In the third quarter of 2019 a total of 11.1 billion games were downloaded! The nature of this huge market represents a very competitive industry and clearly a need to maximize ad spend and crucially return on ad spend. Channeling marketing spend to the funnels that produce the best return (and not to those littered with fraud) is the primary objective. TrafficGuard is the leading software that does that.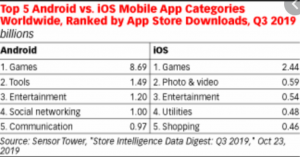 Clearly the problem being solved by AV1is approaching a $100 billion problem and the sheer number of downloads, apps and clients is literally endless. The value that is embedded in TrafficGuard in my view is substantial. Very substantial.
Let's consider that in 2017 Oracle paid over $850 million for Moat, a company that tracks digital ads, where it helps advertisers verify that their ads are appearing where they are meant to be displayed. Other services include tracking to ensure that ads are not appearing next to offensive videos (such as on YouTube). What this shows that there is still a significant appetite for "ad tech" and interestingly, Moat's technology is tracking technology and not primarily solving a problem that runs into the tens of billions. However, TrafficGuard is and solves the problem in real-time, with technology that is not easily replicated. Tracking (in the tech world) is a lot easier to replicate then it is to replicate real-time AI software based on billions of historical data points. The value of the technology is substantial and grows over time as the data set grows. Look at the value built by Volpara Health (VHT) in its AI algorithm built over millions of breast density scans. Replicating this technology is not a simple, quick nor a cheap exercise. That's why large tech companies buy these smaller players rather than create their own.
Now, if TrafficGuard's technology and capacity is as great as suggested, I would expect to see the Company attract key personnel, board members and/or investors. A look at the board reveals Mark McConnell (also a major shareholder), who is the co-founder of Citadel (CGL) – a $250 million IT business. He has an extensive history of investing in innovative technology companies around the world. He was an early investor in AV1.
In addition, the board also possess Renaud Besnard whom possesses a CV that spans Senior Director, Global Marketing at Twitter, Director of Marketing (APAC) for Uber and prior to that 10 years at Google. Could this be a leg in to the lucrative super apps amongst some of the social media or travel categories? Possibly.
Adveritas is a $45 million company that has attracted key experienced and seasoned investors along with talented staff and well-connected board members, solving a near $100 billion problem for the biggest ad spending companies in the world. I haven't even mentioned the potential use of TrafficGuard to help solve credit card fraud either. This is a Company with enormous potential and the first time I introduced the story to readers back in October, AV1 was trading at 15c. Its now hovering around 20c, heading in the right direction and adding new contracts. This momentum at the business level and in the share price show that one is being reflective of the other.
As my top pick for 2020, I can see levels towards 50c and beyond. Considering the valuations placed on other "ad tech", another contract secured with one of the more prominent super apps will go long to significantly lifting Adveritas's profile globally and with that valuations heading over $100 million. On the weekly closing chart below, it can be seen that a two-year long base is close to completion across 21c. This points to 2020 being a breakout year both in the share price but also a breakout year for TrafficGuard on the world stage.