I would like to think that with all the reading, company meetings and research I do each week, there are not many topics that I don't have some basic knowledge about at the very least. OK, I might be too old these days to know where the coolest bar in the city is but I was genuinely surprised by having absolutely no knowledge about "click or bot farms" and the size of the fraudulent online advertising market when the Company visited our offices to teach me a thing or two.
For those that are in the same camp as me and unaware of what click and bot farms are, it is the equivalent of a boiler room in the world of online app downloads and advertising. A picture below shows a click/bot farm, which is essentially a wall of mobile phones where individuals are paid to constantly download apps for which the "organized group" earning a portion of the advertisers payment per download. They do this across hundreds of phones and hundreds of apps, tricking advertisers into thinking the download was real and accordingly pay for that download. The methods to which these organized groups go about tricking advertisers is becoming increasingly advanced and complex.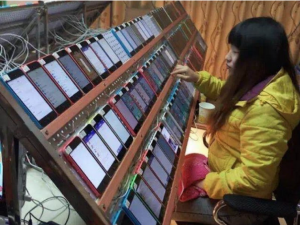 Like me, you might at this point be thinking – a few dodgy downloads – who cares? Here are some stats to really put into perspective the problem;
Mobile advertising fraud is forecasted to cost advertisers US$87 billion by 2022 up from US$34 billion in 2018
AppFlyer analyzed 17 billion app installs across 7,000 apps worldwide and found that more than 25% were fraudulent (a 300% increase)
Mobile marketing analytics firm in 2018 estimated 13.7% of app installs were rejected as fraudulent
DataVisor estimated that for some ad networks, half of their app installs are fraudulent
Google last year, removed 700,000 malicious apps from the Play Store, a 70% increase from the year before.
The chart below highlights US and worldwide fraudulent install rates with it continuing to rise overtime. Clearly it is a huge multi-billion dollar problem.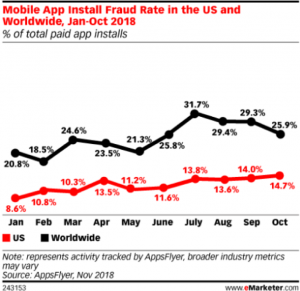 Currently the majority of systems in existence aimed at tackling this issue have adopted an approach of blocking all traffic from ad sites and sources where fraudulent activity is known to exist. The immediate issue with this is that while the fraudulent activity is stopped, it also stops a lot of genuine downloads as well. There is very little sophistication in the ability of these systems to decipher fraudulent activity at the phone (click) level versus the website level.
Adveritas is solving the problem with their TrafficGuard system that uses machine learning to help identify fraudulent downloads using machine learning software and as a result is one of the (if not the) the most advanced system available. By using signals and data that a mobile phone "gives off" every few milliseconds, the system can quickly detect whether you are a real user or a fraudster.
As a result of the sophistication of TrafficGuard, Adveritas has successfully signed several large key customers – Rappi (US$ 1billion food delivery business operating in Latin America), Go-Jek (A US$9 billion Google backed ride sharing business across Asia Pacific), ClearPier (digital advertiser) – and this week adding mobile agency MUV (USA) to the list. This has given the Company its first major inroad into the very lucrative US market.
Rappi this week signed a new agreement that increases its monthly TrafficGaurd subscription fee to US$22,500 a month following increased traffic volumes, bringing Adveritas's total Annual Recurring Revenue (ARR) to $1.6 million.
The power of the TrafficGuard system is reflected in the statistics that have come from the Rappi relationship where return on Ad spend has increased 25% by blocking on average 25% of clicks that are fraudulent (peaks of up to 40%). Using the TrafficGuard system has also saved Rappi's relevant team's time by 30% through the removal of manual analysis of fraud mitigation. Win, win and win.
Several trials are currently ongoing with other users that I personally find difficult to see how it will not translate to contracts, given the level of sophistication of TrafficGuard, the success of existing customers and moreover, the sheer size of the problem.
Taking all of this into account, the future revenue growth of Adveritas looks extremely strong and the latest move into the USA could be the very revenue tipping point that sees the share price receive the market recognition it deserves. Momentum has been building over the past couple of months but still sits well below the high of the year at 19.5c. The weekly chart below shows how early Adveritas still is in this overall growth trajectory.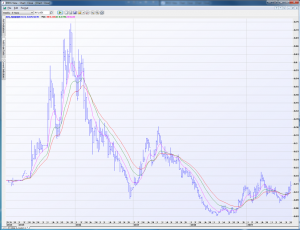 With a market cap of $26 million the question I find asking myself is this another stock that could return multiples on my money? I have to say a resounding yes, in the same vain as MGM Wireless (MWR) when I first brought it to readers attention or Structural Monitoring Systems (SMN) from several years ago. Both of those surged to 500%+ gains. I look at valuations like Dubber (DUB) of $300 million and revenue of $5.54 million and get a glimpse of what Adveritas could be once the market gets excited by its potential. A few more large contracts wins and it could be the next big tech darling with a $100 million valuation not out of the question.
I have written many times before what I look for in opportunities that can return multiples on my money and Adveritas fits almost all of them. Here is a company with earnings momentum, newsflow, low valuation, solving a multi-billion dollar problem with exceptional clients already using TrafficGuard. They have enough cash to last 12 months or more following the latest capital raising and contract wins/extensions so it's a clear runway ahead. The only questions left are how much do I want to own and what speed can it achieve down that 12-month runway? I am willing to back this one as hard as my winners in the past.
NEW – Greg Tolpigin's Million Dollar Trader

Greg has just released his brand new 141-page eBook "Creating Wealth From Explosive Stocks".

Learn how to identify stocks that are poised to increase 50%, 100% and even 500% in value and invest right as they begin to take off.

This educational path to profitable trading cuts away all the theory and hundreds of "historic examples" and uses only real trades Greg has used as a strategist and proprietary trader for the major US and Australian investment banks and continues to apply today.

Join the Million Dollar Trader club today to download your copy of "Creating Wealth From Explosive Stocks" plus watch the weekly video to learn how Greg has applied these strategies to continually identify new opportunities.