Happy Australia Day, Happy Chinese New Year, gōng xǐ fā cái, and hello!
Here's your weekly wrap of technology, innovation, and finance news.
? Robotics
The largest permitted 3D-printed home in the world has been built. The foundations, interior and exterior walls, and utility conduits of the 1,900 square foot house took 48 hours of print time over an eight-day period and cost less than $6,000 in materials. SQ4D, the company behind the robotic construction system, expects future print times to be cut in half.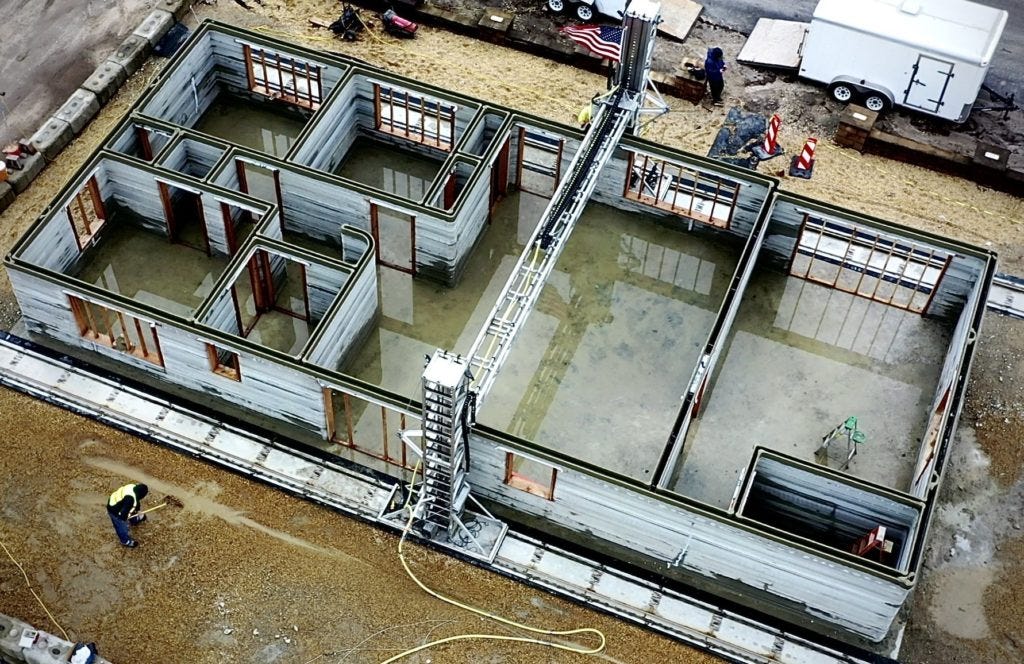 Scientists have created electrified artificial skin that can feel when it's touched. Unlike previous artificial skins, this skin can be 3D printed into any shape such as a finger cover or face mask, which should allow future robots to better sense the environment around them.
Chinese scientists have created a robot worm that can crawl into your brain. The 1mm by 3mm worms are moved by a magnetic field generator and are designed to deliver drugs to a specific location, and possibly for a future brain-machine interface.
The first person in the US to be diagnosed with Wuhan coronavirus is being treated largely by a robot.
The Houston Metropolitan Transit Authority are testing robot police at a cost of $270,000. They're pretty easy to outrun at 3 miles per hour, but they can capture you on camera. I imagine spending more on fixed cameras would be more cost effective.
?️ Surveillance and Privacy
London's Metropolitan Police are going to start using live facial recognition across London starting as early as next month.
The Met says that the roll-out of live facial recognition will start in places where it believes the technology can help "locate serious offenders" and help to tackle crime. It's believed the first use of the technology will begin within the next month. It has not yet been announced where the technology will be used. At this stage it is also unclear whether the cameras used for facial recognition will be permanently deployed to one location or moved frequently around the city.
⚙️ Mobility
GM's Cruise revealed Origin, it's planned self-driving shuttle. The vehicle has room for 6 people and is designed to be used by ride-hailing services. No public test date has been announced; they previously expected to start public tests in 2019 but walked away from that date in July.
Waymo's self-driving long-haul trucks hit the road in Texas and New Mexico.
This week, we'll start driving our Chrysler Pacificas and long-haul trucks in Texas and New Mexico. These are interesting and promising commercial routes, and we'll be using our vehicles to explore how the Waymo Driver might be able to create new transportation solutions. pic.twitter.com/uDqKDrGR9b
— Waymo (@Waymo) January 23, 2020
Aurora, a startup founded by Waymo engineer Chris Urmson, unveiled their self-driving vehicle.
? Biology
23andme is laying off 100 people after DNA test sales declined. Perhaps privacy concerns are having an impact.
The US Government's National Science Advisory Board for Biosecurity (NSABB) is considering increasing transparency on its research on potential pandemic pathogens (EPPPs). This research tweaks pathogens in ways that make them more dangerous to humans.
The discussion is the latest chapter in a debate sparked in 2011 when two NIH-funded labs revealed they had modified the H5N1 avian influenza virus, which normally affects birds, to enable it to spread between ferrets. Such gain-of-function (GOF) experiments could help scientists better anticipate and prepare for pandemics. But critics worried that if such a lab virus were accidentally or deliberately released, it could spark a global outbreak.
US Army researchers are looking at genetic modifications that could potentially protect soldiers from chemical weapons.
Chickens have been modified with CRISPR to make them more resistant to a common virus. The change could boost egg and meat production worldwide while improving animal welfare.
▶️ Streaming
Netflix gained 420k subscribers in the US in the 4th quarter, short of their 600k target. Internationally they fared much better, adding 8.3 million subscribers vs their 6.3 million target. Legendary investor David Einhorn unveiled a short position in Netflix arguing the company will be hurt by increased competition. I'd argue Netflix is in the strongest position due to the global scale its built, and more streaming services will accelerate the shift from pay-tv to streaming which will benefit Netflix.
Comcast lost 149,000 pay-tv customers in the 4th quarter compared to a loss of 29,000 pay-tv customers in the 4th quarter last year. Over the past year the company has lost 733,000 pay-tv customers representing 3.3% of their base.
? Cybercrime
Jeff Bezos' iPhone X got hacked. Here's how to protect yourself. My tip: Don't accept malicious files from Saudi Crown Princes.
According to the UN's findings, the Saudi regime began exfiltrating large amounts of data from Bezos within hours of sending the tainted MP4 video file. FTI Consulting found that six months before the video download, an average of about 430 kilobytes of data came from Bezos' phone per day, a small amount. Within hours of receiving the video, that number rose and the phone started averaging 101 megabytes for months afterward.
Turns out crypto-crime can pay. Here's how the North Korean hackers behind WannaCry got away with a stunning crypto-heist with analysis by blockchain analytics firm Chainalysis.
?️ Space
New Scientist looks at the mission to stop killer asteroids smashing into Earth.
"We've found the vast majority of the 'dinosaur-killing' class of object, which is great, but when it comes to objects just below that size, there are a lot of them out there," says Amy Mainzer at the University of Arizona's Lunar and Planetary Laboratory. We have only found about one-third of the objects we think are capable of flattening a small country, and less than half of the asteroids that could destroy a city. Objects of this size pose a real risk, being both large enough to cause serious damage but small enough to avoid detection.
Earth's oldest asteroid impact was recently found in Australia according to a paper in Nature Communications.
? Gaming & Esports
Activision Blizzard has signed an exclusive multi-year deal with Google that makes YouTube the exclusive home of Overwatch League, Call of Duty League, and Hearthstone Esports, while Google Cloud becomes Activision Blizzard's exclusive cloud provider. Previously Overwatch League was exclusively streamed on Amazon's Twitch as part of a $90 million deal signed in early 2018, though at least one report quotes a Twitch insider calling that the worst deal in the company's history. No financial details of the new deal were disclosed.
Video game giant Activision Blizzard is teaming up with Google in a multi-year deal, making YouTube the exclusive streaming partner for Activision's competitive esports leagues. pic.twitter.com/RhnpVNJiu4

— CNBC (@CNBC) January 24, 2020
Huya became the exclusive Chinese broadcaster of LCS and LEC, the North American and European leagues of League of Legends. No financial details were disclosed. In December Bilibili agreed to pay $113 million for the exclusive rights to broadcast the League of Legends World Championship (the biggest League of Legends event) in China for three years.
TikTok's parent company ByteDance is planning an assault on Tencent by entering gaming. This doesn't seem surprising — last time I was in China I was chatting to a local internet analyst who told me ByteDance was planning on killing Tencent, which came after a year in which they severely damaged Baidu (and BAT became ATM). It'll be a fascinating IPO when they eventually decide to list.
PlayVS is bringing organised Fortnite competitions to high schools and colleges in the US.
⚡ Other Snippets
Researchers have developed a new method to grow nerves over longer distances. The first human clinical trials are expected to start in 2021.
Now researchers at the University of Pittsburgh have found an effective way to bridge such a gap—at least in mice and monkeys—by inserting a biodegradable tube that releases a protein called a growth factor for several months. In a study published Wednesday in Science Translational Medicine, the team showed that the tube works as a guide for the nerve to grow along the proper path, and the naturally occurring protein induces the nerve to grow faster.
Stricter emissions regulations has led to rhodium and palladium prices skyrocketing in the past year – the materials are used by auto-makers to help meet emissions targets.
Amazon has recently filed trademarks for "Amazon Pharmacy" in the UK, Australia, and Canada, signalling a potential entry into those countries. Amazon acquired internet pharmacy business PillPack in 2018 and rebranded it to Amazon Pharmacy in 2019.
WhatsApp remains the top dog for global installs according to the Q4 2019 Store Intelligence Data Digest Report from Sensor Tower. TikTok comes in at #2 with 220 million installs in Q4 2019, an all-time high for the Chinese short video app.
Memphis Meats, a cultured (lab-grown) meat company, has raised $161 million in a Series B.