Here's your weekly wrap of technology, innovation, and finance news.
? Virtual Reality
You may be living in a simulation… if you're a cow. Cows on a Moscow dairy farm have been fitted with VR headsets which have apparently reduced anxiety and improved overall emotional mood in the herd. The second phase of the experiment will evaluate whether VR helps with overall milk production.
The development studio behind Beat Saber is being acquired by Facebook. After investing in VR hardware for years, this may signal a shift towards investing more directly in VR games development.
Oculus also doesn't rule out acquiring more studios. "We're exploring many ways to accelerate VR, and we think next year is going to be an incredible one of VR game launches and announcements," says the post. "We are thrilled to have Beat Games join our team. This is just the beginning."
? Finance
Personal Plug: It looks like my fund had its best month ever in November with a return of +7.6% (preliminary estimate), taking the CY2019 return to +32.6%. Given the strategy is based on taking 3+ year views on companies, monthly returns are largely noise, but it's still a good feeling to have a month like this!
Disney's stock reached an all-time high which VentureBeat attributed to the continued strong growth of Disney+.
New numbers from Apptopia this week confirm the initial launch numbers were just the beginning of the platform's growth; the Disney+ app saw 15 million downloads in the past two weeks, averaging about a million new users per day. Keep in mind: These downloads are in addition to the millions of subscribers that are watching via their Apple TV and Roku devices.
? Chips and Computing
AWS has designed its own datacentre processing chip for the second time according to Reuter's sources. The chip uses technology from SoftBank-owned Arm Holdings, and would reduce AWS's reliance on Intel and AMD for server chips for certain tasks.
? Virtual Voices
New startups are emerging to take advantage of the ability to mimic voices and video. Replica Studios is one that aims to change the gaming industry by creating a voice marketplace. How it would work is voice actors would record and upload their voices, game developers would license a suitable voice from the marketplace, and Replica's technology would provide the dialogue required using a synthetic voice based on the voice actor's voice. The company is currently in private beta mode.
China has become worried about fake videos and has passed a law that will make it illegal to publish deepfake videos and audio without disclosing that they're fake. The law takes effect on January 1, 2020, and follows California passing a law last month that makes it illegal to use deepfakes in political ad campaigns.
? Renewables
The Economist argues that while many places offer subsidies or mandates for wind and solar power, few offer subsidies for energy storage that's needed for those renewable technologies to work best and this should change.
The shift to clean energy will not happen unless it can be more easily stored. It is time for a high-voltage jolt to help an essential technology thrive.
They also look at a potential new technology for grid-scale energy storage: a liquid air battery. Highview Power, a firm in London, has been successfully running a pilot grid-scale plant since 2018 and is now planning to build a commercial-scale plant using this technology.
According to Highview's boss, Javier Cavada, this will have almost twice the storage capacity of the world's largest existing lithium-ion battery, the Hornsdale Power Reserve in South Australia, which can squirrel away a mere 129mw-hr (though Hornsdale has a maximum power output of 100mw, which is twice that of Highview's proposal).
? Artificial Intelligence
Minecraft is being used for an AI competition that is designed to push the limits of imitation learning.
Imitation learning can improve the efficiency of the learning process, by mimicking how humans or even other AI algorithms tackle the task. And the coding event, known as the MineRL (pronounced 'mineral') Competition, encourages contestants to use this technique to teach AI to play the game.
? Computational Photography
As a hobbyist photographer, I still find it amazing that this photo was taken on a smartphone: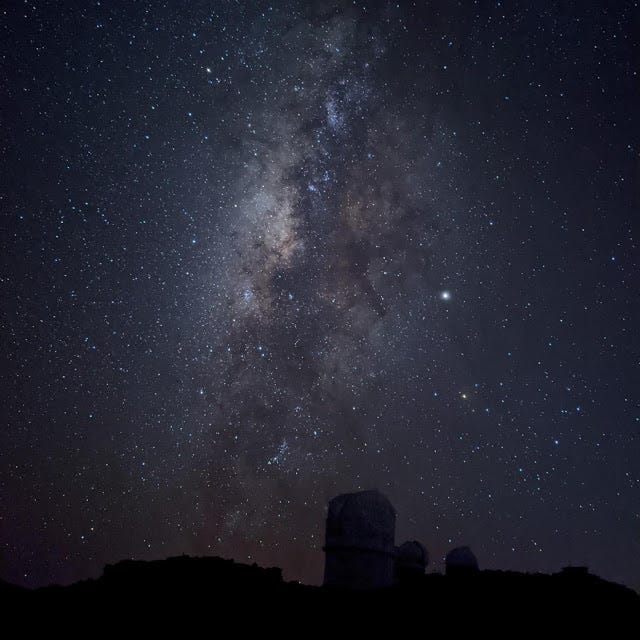 The fact that it's possible at all shows that Marc Andreessen's Software Is Eating the World adage from 2011 has well and truly made its way to photography. Last week the Google AI Blog explained some of the methods they use to make smartphone astrophotography possible.
⚡ Other Snippets
CNBC put out a 12 minute video looking at the current state of self-driving cars.
Jack Dorsey, founder of both Twitter and Square, plans to move to Africa for 3-6 months in 2020, tweeting that "Africa will define the future (especially the bitcoin one!)".
Meaning Jumia, the largest e-commerce operator in Africa, continues to struggle with the company exiting Cameroon last week which comes a week after exiting Tanzania. This means the company now operates in 12 of Africa's 54 countries. Jumia stock listed in April.
Kone wants to usher in a "new era for elevators" by connecting them to Alexa, Spotify, and digital displays.
Massachusetts State Police have been testing ways to use the robotic dog from Boston Dynamics (see Innovation Wrap #8) according to documents obtained by the American Civil Liberties Union.
The Chairman of Virgin Galactic, Chamath Palihapitiya, believes suborbital travel (such as flying to Los Angeles to Shanghai in under 2 hours) may only be 5 to 10 years away. Virgin Galactic listed on the NYSE at the end of October (ticker SPCE).