Liontown Resources – (ASX: LTR, Share Price: $0.145, Market Cap: $222m – coverage initiated @ $0.025 in February 2019 – current gain of 480%)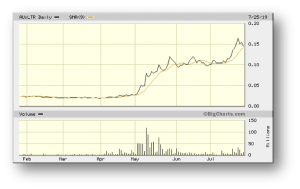 Key Catalyst
Strong initial assays from resource definition drilling at Buldania project in WA have extended the mineralised trend to 1.4km, whilst revenue and production royalties have also been acquired.
Since May 2019, LTR has well and truly broken out of its persistent trading range of the previous 12 months (of between $0.02 and $0.03). Virtually overnight the market has woken up to the significance of the potential scale and high-grade nature of the company's Kathleen Valley lithium project in Western Australia. Ongoing and aggressive drilling activity has recently led to a massive 353% resource upgrade, which is testament to LTR management's conservative, low-key approach. A positive Scoping Study released during January 2019 had already highlighted the potential for a viable stand-alone lithium mining and processing operation, with a DFS on target for release during Q3 2020. Resource definition drilling is also underway at its Buldania Project, where the latest results have enhanced the overall geological understanding and will be incorporated into a maiden Mineral Resource Estimate.
Latest Activity
Buldania Project Update
Over recent times the market's focus has primarily been on LTR's advanced and rapidly-evolving Kathleen Valley lithium project, which has led to a significant re-rating in share price terms over recent months.
LTR's second lithium project, its Buldania project located in Western Australia's Norseman region, is beginning to develop momentum of its own. LTR has this week released initial results from an ongoing RC resource drilling program at Buldania, which has extended the main zone of mineralisation at the Anna pegmatite and provided valuable geological data to assist with modelling and preparation of a maiden Mineral Resource Estimate (MRE).
RC drilling re-commenced during June 2019 and to this point 47 holes (BDRC0097-0143) have been drilled for a total of 8,497m. Holes BDRC0097 – 0105 were drilled into a target approximately 5km northwest of Anna, where previous exploration had defined a number of spodumene-bearing pegmatites. Mineralisation is hosted by multiple, stacked, sub-parallel pegmatite lenses that vary from ~5-25m in thickness. In places, the pegmatites merge to form zones >50m thick.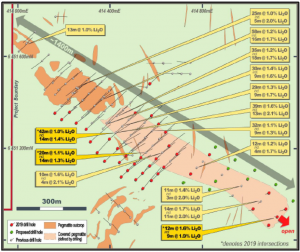 Figure 1: Anna Pegmatite – Drill hole plan showing better lithium intersections
Technical Significance
This latest Buldania drilling has extended the previously defined mineralisation at the Anna prospect to the southeast and east for a continuous strike length of at least 1.4km, with the system remaining open. Significantly, there has been no previous drill-testing of this target area and initial assays have confirmed the potential for significant lithium mineralisation, with better intersections including 5m @ 1.2% Li2O from 20m in BDRC0104 and 6m @ 1.5% Li2O from 54m in BDRC0105. Most of the NW Pegmatite area remains untested and further drilling will be undertaken as part of the current program.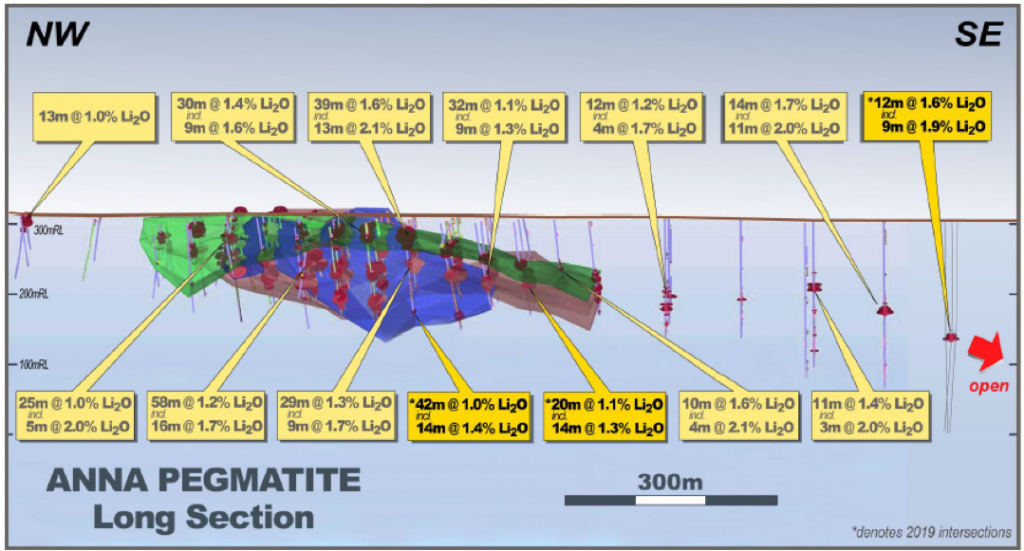 Figure 2: Anna Pegmatite – Long section looking northeast showing better lithium intersections
Next Steps
With the exception of the first nine holes (BDRC0097 – 0105), all of the drilling this year has been undertaken at the Anna prospect, with the primary objective of providing sufficient data to prepare a maiden MRE. Up to 15 further RC holes for an additional ~3,000m drilling are planned at Anna as part of this program.
Project Overview
Buldania is LTR's second WA lithium project, which is being advanced alongside its flagship Kathleen Valley Project, where LTR recently reported a substantial resource increase and is progressing a Pre-Feasibility Study (PFS). The Buldania Project is located 30km east of Norseman and forms part of a large 600 sq km strategic land position that's 100%-owned by LTR. The region is well-known for hosting large lithium deposits, including the Mt Marion and Bald Hill mines.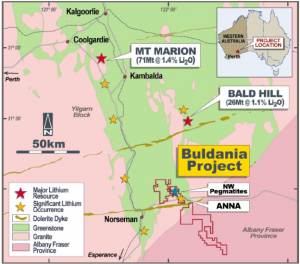 Figure 3: Buldania Project – Location plan, regional geology and lithium occurrences
LTR has also secured a formal sale agreement with Westgold Resources (ASX: WGX) with respect to the acquisition of the revenue and production royalties relating to lithium and related minerals at the Buldania Project. The royalties comprise a 1.5% gross revenue royalty and a production royalty of $2 per tonne of ore mined and/or processed from three key tenements (E63/856, P63/1977 and M63/647). The royalties are being acquired for total consideration of $2 million in cash.
Summary
Whilst LTR might seem like an overnight success, it's a story that's been brewing for the past 12 months, based on hard work at Kathleen Valley (and also Buldania). Following the positive Scoping Study completed in January 2019, LTR has delivered on lofty expectations by achieving a more than threefold increase in the Kathleen Valley Mineral Resource base after just three months of intensive drilling.
LTR is also progressing with a resource definition drilling program at Buldania, which provides the company with an opportunity to build a large, high-quality, hard rock lithium resource base on dual fronts. LTR is targeting a maiden Mineral Resource estimate later this year.