In the famous stockmarket movie of 2000 – Boiler Room – Michael Brantley promotes the firm's new Medpatent IPO to his loyal staff that has created the world's first retractable syringe. His description of that device "this is not going to be the industry alternative, this will be the industry standard" is a movie line that has stuck with me for the past two decades as I too have tried to find a Company that will become the industry standard, not just an alternative. I believe last week's FDA announcement has done this for Volpara Health (VHT).
VHT is a company that I have liked since 2017, but to a certain degree has been a slow mover compared to some of my other favourite and larger holdings. I highlighted the company as being one of my preferred investments in my 2019 Best Trades article, expecting a strong performance this year. News last week from the FDA is bringing VHT closer not only to take-off point but also cementing its longevity as another Resmed (RMD) or CSL (CSL), in terms of its ongoing decade long growth.
VHT has automated the measurement of breast density during screening as opposed to a radiologist making his own estimates which a study from Sydney University showed only 35% of radiologists agreed upon. Incorrect measures of breast density leads to many undetected cases of breast cancer and so much so that the FDA last week recommended that breast density measurement be mandatory.
Currently, VHT software screens about 5.6% of the US female population and their 2019-end target is 9%, so this FDA recommendation should see rapid acceleration of breast density screening throughout the US female population. The UK is also trialing breast density screening which if they proceed to mandatory screening will be a huge win for VHT given they are the preferred supplier.
I find myself constantly fast forwarding the future out 3, 5 and 10 years and asking whether breast density screening will be the industry standard or just an option. Given everything that we know about the role breast density plays in diagnosing and highlighting those women at higher risk of breast cancer, I would have to say it will be the industry standard. Given that, what role will VHT play in that process? Again I find myself believing it will have a major market share (well over 50%) and therefore, what growth profile will it enjoy and market cap will it command? I refer back to other biotech/healthcare related stocks like Resmed, Cochlear and CSL which over the past decade have continually enjoyed strong sold rates of growth producing exceptional shareholder returns and see VHT following the same path. Their share prices over the last 20-years are shown below just to highlight the consistency in their performance.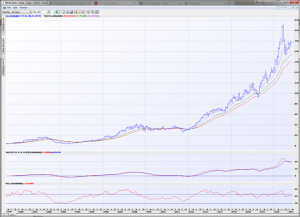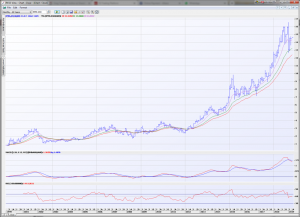 Nansonics (NAN) is a recent example which in the last 5 years has increased 500% with strong growth rates in revenue and although at it last half year produced revenue of $40 million and a net profit of $7 million, commands a market cap of $1.3 billion.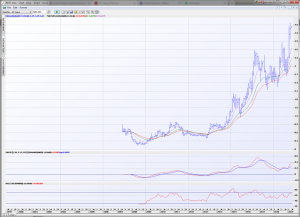 VHT sell their software as a service (SAAS) so they enjoy recurring revenues which continue to grow at a rapid rate. As a result there should be no reason the Company does not continue to sustain a high valuation relative to its revenue and profit, considering its market position and industry. Given VHT has a market cap of $250 million, it is still an infant in the shadows of the billion and multi-billion healthcare related companies. If breast density screening penetration rates accelerate faster as a result of the FDA recommendation I can see VHT enjoying a market cap closer to $1 billion very quickly.
It's no wonder then that huge volume were seen in VHT on Friday. Two million shares traded on Friday, the highest volume day on record. I was a buyer on Thursday (when the news first came out in a Reuters article in the morning) and also on Friday. I continue to buy this week (and for months to come on dips) and it seems I am not the only one viewing this FDA move as a game changer (given the volumes).
I cannot stress enough how excited I get when the technical picture and fundamental picture marry. Below I show the breakouts that have occurred from on the price chart through $1.30. But this is also accompanied by equal breakouts on the RSI, volume and On Balance Volume indicators. Any textbook will tell you the bullish breakouts come from a base, on high volume and mirrored with some solid indicators. The longevity of the breakout comes from the fundamentals. Given the price action, the story and the volumes, I see institutions jockeying for positions on the share registry with prolonged market support. Translation: fund managers will keep buying for a long time.
VHT is right up there with my favourite stocks not just for 2019 but for years to come as it is one of the few times where I can truly say I have confidence in their business, their product and the industry – a change from an alternative to the standard.