On Monday my favourite number one stock – MGM Wireless (MWR) – released two market announcements that continue to reward shareholders and hopefully many of the readers of this column, after I have repeatedly urged all to buy since early this year.
Its been a year since MGM launched the SPACETALK smartwatch into the wearables market for kids, introducing an all in one phone and GPS tracker that can make and receives texts amongst an array of other functions. In that short period MGM has successfully rolled out the watch across every JB Hi Fi store in the country, every 150 odd Leading Edge computer stores and most recently signed a deal with New Zealand's largest telecom, Spark NZ, to sell the watch on a plan in every one of its 73 stores. Spark NZ will also be the official distributor of the watch in NZ to the likes of Harvey Norman, JB Hi Fi etc.
The speed at which the SPACETALK watch has been rolled out to A-grade retailers and telecoms is nothing short of amazing, backed by identical success in sales numbers as well. Reviews have been excellent and as a parent who has used the watches on my own 6 and 8 year old, I can confirm that not only have the smartwatches been particularly useful in communicating/parenting my kids but my children still love them, even a year later.
The latest series of announcements cement the concrete plan MWR has for boosting sales over the all-important Christmas and back-to-school sales periods. A huge advertising budget that will incorporate digital, TV, social media and billboards across 71 major shopping centres as shown below. This will place SPACETALK front and centre as the 'hot item' for Christmas. Speaking of front and centre, head down to a JB Hi Fi store and see where the SPACETALK display has been placed. Right in the main centre position upon entry, plus in those stores where it is available it is also displayed on the "play tables' next to Apple, Fit Bit etc.
This is literally a success story you can go out and see, feel and touch.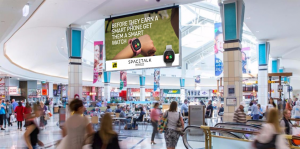 In first 12 months, MWR has sold $1.93 million worth of watches or 8,300 units. This is bringing the wearables division on the brink of profitability, unlike other tech companies that are still losing millions upon millions of dollars every year (like Nuheara and Family Zone).
More importantly, the Trading Update highlighted a couple of other notable points that generate some insight into the progress of sales and what can be expected. Two pilot stores were trialled and although no official numbers were given – we would assume there would be at least 20-30 watches available in store. Both stores with no marketing or promotion sold out in less than a week! That's extremely significant as sales here are made more on the merits of the product rather than marketing spend, kid craze, Christmas etc,. Throw in huge marketing, kid craze and Christmas and the potential to be selling upwards of 50 per month per store is not out of the realms of possibility. As a result of this I upgraded my forecasts from 10/month in 84 JB Hi Fi stores for Christmas to now 35/month across all 195 stores (after the announcement of all JBH stores to be stocked from November 1)! Add in all 73 Spark NZ stores as well and the platform is set for an acceleration in sales. This has lifted my valuation from $4.07 to $8.24 – the power of being extremely leveraged to an expanding retail footprint, having a recurring revenue model (via app fees) and starting from a small base.
MWR is still a small cap company and at a share price of $3.50 is still just a $41.3 million market cap company. Both Nuheara and Family Zone achieved market caps of over $100 million during their early expansion phases. The fact they still are in a loss making (by a large way) and continually raising money (which MWR specifically mentioned they didn't need to do) reflects why their market caps are back in the $50-$70 million range.
The stage is set for a potentially explosive period for MWR. SPACETALK is a best of breed product and is significantly more advanced and safer than its competitors (which are online only). There is a huge marketing budget and plan being rolled out as we speak and every JB Hi Fi and Spark NZ store is stocked. Christmas is the biggest selling period of the year, especially for children. Could SPACETALK be the hottest item for kids? I believe so, seeing first-hand how my children's friends react to seeing the watch. Many have one now too as a result of seeing it on my children's wrist.
Adding pink to the colour range has major appeal which has already lifted overall sales by 20% and with the constant addition of new features (like reward stars and weather) children are engaged for longer and the appeal lasts.
The share price move this week in reaction to the latest news items has been positive, reaching fresh new multi years highs through $3.60. The past two months has established a firm trading range, that is now acting as a springboard for the current re-rating to surge from. Throughout this year the share price has moved in stages, coinciding with bullish news and the latest update and partnering with Spark NZ driving the latest uptrend. Prior gains have been around the $2 size so initial targets to $4.50 from the most recent low is in keeping with its normal behaviour.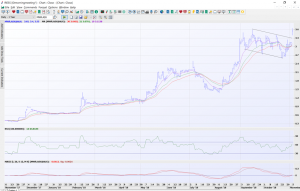 When looking back at the longer term charts, MWR is really only stepping into its stride and is yet to reach its peak from 2007 of $6.18 despite the company having completely transforming itself from a single SMS schools communication business into one that now adds high tech wearables to its revenues.
The groundwork has been set for a very exciting period for MWR that has the potential to really drive the share price higher and reflect the real progress and amazing achievements by management to date. Moreover, as highlighted, expansion into Europe and the UK is next on the list and that market spells a tremendous 2019 following a stellar 2018.
I hope ShareCafe readers that bought MWR earlier in the year are still enjoying the ride. Watch this SPACE!