Fund managers, like athletes, are measured by their performance relative to peers, not just from the era they exhibited their skills, but also from other eras and environments too. A true Greatest of All Time (G.O.A.T) is able to transcend different conditions, exhibit adaptability and demonstrate persistence.
G.O.A.T's have shone over the past few years in both sports and in markets.
In equity markets, timing cycles is near impossible, but fund managers that are able to demonstrate expertise and idiosyncratic outperformance have shone in 2022, while many others have been slow to adapt to a new regime.
The first half of this year has been characterised by a value rotation and as fears of a hard landing and economic slowdown weigh on markets, an approach that considers both value and quality, notably those that enjoy identifiable competitive advantages is coming to the fore.
The retreating tide has exposed those fund managers that were riding the heady momentum of recent years and now price weakness is allowing advisers to assess their equity manager and determining if their high fees are justified.
The VanEck Morningstar International Wide Moat ETF, ASX:GOAT is a high conviction international equity portfolio of between 50 to 100 companies that utilises active stock selection using Morningstar research, for passive fees. Morningstar identifies at least 50 attractively priced wide moat international stocks for inclusion in the index that GOAT tracks. Companies with a wide moat rating are those in which Morningstar has very high confidence that excess returns will remain for 10 years, with excess returns more likely than not to remain for at least 20 years.
Morningstar's leading methodology is being used exclusively by VanEck to offer investors an unrivalled global equities opportunity.
Many advisers and brokers are considering GOAT as a way of reducing fees, while still being able to take advantage of the idiosyncratic nature of inefficient markets.
In the spotlight
Value investing is back in the spotlight, having made a comeback recently. Value-oriented global equity stocks, as represented by MSCI World ex Australia Value Index, have been outperforming growth stocks into 2022. The rebound in value stocks comes after a remarkably long stretch of being in the doldrums, outshone by growth stocks.
Now in the face of rising rates, the threat of a hard landing and subsequent economic weakness, many investors are assessing their long-term approach.
Figure 1: Value stocks have held up better so far in 2022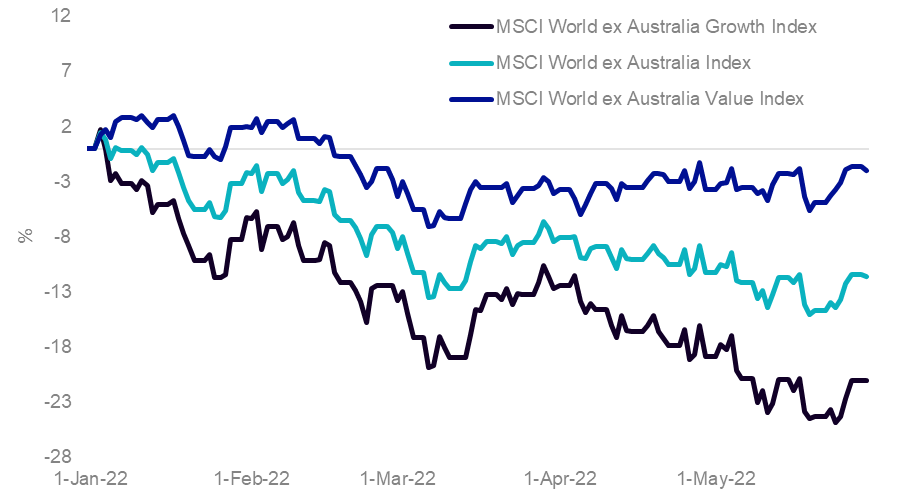 Source: Morningstar Direct, YTD, 1 January 2022 to 30 May 2022. All returns in Australian dollars. Past performance is not a reliable indicator of future performance.
GOAT and 'value'
VanEck Morningstar International Wide Moat ETF (GOAT) has shone in 2022, boosted by stocks that Morningstar classifies as either 'value' or 'core' stocks. The ETF has outperformed in the first five months of 2022, helping erase some of the fund's relative underperformance since it launched in September 2020. A testament to the long-term approach that echoes legendary investor Warren Buffett.
Morningstar has taken Buffett's economic moat concept a step further and developed a comprehensive moat-based analytic framework that can be applied consistently across a broad, global list of companies.
Additionally, based on back-testing, the GOAT Index net of management fees demonstrates long-term outperformance against the market capitalisation global benchmark, MSCI World ex Australia Index.
Figure 2: GOAT Index1, adjusted for GOAT management fees, cumulative performance versus MSCI World ex Australia Index2to 31 May 2022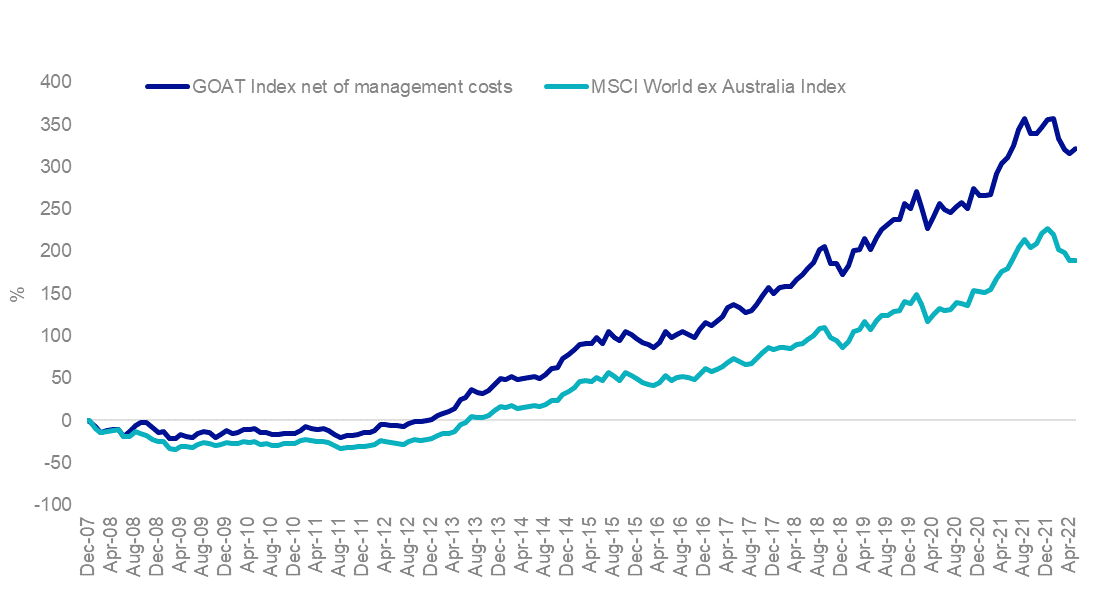 Figure 3: Trailing performance to 31 May 2022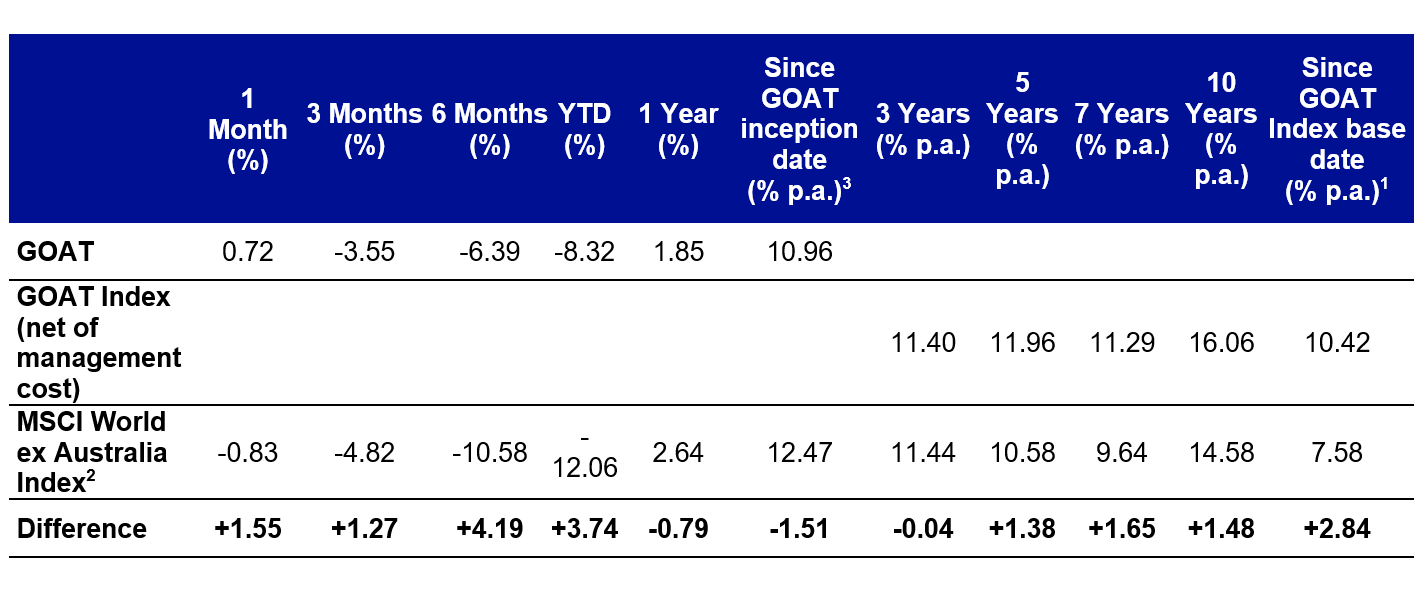 1 – GOAT Index results are net of GOATs 0.55% p.a. management costs, calculated daily but do not include brokerage costs or buy/sell spreads of investing in GOAT. You cannot invest in an index. GOAT's Index base date is 21 December 2007.
2 – The MSCI World ex Australia Index ("MSCI World ex Aus") is shown for comparison purposes as it is the widely recognised benchmark used to measure the performance of developed market large- and mid-cap companies, weighted by market capitalisation. GOAT's index measures the performance of 50 to 100 developed market companies with a Morningstar Economic Moat Rating™ of "Wide" at rebalance. GOAT's index has fewer companies and different country and industry allocations than MSCI World ex Aus. Click here for more details
3 – GOAT inception date is 8 September 2020 and a copy of the factsheet is here
Source: Bloomberg, Morningstar Direct, VanEck as at 31 May 2022. Returns are calculated daily and assume immediate reinvestment of dividends. GOAT Index returns are net of management fees but do not include brokerage costs or buy/sell spreads of investing in GOAT. Past performance is not a reliable indicator of future performance.
Attractive valuation boosts performance
GOAT's investment approach is less focused on value as a factor, than on valuations. Key to GOAT Index's long-term outperformance lies in getting valuations right and not overpaying for stocks which are market leaders.
Morningstar's equity research team adopts a forward-looking approach that includes forecasting a company's future free cash flows to determine its current fair value estimate. The GOAT Index identifies 'wide moat' companies that appear the most attractively priced. The assumption is that the market will realise the intrinsic value of these companies and bring their market price more in line with Morningstar's view of fair value.
As at 30 April 2022 (most recent common available), GOAT was positioned with a slight value bias compared to the MSCI World ex Australia Index.
Figure 4: Holdings-based style map
Source: Morningstar Direct, as at 30 April 2022. 
And its biggest contributor to its performance, outside of beta (the market) is idiosyncratic, as you would expect your active fund manager to be. In other words, GOAT is providing active management outcomes, for a passive fee.
Figure 5: Fama French 5 Factor Model performance attribution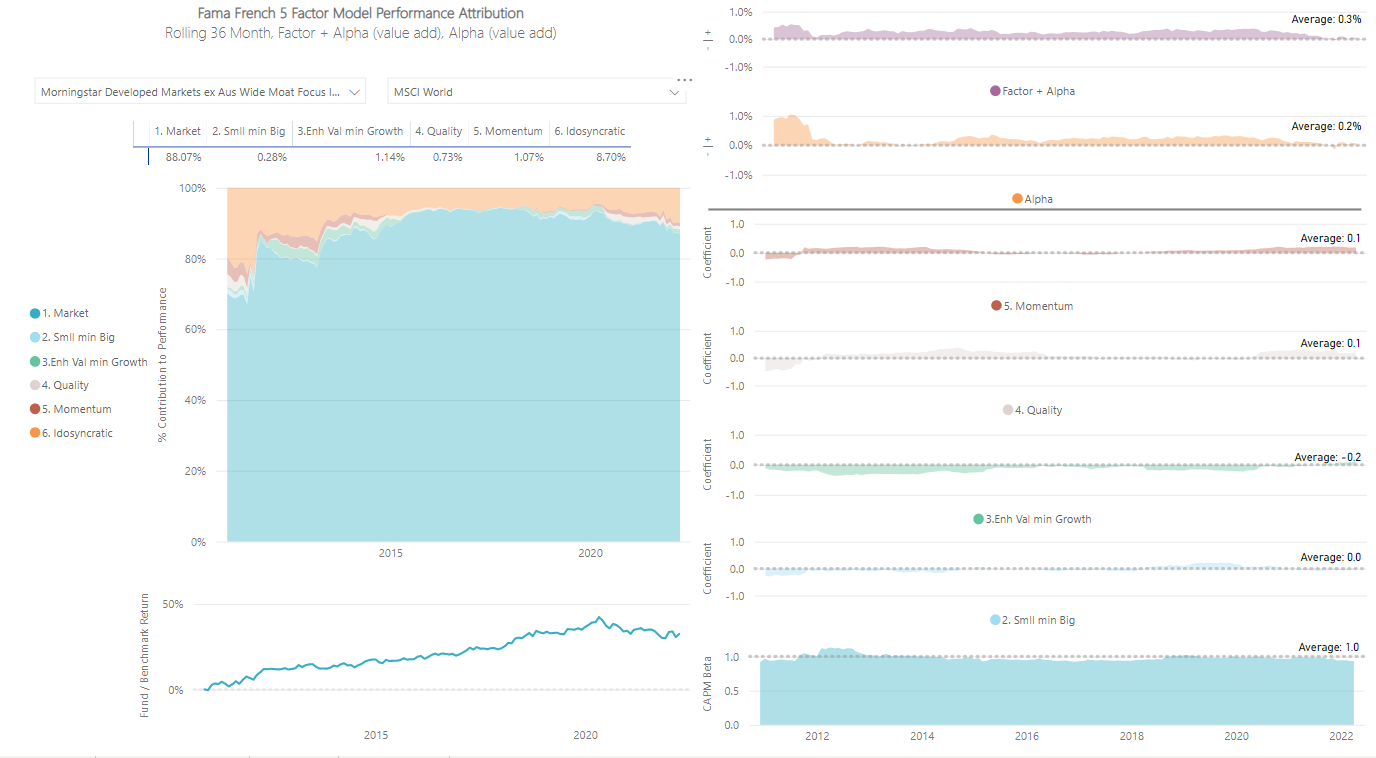 Source: VanEck, 30 April 2022. Past performance is not a reliable indicator of future performance.
Learn more about GOAT here.