The Australian December half and full-year earnings reporting season wraps up this week around 40 major companies due to report.
Leading the way will be the 12-month figures from Rio Tinto – with higher iron ore earnings expected to support a higher dividend, just as they did for BHP and Fortescue Metals last week.
As well the half-year report from retailing giant, Woolworths will be released and while some analysts are looking for a higher dividend (especially after Coles solid figures last week), others would not be surprised to see more news on the company's embarrassing $300 million underpayment scandal to its managers.
Coles, Super Retail and Wesfarmer's Target all reported new or higher estimates of underpayments to managers. Including Woolies figure, the total for the four is climbing more than $400 million.
As well as Rio and Woolies, others due to report include Worley, BlueScope, Seek, Oil Search, Adelaide Brighton (full year), Bega Cheese, Costa Group, Appen, Afterpay Touch, and Nine Entertainment.
The AMP's Dr. Shane Oliver says the December half profit reporting season is now two-thirds done and while the results have improved a bit compared to a week ago, they are still mixed.
He says 55% of companies have seen their profits rise from a year ago, which is below the long-term norm of 65%, he wrote in a weekend note.
"And while downside surprise has fallen to 40% of companies its above upside surprise of 38%. There were some strong dividend increases including from BHP and Fortescue, but only 53% of companies have now raised dividends and this is below the long-term norm of 62%.
"Several companies also issued profit downgrades related to the impact of coronavirus, but investors seemed prepared to look through this given that underlying results were generally better than feared," Dr. Oliver wrote.
Reflecting the mixed results overall, the proportion of companies seeing their shares outperform the market versus underperform on the day they reported is running at 51% to 49% which is the same as in the August reporting season (see graphs below).
"Earnings growth expectations for 2019-20 are coming in at around 2.8% which is line with expectations at the start of the reporting season.
"Earnings growth is strongest in tech, telcos, gaming and healthcare stocks with good growth from resources stocks and weakest amongst utilities, media, and insurers.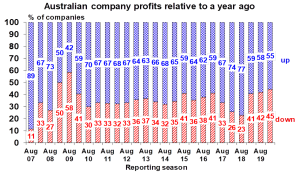 Source: AMP Capital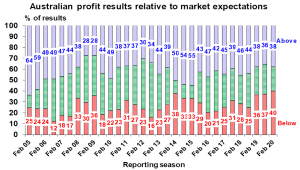 Source: AMP Capital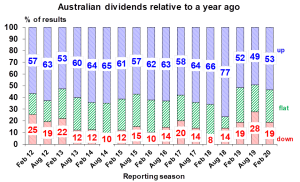 Source: AMP Capital