Here's your weekly wrap of technology, innovation, and finance news.
? Renewables
One benefit of living in Sydney is you get to see an early preview of the Apocalypse.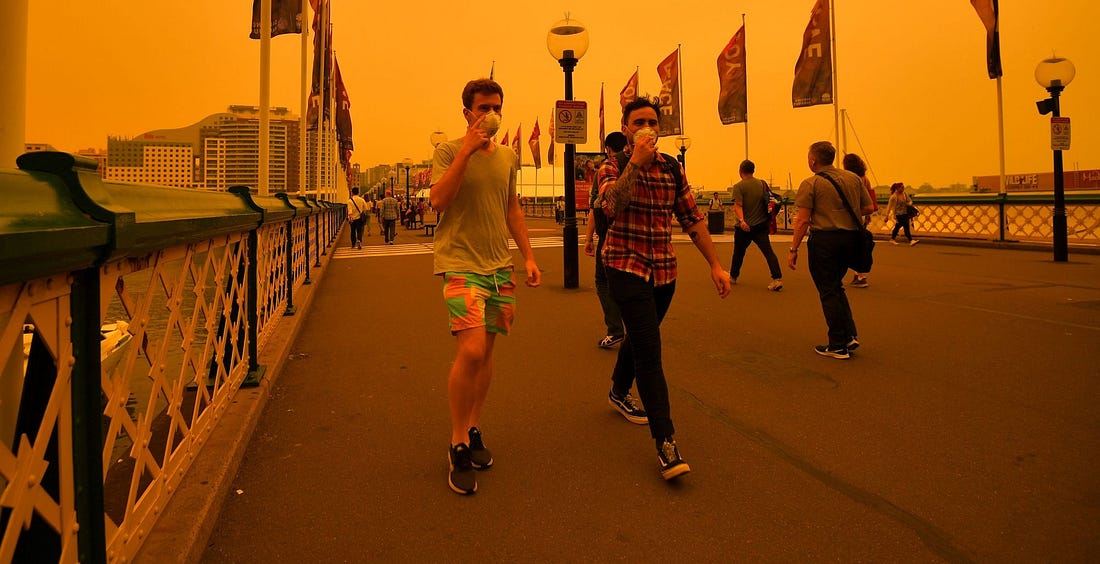 New Scientist writes that Australia's push for hydrogen power may prop up the fossil fuel industry.
Battery packs are now $156/kWh, 13% lower than last year, according to Bloomberg New Energy Finance (BNEF). They are predicting average prices will be close to $100/kWh by 2023.
Ireland announced a target for 70% renewable energy by 2030. Ireland is currently 86% reliant on fossil fuel.
? Biology
If you have a DNA sample, can you use that to reconstruct an image of that person's face? Chinese scientists are trying to do just that. If successful, such an approach could be used to help solve crimes but could also be used to track dissidents.
The reliability of DNA evidence in criminal investigations is being questioned after a bone marrow transplant recipient found that the donor's DNA travelled to unexpected parts of his body.
But four years after his lifesaving procedure, it was not only Mr. Long's blood that was affected. Swabs of his lips and cheeks contained his DNA — but also that of his donor. Even more surprising to Mr. Long and other colleagues at the crime lab, all of the DNA in his semen belonged to his donor. "I thought that it was pretty incredible that I can disappear and someone else can appear," he said.
Two pigs engineered to have monkey cells have been born in China, but have subsequently died. The ultimate aim of the work is to grow human organs in animals for future transplantation.
It's been over a year since the world's first CRISPR-modified babies were born. The researcher responsible, He Jiankui, hasn't been seen or heard from in months. MIT Technology Review discusses why his paper has stayed secret for so long and report excerpts from the paper for the first time.
He was aghast at what he saw. Musunuru felt there was evidence in the data that the editing had gone awry, and in ways that the paper about the twins didn't acknowledge. That Thursday, Thanksgiving, his friends and relatives wondered what was wrong; he made excuses, since the news was not yet public.
? Artificial Intelligence
Google have developed an AI that classifies chest X-rays with human-level accuracy. The model was trained on 600,000 images sourced from two de-identified data sets. They published a paper on their approach and discuss it on the Google AI Blog.
Researchers have developed AI that can lip read from video footage.
Payments company Adyen has been surprised by how effective AI has been for fraud detection.
WIRED interviewed Facebook's Head of AI, Jerome Pesenti, about the state of the field. Pesenti joined Facebook in January 2018 and inherited the AI lab set up by Yann LeCun, one of the biggest names in the field. Pesenti previously worked on IBM's Watson AI platform.
JP: Deep learning and current AI, if you are really honest, has a lot of limitations. We are very very far from human intelligence, and there are some criticisms that are valid: It can propagate human biases, it's not easy to explain, it doesn't have common sense, it's more on the level of pattern matching than robust semantic understanding. But we're making progress in addressing some of these, and the field is still progressing pretty fast. You can apply deep learning to mathematics, to understanding proteins, there are so many things you can do with it.
? Finance
Larry and Sergey stepped down from Alphabet but will remain on the Board. Sundar Pichai will become CEO of Alphabet while retaining his current position as CEO of Google. The news isn't a surprise as the co-founders have been stepping away from the company for years.
Bernstein thinks that WeWork will work out for SoftBank.
With a discounted cash flow model, Lane projects WeWork would have an enterprise value of $28.8 billion in 2025. That would make SoftBank's 80% stake worth about $19.1 billion, roughly 40% more than the estimated $13.8 billion the company and its Vision Fund have invested.
Scott Galloway argues that Twitter should replace Jack Dorsey as CEO.
It's not Mr. Dorsey's plans to move to Africa that constrain stakeholder value, but his plans to move back.
Ray Dalio is having one of his toughest years yet.
Rarely has a money manager's stature with the investing public seemed so at odds with their recent record as an investor. With "Principles" still in the spotlight, Pure Alpha II's performance usually goes unmentioned.
? Augmented Humans
An MIT Engineer has built his own bionic leg and it's pretty impressive.
Roam Robotics is a company aiming to make wearable exosuits mainstream, starting with a product to help with skiing.
The company's first product is its Elevate skiing product. Elevate works by offloading weight from the quads and knees of skiers to enable them to ski for longer without discomfort. Unobtrusive when it's not needed, the lightweight braces, connected to each corresponding boot, provide augmented support when a user is executing turns, stops, or any other maneuver which could benefit from a helping hand (or, err, robotic leg.)
? Gaming
According to the Consumer Technology Association, 70% of Americans aged 13-64 years old play video games (this includes smartphone games).
Nintendo Switch had its best week ever in the US thanks to Black Friday and a new Pokémon game. The company will launch the Switch in China on December 10.
The world's first IPO of an esports team is happening later today as Astralis lists in Denmark. The company is being valued at $75.5 million, which doesn't place it in the top 10 of private esports team valuations as estimated by Forbes. At the top of their list is Cloud 9 and Team SoloMid at $400 million, Team Liquid at $320 million, and FaZe Clan at $240 million. The Astralis Group prospectus can be found here.
In 2012, a Kickstarter campaign was started for a new space game called Star Citizen with an initial goal of $500,000. Since then funding has continued to come in, and last week the total amount raised hit $250 million. A beta release of the game is expected in the 2nd quarter of 2020.
?️ Surveillance
Retailers, property firms, and casinos in Britain are starting to pair CCTV cameras with live facial-recognition technology to automatically flag shoplifters, abusive customers, and other troublemakers.
New South Wales in Australia has rolled out high-definition cameras to catch people using their mobile phones while driving. The system uses AI to automatically scan images to detect mobile phone use.
? Alternative Foods
Impossible Foods ranks fourth on a list of the fastest growing brands according to a report by Morning Consult. The ranking is determined by measuring growth in the share of consumers who say they would consider purchasing from a brand over the course of a year.
The meat industry is responding to the threat from plant-based meat substitutes by focusing on the processed nature of the food while supporting legislation that would make using words like "beef" and "meat" illegal. Currently 25 US States have introduced bills to ban the use of those words for plant-based products and lab-grown meat.
Lab-grown meat could be getting closer due to a decline in the cost of serum-free growth medium.
Right now, the cost of serum-free growth medium is approximately $100 per liter and represents about 80% of the total cost of production of clean cultivated meat. In order to make clean meat a competitive alternative to regular meat, the price of the growth medium needs to fall down all the way to just $1 per liter. Multus Media has found a way to reduce the current price by about 80%, but is unwilling to give an exact number because this is based off of preliminary data and it is still finalizing the results, however, if one thing is clear then it's that significant progress has been made here.
A Dutch startup named Meatable has raised $10 million to develop lab-grown pork.
⚡ Other Snippets
The threat from Amazon is forcing supermarkets to experiment with smart carts, dynamic price tags, and in-store delivery warehouses.
The Atlantic has a long piece on the dark psychology of social networks and how we got to this point.
Chris Wetherell was one of the engineers who created the Retweet button for Twitter. He admitted to BuzzFeed earlier this year that he now regrets it. As Wetherell watched the first Twitter mobs use his new tool, he thought to himself: "We might have just handed a 4-year-old a loaded weapon."
Lilium's flying electric self-piloting taxis plan to go live in 2025.
Amazon is partnering with Verizon to improve 5G speeds with a new AWS service called WaveLength. The service embeds AWS compute and storage at the edge of the 5G network (close to the user), and can result in single-digit millisecond latencies.
AWS has also rolled out a quantum-computing service called Amazon Braket.
Amazon is now offering to induct companies into the mysteries of quantum computing, too. Starting this month, customers will be able to access quantum hardware via Amazon's cloud platform from three startups: D-Wave Systems, IonQ, and Rigetti Computing. The quantum computing service is called Braket, after a notation used in quantum physics, and also includes quantum programming and simulation tools.
Halton Police is using virtual reality for empathy training. The training gives the police officer the perspective of someone with a mental health issue that's being approached by the police.