Around 90% of the S&P 500 companies have so far reported and now its the turn of major retailers to complete the season over the next fortnight.
That will all but wrap up an earnings season that ended up a bit better than when it started a month ago.
The coming week will see a couple of majors report – the giant Walmart on Thursday (US time) is the biggest, with the largest department store chain in Macy's reporting the day before.
Walmart shares are up 28.2% so far this year, topping the S&P 500's 23.4%.
The beat is important to note because Walmart is one of the most exposed companies to the trade war with China and the fact that it has outperformed a hot market means investors are comfortable with the way the retail giant is riding out Trump's vagaries.
In contrast, Macy's shares are off 46.6%.
Other chains reporting this week include JC Penny and Dillard's. Penny's shares are off 23% for the year to date (but up 76% in the last three months while Dillard's shares are up 15.2%).
Non-retailers reporting include tech giant, Cisco, plus Tyson's Foods and Viacom.
Retail sales have been solid for most of 2019, but there was a slowing towards the end of quarter as household spending eased.
But that hasn't stopped store closures from the likes of Sears and Kmart which close a total of 96 stores on December 2. Clothing group, Gap lost its CEO last week after missing its sales targets for the quarter and revealing a slowdown through the holiday season.
After rising on Friday in regular trading, Gap shares fell 7.6% in after, hours trading on the suggestion that the spin-off of its Old Navy chain might now not happen with the departure of CEO Art Peck.
The AMP's chief economist Shane Oliver says that of the 90% of the S&P 500 companies reporting so far 79% have beaten earnings expectations (against a norm of 75%) by an average of 4.7% and 59% beating on sales.
"Earnings growth for the September quarter look like they will end up somewhere around +1%yoy. That's low, but its well up from market expectations a month ago which saw a 3% decline," Dr. Oliver pointed out.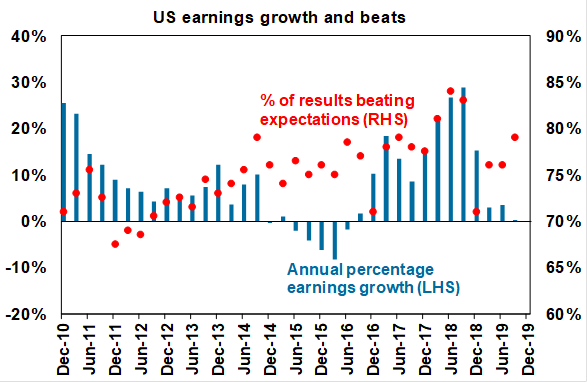 Source: AMP Capital