Media and entertainment groups dominate the coming week with their September quarterly reports as the US reporting season starts to wind down.
Companies such as The New York Times Co, Fox Corporation, Walt Disney and News Corp are due to report their September quarter figures on Thursday and Friday of this week, Sydney time.
Fox, News, and Disney are all linked companies through the shareholding held by the Murdoch Family Trust.
The trio will be joined by John Malone's Liberty Media as well as Tegna, Gannett, AH Belo, Tribune Publishing (all newspapers), Discovery, Meredith (magazines), Lions Gate and EchoStar.
Others to report include Coty, CVS (the drug store chain and now big health insurer), home builder DR Horton, Qualcomm, the big chipmaker, Dean Foods, and lithium and chemicals group, Albemarle (it's in bed with Mineral Deposits in WA lithium). Ralph Lauren is down to release as well ahead of a flood of other retailers in the next fortnight.
Travel and leisure companies reporting this week include Marriott International and Host Hotels & Resorts, online travel companies Booking Holdings Inc, Expedia Group and TripAdvisor, and Norwegian Cruise Line Holdings. Weak results last week from Hilton and Royal Caribbean mean this week's reports from this group will be even more keenly watched.
Up to last Friday's close just on 70% of S&P 500 index companies had reported quarterly numbers and of that 75 % have reported better-than-feared earnings, according to Factset.
The AMP's Dr. Shane Oliver says "earnings growth over the last year looks likely to end up with a small gain, but this is better than market expectations at the start of the reporting season which was looking for a 3% decline.
US analysts say the performance of major retail groups will impact the final makeup of the quarterly performance, although giant Wal Mart is expected to cushion any sector weakness with a solid effort next week.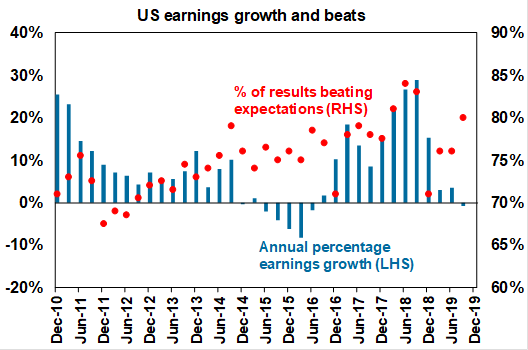 Source: AMP Capital
Reuters reported that profit growth forecasts for the next four quarters have been revised lower, even as expectations for a decline in third-quarter earnings have shrunk to 0.8% from 2.2% at the start of October.