PolarX – (ASX: PXX, Share Price: $0.08, Market Cap: $34m, coverage initiated @ $0.066 in April 2019 – current gain of 21%)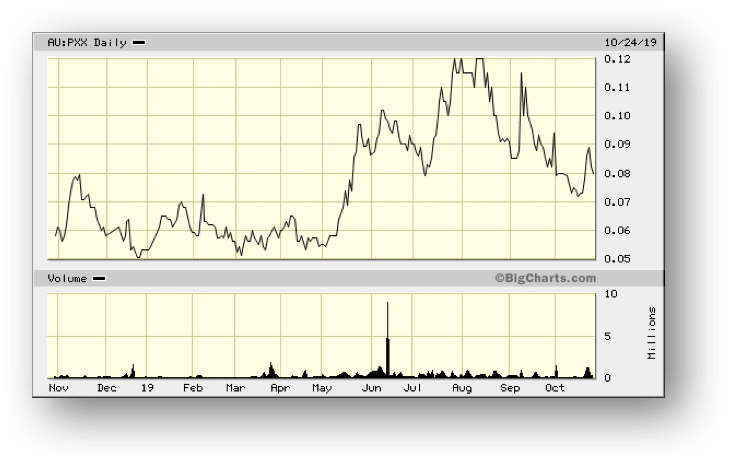 Key Catalyst
First diamond drill-hole at Mars prospect within the Alaska Range Project has intersected more than 400m of mineralised porphyry-style veins from near-surface, ending in mineralisation.
We initiated coverage of PXX during April 2019, based on encouraging results from its ongoing exploration campaign at its 80% to 100%-owned Alaska Range Project, located in south-central Alaska. Limited work so far has managed to already delineate two advanced deposits – the Zackly skarn and the high-grade Caribou Dome sedimentary copper deposit. Zackly hosts a current Inferred resource estimate of 3.4Mt @ 1.2% Cu, 2.0g/t Au and 14g/t Au – 41,000t of copper, 213,000oz of gold and 1.5Moz silver from surface, whilst Caribou Dome hosts a JORC 2012-compliant resource of 2.8Mt @ 3.1% Cu. Mineralisation at both these prospects remains open at depth and along strike, with PXX pursuing a strategy of stand-alone mining operations. More recently, 3D modelling has identified exciting copper-gold porphyry targets, which is what has attracted the corporate/exploration interest of Lundin Mining.
Latest Activity
Alaska Range Exploration Update
In our previous coverage of PXX on 7th October, we highlighted the initial results from the company's core drilling program that is designed to evaluate the Saturn and Mars porphyry targets within its Alaska Range Project.
We advised that the first 300m of the initial diamond hole at the Mars prospect had intersected porphyry-style veins containing visible iron, copper and molybdenum sulphides in altered volcanic rocks from near surface. The hole intersected multiple ages of veins and associated hydrothermal alteration.
In a subsequent drilling update released today, PXX has advised that the same hole had ended in mineralisation at 417m down-hole depth. The hole intersected multiple stages of porphyry-style veins containing visible iron, copper and molybdenum sulphides from near-surface at 6m depth to the end of the hole. There is also a notable increase in visible copper and molybdenum sulphide abundance at 321m deep, continuing to the end of the hole at 417m, with visual estimates of 0.5% to 2% chalcopyrite.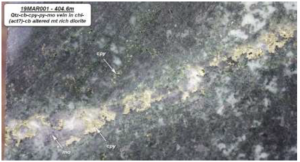 Figure 1: Core section from drill-hole 19MAR001
Technical Significance
The +400m down-hole thickness of mineralisation in this initial hole, combined with visual confirmation of porphyry-style veining that contains chalcopyrite and molybdenite, is extremely encouraging. The hole was stopped whilst still in mineralisation in heavily-broken ground, which coincided with increasingly heavy snow falls necessitating the termination of the drilling program. The alteration, vein composition, vein morphology, and the presence of copper and molybdenum sulphides, are entirely consistent with magmatic hydrothermal mineralisation that might be related to a nearby porphyry deposit.
Given the large size of the co-incident copper-gold-molybdenum geochemical anomaly and the geophysical anomalies at Mars, this has the potential to be a very large mineralised system. In addition, surface geochemical soil sampling at Mars recorded anomalous gold in addition to copper and molybdenum. Gold is therefore expected to be present in addition to the visible copper and molybdenum, but can only be determined by assays, which are currently underway.
Farm-in Deal with Lundin Mining
The Mars porphyry target occurs within the Stellar Project, which is the area subject to the recently negotiated strategic partnership with Lundin Mining Corporation. PXX maintains a strategic earn-in joint venture with Lundin Mining over selected porphyry copper-gold targets within PXX's 100%-owned Stellar Claims, located within its Alaska Range Project.
Lundin Mining subscribed for 53.4M shares in PXX at $0.08 per share for a total investment of $4.3M, in turn becoming PXX's largest shareholder with a 14.3% stake. This investment effectively secures Lundin an exclusive option to earn a 51% interest in PXX's Stellar Project.
If Lundin exercise this option, it could result in staged exploration spending to the tune of US$24M and staged payments to PXX worth US$20M, over a three-year period.
Lundin can also accelerate its prescribed exploration spending and requisite cash payments, at its discretion. Lundin can also withdraw at any time prior to formation of the joint venture, so long as the requisite upfront cash payments for that year to PXX have been made to that point.
Summary
Exploration to date over the Alaska Range project has highlighted its mineralised potential, with an almost continuous zone of copper anomalism over a NE-trending strike length of ~35km, with several individual priority prospects also being recognised. These prospects represent a number of mineralisation styles, including porphyry Cu-Au-Mo, intrusion related gold (IRGS) and sedimentary-hosted copper, with exploration results from all of these undrilled prospects highlighting the potential for each to host a major deposit.
Current excitement revolves around the new Mars and Saturn prospects, due to their potential scale and proximity to potential porphyry bodies. Exploration drilling has so far generated encouraging results, with a +400m mineralised intercept from surface. We therefore await assay results with great interest.