The Australian June 30 earnings season ends this week with 65 major companies reporting by the deadline on Friday and so far it has been the softest for seven years.
Revenues have been weak, outlooks likewise, downgrades have dominated upgrades and the number of companies cutting their dividends has been the highest since 2012.
Around 75% of companies have reported (and around 85% by market value) and the AMP's Chief Economist Shane Oliver reckons the results so far have been relatively soft.
Earnings growth is now down to 1.5% from 2% at the start of the season. The good results from resource companies like BHP, Rio and (later today Fortescue) has made the wider picture look stronger than it really is.
Earnings are down market as a whole but resource companies earnings are up by double digits, buy healthcare stocks are doing well (but not Mayne Pharma with another big loss reported on Friday and question markets about Ramsay Healthcare this Wednesday).
Companies releasing their reports include Fortescue Metals and Boral (Monday), Caltex (interim), Adairs, and Wesfarmers (Tuesday), OZ Minerals (interim),Appen, Bega Cheese, Afterpay and Ramsay Health (Wednesday), Adelaide Brighton, Bellamy's, Virgin Australia, Woolworths (Thursday) and Harvey Norman and Freedom Foods (Friday).
Dr. Oliver says that only 37% of results have surprised on the upside which is below the long-term norm of 44% and is the lowest since 2012.
"61% have seen earnings rise from a year ago but this time last year it was 77%. 53% of companies have raised their dividends but this compares to 77% doing so a year ago and 25% have cut their dividends which is the highest in the last seven years suggesting greater caution.
"Downgrades have dominated upgrades with 2018-19 consensus earnings growth expectations cut to 1.5% from around 2% at the start of August.
"Resources stocks are seeing earnings growth around 13% compared to a 2% decline for the rest of the market, but with healthcare stocks also seeing double-digit earnings growth. Downgrades have been greatest amongst energy stocks, financials, telcos, and industrials.
"Some retailers surprised on the upside and were confident about rate cuts and tax cuts boosting spending but others still saw tough conditions and BHP saw falling commodity prices.
"Fortunately investors have been relatively forgiving thanks to low interst rates and hopes for a stimulus boost to growth to come.
"While consensus earnings expectations are for a pick up in earnings growth to 7.5% this financial year, the slowdown in economic growth, cautious outlook statements and falling commodity prices suggest some downside risk to this," Dr Oliver wrote at the weekend.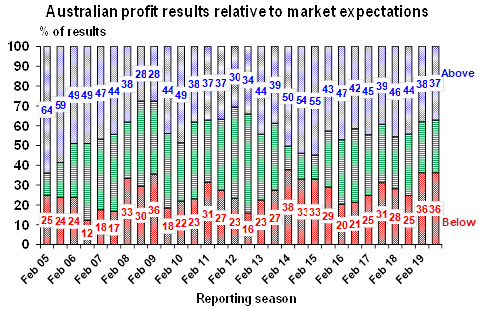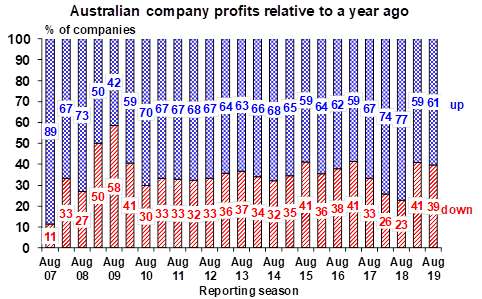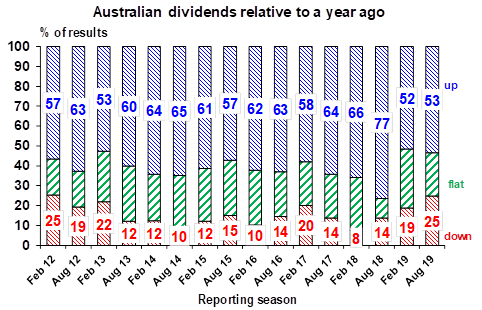 Source: AMP Capital