The big week for the Australian June 30 earnings season with around 115 ASX 200 companies due to release results which will tell us just how well corporate Australia performed in 2018-19.
Thursday will be the busiest day of the season with over 30 companies.
The week will be dominated by tomorrow's release of the 2018-19 figures from BHP.
Analysts reckon the soaring price of iron ore will help BHP boost final dividend for the year.
Besides BHP, of other companies due to report are include Sonic Healthcare, BlueScope Steel, Brambles, Amcor and Worley Parsons and Qantas, Origin South 32 on Thursday which is the busiest day of the reporting season.
As well, reports are expected from Qube, Bapcor, Stockland, The Reject Shop, WiseTech, Afterpay Touch, Costa Group, Automotive Holdings, and its bidder, AP Eagers, Alumina, Webjet, Flight Centre, caresales.com.au, Crown Resorts, Seven West Media, Seven Group Holdings, Beach Energy, Land Lease, Vita Group, St Barbara, Western Areas, Wagners, Coca Cola Amatil (interim), Monadelphous, Southern Cross Media, Scentre, Domino's Pizza, Lovisa and Perpetual.
According to the AMP's Chief Economist Shane Oliver"
'Its only early days in the June half earnings reporting season with about 27% of companies having reported, but so far the results have been a bit messy. Only 37% of results have surprised on the upside which is below the long-term norm of 44% and 43% surprised on the downside. 63% have seen earnings rise from a year ago but this time last year it was 77%.
"Likewise, 57% of companies have raised their dividends but this compares to 77% doing so a year ago and 29% have cut their dividends suggesting greater caution. Reflecting the mixed results only 50% of companies saw their share price outperform on the day of reporting.
"Some retailers surprised on the upside and were confident about rate cuts and tax cuts boosting spending, but overall results so far point to constrained growth outside resources and a cautious outlook.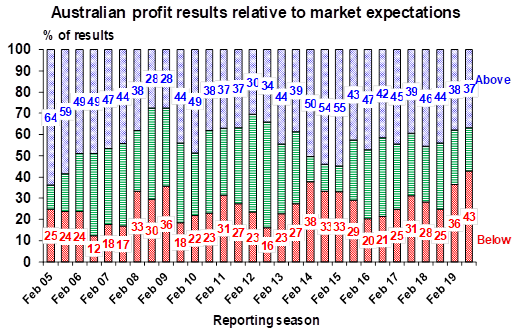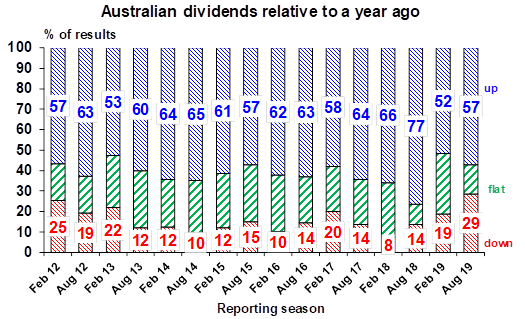 Source: AMP