Thanks to the surge in iron ore prices, Australia's export performance is booming and the July commodity price index from the Reserve bank is now at an 8-year high.
The RBA said that in Australian dollar terms the index is up 21% in the year to July to the highest level since June 2011 with a reading of 131.5. That still leaves well under the all-time peak of $149.4 hit in October 2008, as the GFC was imploding.
"The non-rural subindex increased in the month, while the rural subindex decreased and the base metals subindex was little changed," the RBA said in a commentary.
Over the year to July, the main drivers were higher iron ore, gold, and copper ore prices.
"Consistent with previous releases, preliminary estimates for iron ore, coking coal, thermal coal, and LNG export prices are being used for the most recent months, based on market information, the RBA pointed out.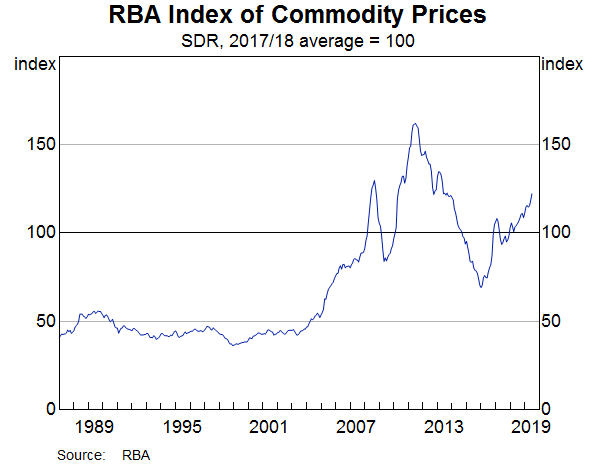 Meanwhile the Australian Bureau of Statistics yesterday gave the first hint of the impact of the surge in iron ore prices will have on our terms of trade for the 2018-19 financial year.
The export price index surged 17.4% in the year, while the import price index was only up 2.8% – pointing to a 14% improvement in our terms of trade for the financial year. The three months to June saw a 0.9% rise in the import price index and a 3.8% rise in export price index.
The weaker dollar helped boost the export price index, and also the import price index. With a rise in fuel prices in the final quarter and the weaker dollar, it is possible that the import price index would have been close to zero, if not negative for the financial year.