Orion Minerals – (ASX: ORN, Share Price: $0.033, Market Cap: $66m, coverage initiated @ $0.027 in Oct 2015)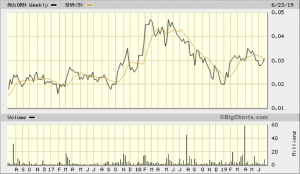 Key Catalyst
Prieska Bankable Feasibility Study confirms long-life, high-margin South African copper and zinc mine with strong economics, paving the way for financing, concentrate off-take and construction.
We initiated coverage of ORN almost four years ago and we've witnessed the company's steady progression, transitioning from grassroots explorer to emerging producer via the acquisition and subsequent advancement of its Areachap metal projects in South Africa's Northern Cape. The company's flagship Prieska Zinc-Copper Deposit, where a positive Bankable Feasibility Study has just been released, is a classic VMS deposit and it is the nature of these deposits that they occur in clusters. Deposit models based on similar geological setting to Prieska support ORN's view that other large deposits are highly possible within the regional environs of Prieska, and this is supported by regional exploration results. The entry of Independence Group (ASX: IGO) onto ORN's register during mid-2018 is also a testament to Areachap's prospectivity, with a specific interest in the region's untapped nickel exploration potential.
Latest Activity
Priska Project Update
ORN has released the outcomes of the much-anticipated Bankable Feasibility Study (BFS) for its Prieska Copper-Zinc Project, situated in South Africa's Northern Cape Province. The BFS involves what is described as 10-year 'Foundation Phase' at Prieska, involving a modern 2.4Mtpa underground and open-pit mining operation.
The BFS has delivered strong project economics, with the key highlights comprising:
o Undiscounted free cash-flows of A$1.1 billion pre-tax (A$819M post-tax).
o An NPV of A$574M pre-Tax (A$408M post-tax) at an 8% discount rate.
o An IRR of 38% pre-Tax (33% post-tax).
o A peak funding requirement of A$378M.
o Relatively short payback period from first production of 2.9 years.
o An all-in-sustaining margin of 44%.
o An all-in-sustaining unit cost of A$5,470/t (US$3,773/t) per copper equivalent metal sold.
The Prieska Maiden Ore Reserve comprises 13.62Mt at 1.1% Cu and 3.2% Zn for 143kt of contained copper and 433kt of contained zinc. Total milled production is forecast at 20.8Mt at 1.1% Cu and 3.4% Zn, comprising 65% Probable Ore Reserves and 35% Inferred Minerals Resources.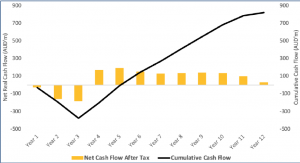 Figure 1: Project net cashflow post-tax profile.
Technical Significance
The BFS indicates that Prieska – as expected – will be a high-margin, long-life asset. The low unit operating costs base should will flow through into very healthy operating margins and a short capital payback period of just under three years.
Once production is established, there should be strong scope to leverage off existing infrastructure by significantly extending the overall project life through further mining studies, drilling and exploration programs. Importantly, the existing deposit at Prieska remains open both at depth and along strike.
There also appears to be a strong likelihood for satellite resource discoveries both within the immediate near-mine environment and within the broader region, representing a potentially very strong organic growth pipeline. ORN believes it will be operating in the Prieska district for decades to come.
Next Steps
With the Prieska BFS now complete and granting of the Mining Right imminent, ORN will now focus on progressing discussions with project financiers, concentrate off-take partners and key suppliers. It expects to be in a position to make a Final Investment Decision (FID) on Prieska during H2 2019, putting the project on-track for construction commencement during late 2019 or early 2020.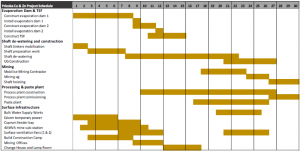 Table 1: Project Execution Schedule
Project Overview
Prieska is located within the Northern Cape Province of South Africa. As part of the ORN's activity since acquiring ownership, a Scoping Study was initially completed with positive results and a BFS has recently been released, with the aim of establishing new mining operations at the Prieska Copper Mine, which has been closed since 1991.
The mine was previously owned and operated by a subsidiary of Anglovaal and operated for 20 years from 1971, processing 45Mt of run-of-mine (ROM) material and producing 1.01Mt of zinc and 0.43Mt of copper as high-grade concentrates. The operation achieved average processing plant recoveries of 84.3% for zinc and 84.9% for copper, whilst reported 'mineral reserve' grades at the time of the original mine commissioning were 3.8% zinc and 1.7% copper. The concentrates were sent to either O'kiep or Zincor for smelting, or Saldanha Bay for export.
Some of the infrastructure that serviced previous mining operations is still serviceable and can be utilised for the proposed new project. Infrastructure includes a 60km-long bulk water supply pipeline transferring water from the Orange River, tarred roads, regional grid power and an airstrip. The main hoisting shaft, which is 1,024m deep, and its associated concrete headgear, are intact and reusable. Some 37km of underground tunnels and mined-out stopes are currently flooded to a depth of 330m below surface and so a 14-month pumping program would be required to de-water these workings.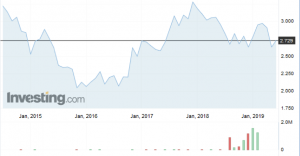 Figure 2: Five Year Copper Price Chart
Summary
The BFS has confirmed Prieska's potential to underpin a significant low-cost, copper and zinc development project, with exceptional opportunities for future growth. Based on BFS assumptions, the project will provide excellent financial returns for a relatively modest capital investment, given the scale of operations envisaged. The proposed production hub is situated within a highly-endowed but under-explored volcanic massive sulphide (VMS) district, with significant long-term exploration potential. ORN will now focus on progressing discussions with potential project financiers, off-take partners and key suppliers.