Poseidon Nickel – (ASX: POS, Share Price: $0.037, Market Cap: $98m, coverage initiated @ $0.06 in September 2015)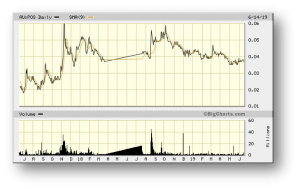 Key Catalyst
Solid high-grade nickel sulphide hits continue at Silver Swan, including 15.1m @ 8.64% Ni (true width 3.5m) outside of the current resource envelope, but largely ignored by the market.
POS has been a mainstay of our coverage universe since late 2015, offering nickel exposure via its Western Australian nickel project portfolio. Like most nickel production hopefuls however, better demand-supply dynamics have been necessary for POS to be confident enough to take the production plunge. The company's flagship asset has been its historic Windarra nickel project in Western Australia, together with a suite of nickel acquisitions secured over recent years from Russia's Norilsk. Simultaneously, POS is looking to utilize its existing nickel infrastructure for potential third-party toll-treatment of nearby gold deposits. The inherent value within POS is reflected in the fact that US private equity firm, Black Mountain Metals, in late 2018 made an informal takeover proposal at a price of $0.06 per share. The current focus of its activities is its Silver Swan nickel project in Western Australia, where it continues to expand high grade nickel sulphide mineralisation, with the aim of recommencing production.
Latest Activity
Silver Swan Update
POS recently provided an update with respect to its ongoing drilling program at its Silver Swan nickel deposit in Western Australia, 50km north of Kalgoorlie. The Silver Swan underground deposit lies immediately adjacent to the company's Black Swan concentrator and will likely play a key role in the potential restart of the Black Swan operations.
The current 3,000 metre program is intended to verify the current Silver Swan resource base underpinning the restart economics, whilst also extending the deposit where previous work by POS has shown additional opportunities. Silver Swan has historically returned some of the highest-grade nickel sulphides assays in the world.
Some of the best results from the latest program comprise hole PBSD004, which intersected 13.6m at 5.61% nickel, 0.13% copper and 0.01% cobalt from 119.4m; hole PBSD006A, which intersected 15.15m at 8.64% nickel, 0.24% copper and 0.19% cobalt from 180m; and hole PBSD009, which intersected 37.93m at 3.44% Ni, 0.14% copper and 0.06% cobalt from 159.07m.
This ongoing diamond core drilling at the Silver Swan underground mine is continuing to intersect significant high-grade nickel sulphides at widths greater than predicted from historical results. For example, hole PBSD006A has encountered high-grade nickel ore outside of the Tundra-Mute Resource envelope at Silver Swan.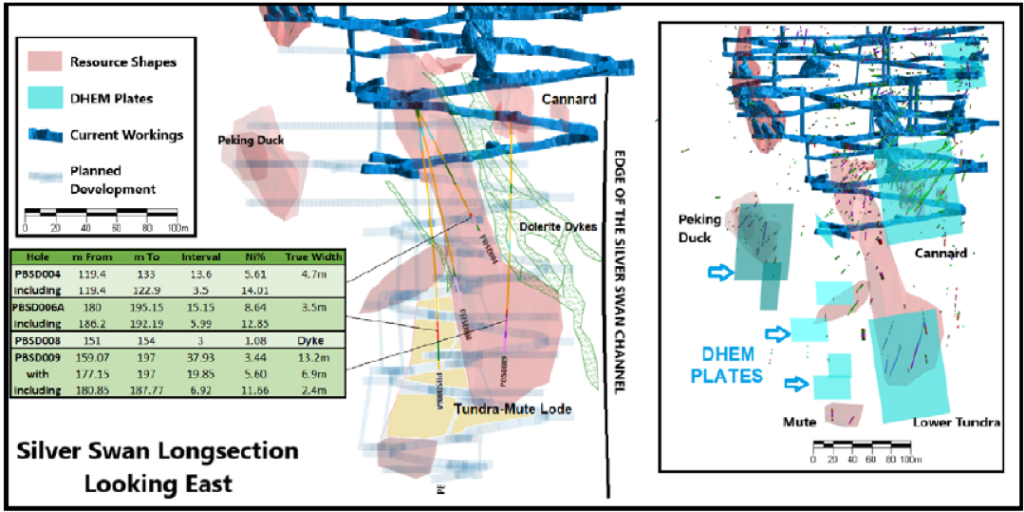 Figure 1: Long-section of drilling results and correlation with DHEM areas of interest
Technical Significance
By way of an overview, PBSD009 was designed to test the thickest part of the proposed Lower Tundra-Mute mining zone and intersected a massive sulphide of 2.4m true width, along with a much thicker halo of disseminated mineralisation. Based on the company's' interpretation, this geology indicates the central channel position of the komatiite flow. This central channel position was targeted by a further three holes, which all intersected massive sulphide widths on par or greater than previously modelled.
Drill-hole PBSD006A has intersected thick, massive sulphide mineralization outside of the current Tundra-Mute interpreted resource. The hole was positioned with the objective of extending mineralization in this area, based on observed geology in surrounding holes. The success of this hole, together with good historical intersections both below and above this zone, is positive for the success of the current mine plan and for the continuation of the deposit at greater depth.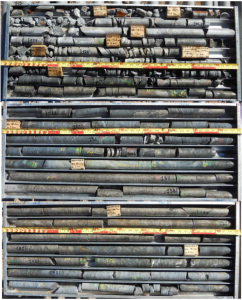 Figure 2: Core from PBSD006A showing massive sulphide mineralisation outside of the current resource
Next Steps
The Silver Swan program is expected to finish up shortly, with the remaining assays being released to market in July. POS envisages that the results will flow through into a revised Silver Swan resource by the end of August 2019, with the ultimate goal of assisting with the company's plans for a restart of mining at Black Swan.
POS is encouraged by the ongoing successes being achieved at Silver Swan. The drilling program is an important component of the ongoing de-risking of the project and optimisation processes, including mine life extension in an anticipated higher nickel price environment.
Project Overview
POS maintains ownership of three historical nickel sulphide mines: Windarra, Black Swan/Silver Swan and Lake Johnston. These 100%-owned assets collectively comprised an operating capacity of 3.6Mtpa (Lake Johnston 1.5Mtpa, Black Swan 2.1Mtpa). The processing facilities at Lake Johnston and Black Swan have been maintained through company-managed care and maintenance programs.
During July 2018, POS released a DFS related to a restart of operations and potential outcomes for Black Swan/Silver Swan, with the study indicating an NPV of $44m, C1 cash costs at US$3.20/lb (at a Ni price of US$6.50/lb and FX of 0.75) and a low capital requirement at $57M. All operating licences for a re-start are in-place, with negotiations for the Silver Swan & Black Swan product off-take in progress. The company also sits on a healthy cash balance of ~$63.5M.
Summary
The results that POS is achieving with the Silver Swan drilling program, continue to impress. Most importantly, the drilling has also demonstrated that some of the DHEM indicators of sulphide potential lie outside the current resource envelope. Silver Swan has historically returned some of the highest-grade nickel sulphides assays in the world.
In conjunction with the recently completed initial drilling program into the Black Swan deposit, the outcomes at Silver Swan will be considered as part of the mine-life extension and optimisation of the company's proposed restart program, which would allow it to recommence nickel production relatively quickly.