The small cap area of the market has been experiencing considerable interest in recent months with many enjoying a small revival. It can be easy to be caught up in the excitement and see rapid gains in stocks, which leads to a sense of urgency and a failure to complete the necessary due diligence and research. A case of FOMO – Fear Of Missing Out. Naturally, not all small caps are created equally and many reverse on a dime catching investors out, because there is little substance or longevity to their business.
One key element to having more confidence in the longer-term success of a business is management. A small cap company with strong management – ideally one that has done it before – carries significant positive weight with me. Especially when management remain within the same industry, because they are experts in their chosen industry and can replicate prior success. Success doesn't always translate across when they tackle a new industry. Roger Corbett's success at Woolworths didn't translate to success as Chairman at Fairfax. Success, to date, has been paramount with Helios Energy (HE8) because the team from Aurora Oil and Gas decided to replicate that prior success in east Texas oil field to west Texas as I have discussed numerous time in the past.
One small-cap company that has come across my radar that has generated a lot of interest is Longtable Group (LON). LON is a food and beverages company with a significant focus on dairy products including organic milk. Importantly, the CEO Laura McBain was the CEO of Bellamy's from its listing in 2014 to 2017, a career at the company that stretches back to 2007. In my view this is a significant attraction as she has the experience to understand and navigate the issues that small-cap companies with limited resources and capital experience when undergoing substantial growth. I like businesses where I can have faith that management know what they are doing.
LON owns a series of differing brands as shown below and are in the process of expending their distribution through contracts with Woolworths, Metcash and currently in discussion for export opportunities to China for the Paris Creek Farms (organic dairy) unit.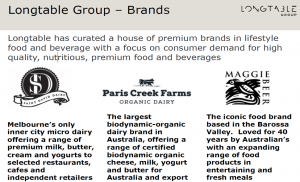 LON has moved to acquire 100% of the Maggie Beer brand, while a new launch, rebrand and rollout for the other units is gathering momentum. The combination of a wide product mix, refocus, increasing distribution and export potential (to China) is a powerful catalyst to the underlying share price to rerate higher.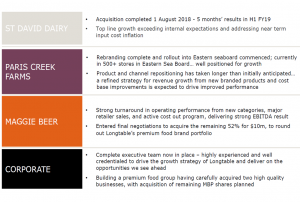 The LON share price has been under pressure during this rebranding and operational turnaround but has now started to show some life, coinciding with the next phase of growth for the underlying businesses. As noted earlier the rollout to Woolworth and Metcash will bring greater volumes and I have high expectations that international export is near-term possibility.
Where can this near-term momentum carry the share price?
Well if we look at other small food related stocks and not at the billion dollar plus milk companies – Bellamy's and A2 Milk , there is scope for the share price to double from here. Food Revolution (FOD) is a company I followed and traded in the past during its solid run in late 2018 from 8c to 21c. FOD makes a series of juices and kombucha brands that appear in Woolworths and Coles – sending its share price to a market cap of just over $100 million at around 20c.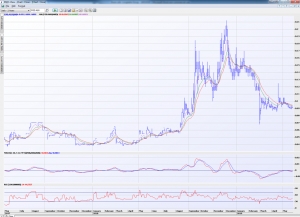 LON share price has only just begun to move and with a market cap of $50 million has the potential to double from here if it were to follow the basic template FOD has shown. I think there is more longevity and potential in the business of LON on an export basis and given increasing demand for organic products – especially dairy.
As a result the LON share price is only just at the start of what could be an initial move to 50c with enormous potential beyond that if the export market is truly captured for its Paris Creek organic dairy products. When Bub's (BUB) announced this month they were going to produce an organic grass-fed cow milk infant formula, $100 million of value was added to its market cap that day. Admittedly there is a love affair with infant formula at the moment, but it does give some scope to how the market views the potential worth of such "green" products when they have path to export.
After some time spent forming a strong foundation for the business I think Laura has positioned LON to now benefit from increasing distribution and volumes. I couldn't think of a better management team to navigate a $50 million small-cap through its next growth phase.
I plan to sit down with the Company and understand the business and investment opportunity over the coming months and see whether I should continue to build a bigger exposure.