Emmerson Resources – (ASX: ERM, Share Price: $0.078, Market Cap: $31m, coverage initiated @ $0.041 in Oct 2015 – current gain of 90%)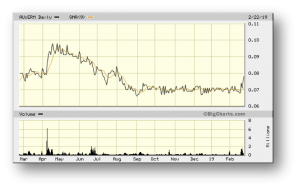 Key Catalyst
Bonanza gold results from Tennant Creek drilling – including 11m at 54g/t gold and 22m at 36g/t gold from the 100%-owned Mauretania project, and 11m at 48g/t gold from the Susan JV project.
ERM has maintained a strong exploration focus on its Tennant Creek Mineral Field (TCMF), where it has successfully employed modern, high-tech exploration techniques with the aim of generating company-making copper-gold discoveries in what is a historic gold production region.
Throughout its history, ERM has also managed to attract substantial farm-in partnerships, underling the attractiveness of its acreage. Simultaneously, ERM has managed what it describes as its 'small mines strategy', which involves recommissioning high-grade, small-scale gold mines, like its Edna Beryl mine, in order to generate near-term cash-flow that can, in turn, be utilised to self-fund its exploration activities. The company recently announced the formation of a strategic alliance with Territory Resources to build a central mill in Tennant Creek to support the processing from ERM's small gold mines and other third-party feed.
Latest Activity
Tennant Creek Exploration Update
Northern Project Area – ERM 100%
A total of 15 holes for 1,700m of RC drilling were completed across three project areas during December 2018, with the best assay results received from ERM's 100%-owned Mauretania prospect, where drilling was designed to better define the shallow, oxide and deeper primary gold zones.
Some of the best drill-hits from Mauretania include 11m at 54g/t gold from 72m (in drill-hole MTRC034), 22m at 36g/t gold from 73m – ending in mineralisation (drill-hole MTRC031), 24m at 15.7g/t gold (drill-hole MTRC032) and 7m at 13.4g/t gold from 51m (drill-hole MTRC027).
Technical Significance
These exceptionally high-grade results have enhanced ERM's confidence in the potential for economic mineralisation in both the shallow oxide and deeper, primary gold zones – despite difficult drilling conditions.
A good example is drill-hole MTRC034, which was abandoned (due to drilling issues) in broken and brecciated hematite ironstone, with assays of 11m at 54.1g/t gold. Redrilled in hole MTR031, an intercept of 22m at 36g/t gold was returned (that included 6m at 122g/t gold that terminated in ore).
Interestingly, drill-hole MTRC028 was designed to test the deeper primary gold mineralisation, however it intersected significant copper mineralisation of 9m at 1.05% copper from 131m depth. Given the typical metal zonation of copper higher in the system (and closer to the surface) than the gold and bismuth, this suggests potential for primary gold at depth. This hypothesis is supported in the next drill-section to the south, where previous work intersected 10m at 7.6g/t gold from 171m depth (including 5m at 13.4g/t gold).
Southern Project Area – Territory Earning 75%
A total 76 drill-holes for 3,000m were completed across several shallow oxide gold projects including Black Snake, The Susan and the Three Thirty prospects. With many assays still outstanding, early results from The Susan prospect have highlighted strong potential for shallow, high-grade gold in the oxide zone.
Two of the best examples were drill-holes SS001 and SS003, which intersected 11m at 48g/t gold and 8m at 16g/t gold respectively.
Technical Significance
Drilling in the SPA is part of the $5m earn-in funded by Territory and aimed at "growing" known gold mineralisation around the historic mines that are in the Mining Schedule. Given these positive drill results so far and overall limited historical exploration, it is likely that further pre-development drilling will be undertaken as part of earn-in expenditures by Territory.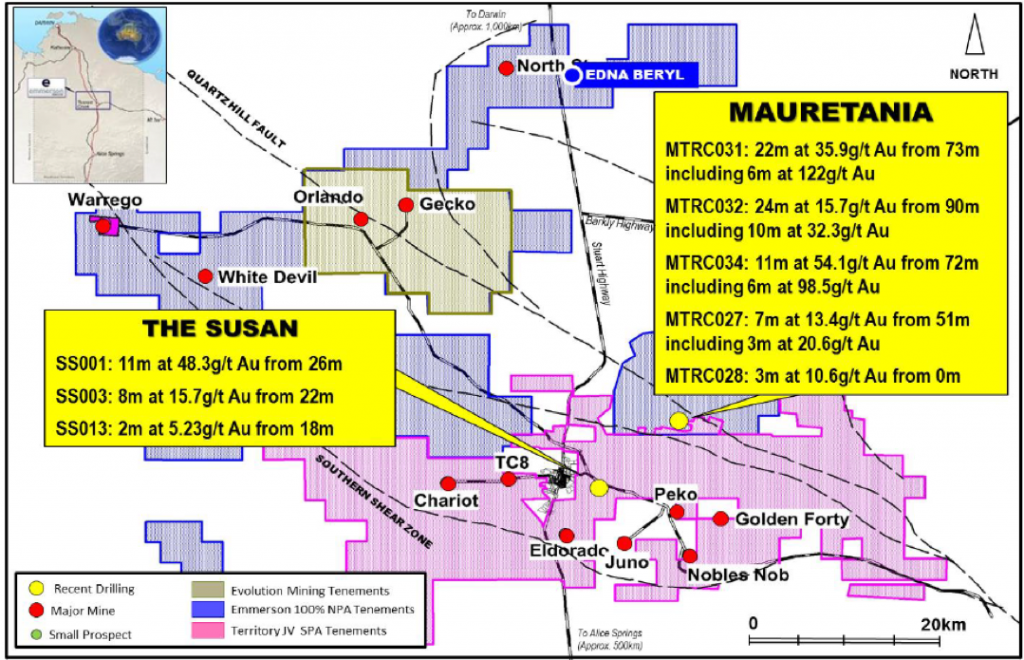 Figure 1: Location of Emmerson's tenement 100% package (blue) and recently completed drill program targets (yellow dots).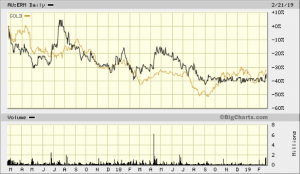 Summary
These latest high-grade drilling results at the Mauretania and The Susan projects provide support for ERM's strategy of building a pipeline of high-grade, high-value mines that can feed into its Edna Beryl mine schedule. Territory Resources is currently undertaking various optimisation studies ahead of permitting and development.
The first parcel of ore produced from the mine is currently being toll treated offsite, while Territory completes refurbishment of the Warrego mill (with completion forecast by year-end).
ERM will receive a low-risk return – either from 12% and 6% of the gold produced at the Edna Beryl and Chariot projects respectively – or a 25% share of the profit from the other seven projects in the Mine Schedule.
The development of the Edna Beryl mine not only provides a low-risk return to ERM, but also an opportunity to better understand the geology and gold distribution via underground drilling and development.