The US December quarter earnings season is now in its final stretch with just 50 companies from the S&P 500 index down to release results this week.
Among those however are some very heavy hitters like Walmart, the world's biggest retailer which will investors are watching to see if its online business is still doing well.
Others include HP Enterprise, Kraft Heinz, Hormel Foods and CVS Health.
Next week (Saturday, US time) sees the release of the 4th quarter and 2018 results from Berkshire Hathaway, plus the annual (and legendary letter to his investors from Warren Buffett).
Even though 2018 was a losing year, the wider market lost more value than did the shares of Berkshire.
The results though will be hit by $US38 billion in lost value from the company's huge share portfolio. That is a top line cost – the underlying figure should see a solid rise.
AMP Chief Economist, Shane Oliver says that while the US reporting season has shown some surprises on the upside, its still showing a slowdown from previous quarters as the tax boost and underlying earnings growth has slowed.
He says that with 80% of S&P 500 companies having now reported, 72% have beaten on earnings with an average beat of 3.3% and 60% beating on sales.
"Earnings growth is running at 18.5% year on year for the quarter. As can be seen in the next chart the level of surprises and earnings growth is slowing down.
"US earnings growth is likely to be around 5% this year," Dr. Oliver wrote at the weekend.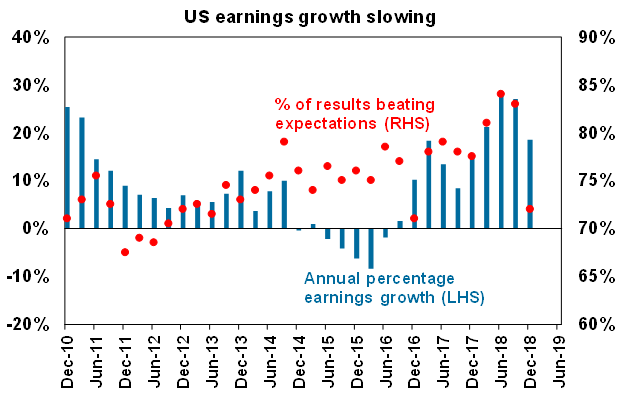 And more and more US analysts agree with Michael Wilson, chief US equity strategist for Morgan Stanley, last week warning of a sharp slowdown.
He cuts his base-case estimate for 2019 earnings per share growth to 1% down from 4.3%.
As Dr. Oliver pointed out, Wall Street's consensus estimate calls for earnings to grow 5% to $170 a share, according to FactSet.
Morgan Stanley also maintained its S&P price target of 2,750 for the end of 2019 — implying a small loss if compared with the 2,775 reading at Friday's close.