AusQuest – (ASX: AQD, Share Price: $0.026, Market Cap: $14m, coverage initiated @ $0.017 in Sep 2015 – current gain of 53%)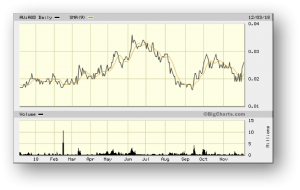 Key Catalyst
Diamond drilling underway to test three discrete bedrock EM conductors at Balladonia Nickel Project in the Fraser Range region of WA, comprising a minimum of three holes for ~1,200 metres.
AQD has remained a mainstay of our coverage universe on the back of its bold exploration ambitions and its success in recruiting 'big brother' joint ventures partners with deep pockets to help fund its exploration activities. AQD's strategy of exclusively targeting Tier 1 exploration discoveries has differentiated it from the vast majority of its junior peers, together with the fact that it seeks to minimize equity dilution via its JV farm-outs.
AQD has most recently revitalised the 'big brother' concept via a unique Strategic Alliance Agreement (SAA) with diversified miner South32 (ASX: S32), where AQD has developed a pipeline of high-potential exploration opportunities, with South32 funding all exploration activity. The SAA with South32 represents an exciting opportunity to work alongside one of the world's most successful diversified miners. Importantly, AQD has drilling programs on the go in Western Australia and Peru.
Latest Activity
Balladonia Project Update
Diamond drilling has commenced to test three discrete bedrock EM conductors at its Balladonia Nickel Project in Western Australia's Fraser Range region. The three-week drilling program will comprise a minimum of three holes for approximately 1,200 metres.
The diamond drilling program is designed to test three discrete bedrock EM conductors that are thought to reflect sulphide mineralisation within cross-cutting dyke-like mafic intrusions interpreted from aeromagnetic data.
Numerous mafic intrusions within the Balladonia Project area can be interpreted from the magnetic data and remain to be tested should drilling of the current targets confirm the nickel potential of the area.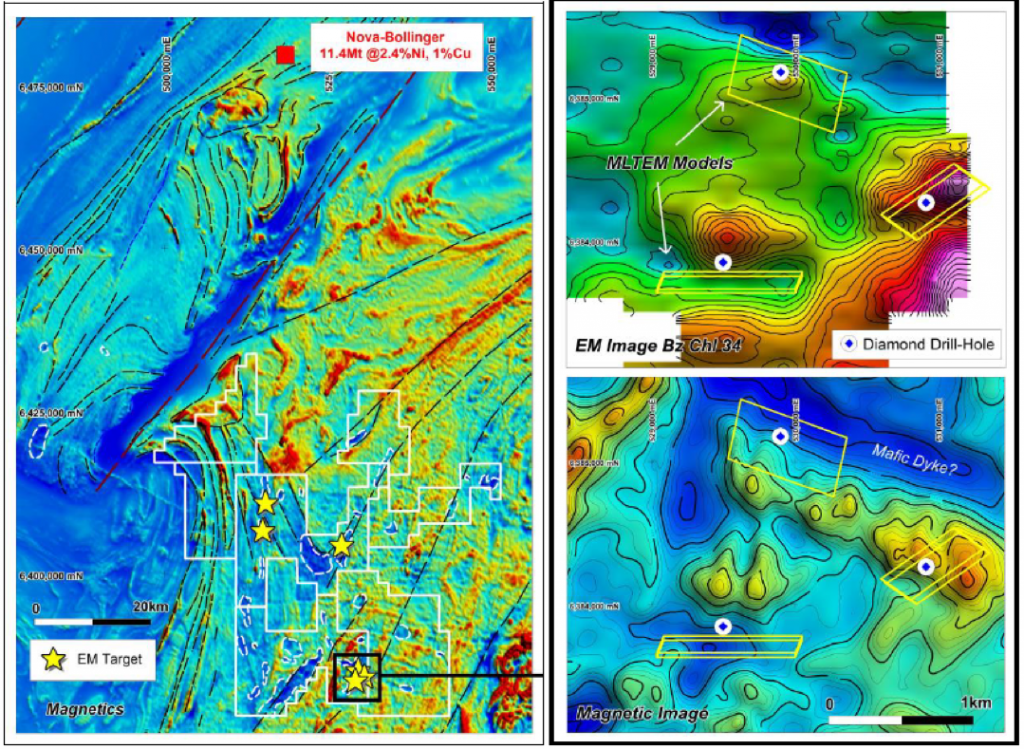 Figure 1: Balladonia Nickel Project showing EM targets and drill-hole locations.
Technical Significance
The Balladonia Project is located ~60km south of the Nova/Bollinger nickel-copper mine (refer to graphic above), in an area offset from the main north-east Fraser Range trend, where mafic intrusions similar to those hosting nickel sulphides at Nova are interpreted to occur.
The Nova-Bollinger discoveries by Sirius Resources ultimately led to a $1.8 billion takeover of Sirius by Independence Group (ASX: IGO) in late 2015, a far cry from Sirius' minnow status just a few years earlier. Sirius Resources went from a share price of $0.05 to the Independence Group takeover at an offer price of $4.38 a share.
The EM targets defined at Balladonia are located in highly favourable (but as yet untested) geological terrain, so the results of the program will be interesting. The Balladonia program therefore has the potential to open up a new region for nickel exploration close to the Nova-Bollinger discoveries. Furthermore, air-core drilling over the three northern targets is also scheduled to be completed before the end of the year.
In terms of funding, the Balladonia Project is subject to the Strategic Alliance Agreement (SAA) with globally diversified mining and metals company South32 (ASX: S32), whereby South32 will fund the current drilling program and has the opportunity to earn a 70% interest in the project by spending US$4 million.
Other Recent Activity
Cerro de Fierro Project Update
ADQ has recently received assay results from the first three of seven diamond drill-holes completed at its Cerro de Fierro Iron-Oxide Copper-Gold (IOCG) Project in southern Peru, with wide intervals of highly-anomalous copper and gold mineralisation identified.
The broad zones of mineralisation are associated with iron and potassic alteration originally identified by AQD's airborne survey and observations reported on 15th November 2018. The initial drill-holes are widely-spaced with holes CDF02 and CDF03 located ~800m apart.
Technical Significance
The Cerro de Fierro Project is located at the southern end of a recognised IOCG metallogenic belt in southern Peru. It lies within ~150km of the Mina Justa deposit (~475Mt @ 0.68% Cu), which is being developed by Peruvian mining company Minsur S.A.
The initial assay results have provided a strong indication of the potential for the Cerro de Fierro prospect to host a relatively large IOCG deposit. The results from hole CDF03 are of particular interest, with a number of relatively thick (>30m) intersections reporting copper grades greater than 0.4% Cu and associated gold values ranging from 0.13g/t Au to 0.35g/t Au. These intersections occur within a broader envelope (288m down-hole) of highly anomalous copper values, reflecting the potential size of the system.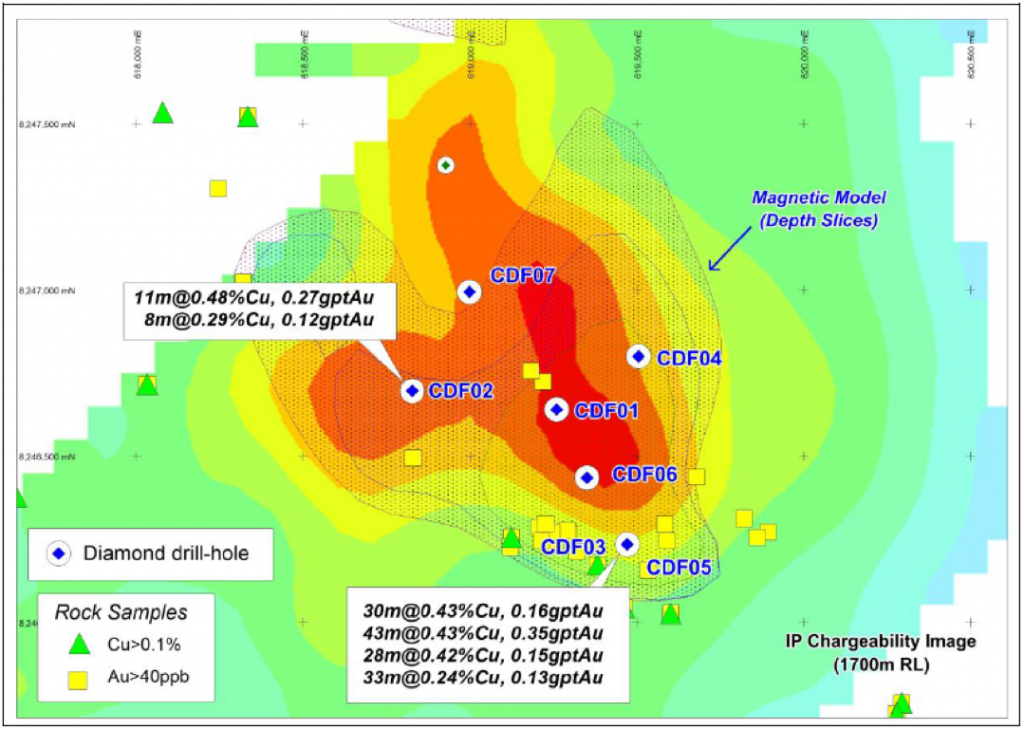 Figure 2: Cerro de Fierro IOCG target showing drill-hole locations and available assays.
Next Steps
Drilling is continuing with the original planned program scheduled to be completed in early December. Assays for all remaining drill-holes should be available by early January 2019. The results from the final four holes will be keenly awaited to see if they will shed further light on the controls on mineralisation and its distribution.
In terms of funding, the project is the subject of an agreement with South32, whereby South32 can earn a 70% interest in the project by spending US$4 million, with the right to earn an additional 10% interest by completing a Pre-Feasibility Study. ADQ is the operator during the first phase of drilling.
Summary
We look forward to additional results from all the various projects where drilling is currently taking place in Australia and Peru. AQD currently has ten projects operating within its Strategic Alliance Agreement (SAA) with South32.