Talisman Mining – (ASX: TLM, Share Price: $0.295, Market Cap: $55m, coverage initiated @ $0.49 in Sep 2015)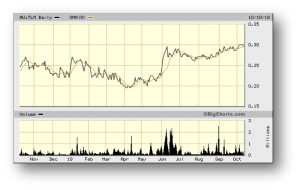 Key Catalyst
Shareholder approval for sale of TLM's 30% stake in Springfield JV to Sandfire Resources for cash and royalty.
We initiated coverage of TLM back in late 2015, when the company was flying high on the back of high-quality exploration results from its Springfield joint venture project with Sandfire Resources (70% and JV manager).
Springfield is located in a proven Volcanogenic Massive Sulphide (VMS) province in Western Australia's Bryah Basin and contains multiple prospective corridors. The JV has proved up the high-grade Monty copper-gold deposit, 10km from Sandfire's DeGrussa operations. Monty is one of the highest-grade copper-gold discoveries made globally in recent decades and a Feasibility Study completed in March 2017 highlighted the strong technical and financial viability of the project, which is now proceeding to development. JV partner Sandfire recently made a move, by offering to purchase TLM's 30% stake in the Springfield JV for $72.3M cash consideration, plus an ongoing royalty – an attractive outcome for TLM.
Latest Activity
Shareholder Approval for Sale of TLM's 30% Springfield Project Stake
In our previous coverage of TLM during June 2018, we outlined the in-principle agreement between TLM and its Springfield JV partner, Sandfire Resources (ASX: SFR), for SFR to acquire TLM's 30% stake.
The key deal terms comprised a cash consideration of $72.3 million and an uncapped and perpetual 1.0% Net Smelter Return (NSR) Royalty applying to 100% of all contained copper and gold in ore mined and processed from within the Springfield JV, above the respective contained metal levels in the current Monty Mine Plan.
Importantly, TLM's board unanimously supported the proposed transaction, along with TLM's largest shareholder Mr Kerry Harmanis.
Following a recent General Meeting of TLM shareholders on 4th October, approval was received for the Springfield sale – a pre-requisite of the proposed transaction.
Technical Significance
The upfront $72.3 million cash payment provides immediate value, whilst removing exposure to future development and operating risks at Monty. TLM had previously estimated the pre-tax NPV8 of its 30% interest in Monty at around $46m. TLM will extinguish the US$11.5M debt owed to Taurus Mining Finance Fund out of the sale proceeds.
Furthermore, SFR's effective assumption of the capped 2.25% gross revenue TMFF Royalty on Monty provides additional value for TLM, whilst the NSR Royalty retains leverage for TLM shareholders to potential mineral inventory upside at Monty and future discoveries across the broader Springfield JV.
TLM will be able to return up to $46.5 million to shareholders, which it anticipates being done by way of a dividend and capital return as soon as practically possible. TLM will also retain a strong cash balance in order to fund exploration programs at its Lachlan copper-gold project in NSW and its Sinclair Nickel Project in WA.
Outlook
TLM has assembled an acreage position of more than 3,000 sq km in the Lachlan Fold region of NSW. The company is undertaking a methodical approach to exploration, but has already advanced a number of historic targets and generated multiple new targets of its own.
The prospectivity of this highly mineralised area was underlined by the results from the company's first RC drilling program, which returned high-grade copper over very mineable widths at the Blind Calf prospect. Activities at Blind Calf and across the Lachlan project will gather momentum during 2019.
The company's other key asset, the Sinclair Nickel Project, is a valuable strategic asset. During FY 2018 drilling was completed on selected regional targets and further work is planned, most notably at the recently-identified new mineralisation at Skye East, which lies in close proximity to the Sinclair mine. Sinclair's prospectivity, the extensive mining and processing infrastructure already in place and growing strategic interest in nickel assets ensures Sinclair will receive a greater level of focus in 2019.
Summary
The proposed sale of TLM's 30% Monty stake is a judicious outcome – and in reality, it was always the likely conclusion. The deal crystallises value and provides certainty, whereas TLM had previously struggled to generate value and share price appreciation. We were always of the view that this situation would change towards the end of 2018 – as Monty production approached – which is likely why SFR has moved now.
Market perception is a hard thing to shake and whilst the JV with SFR was established for all of the right reasons, the level of control that SFR wielded had negatively impacted market perceptions about TLM's ability to flourish and generate full value under the deal.
With cash of around $60 million in the bank post the Sprinfield sale, TLM will have the capacity to fully control its own destiny. It has the ability to evaluate its nickel activities in WA and copper-gold activities in NSW at a time of strengthening demand for both metals.