Walkabout Resources – (ASX: WKT, Share Price: $0.15, Market Cap: $41m, coverage initiated @ $0.12 in April 2016 – current gain of 25%)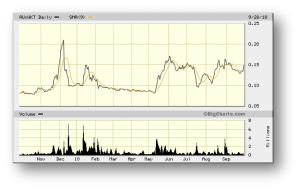 Key Catalyst
All conditions met for final Lindi Jumbo Mining Licence approval, together with continuation of advancement of design and engineering-based activities at the Lindi Jumbo Graphite Project.
WKT has been a solid performer since our coverage initiation during April 2016, having generated a 25% share price gain. Nevertheless, it hasn't been an easy ride. Whilst WKT has remain focused on plans to progress its Lindi jumbo graphite project in Tanzania, the company has had to deal with significant political uncertainty following the introduction of a Government moratorium on the award of Mining Licences and Special Mining Licences within the country. As a result, WKT and its Tanzanian resource peers all suffered in share price terms. With the recent establishment of a new Tanzanian mining commission, the ability to issue mining licences was reinstated, culminating in WKT's recent election to exercise its option to acquire a 100% stake in its Lindi graphite project, along with the granting of the much-anticipated Mining Licence by the Tanzanian authorities, allowing WKT to further progress project funding options.
Latest Activity
Grant of Mining Licence
WKT recently received confirmation from the Ministry of Minerals of Tanzania with respect to the granting of the much-anticipated Mining Licence for its Lindi Jumbo Graphite Project in southeastern Tanzania. WKT has since responded to the Ministry and has accepted the Licence conditions and awaits an update of the Tanzanian Ministry of Minerals Cadastre System.
The original strategy of project fast-track through concurrent design and engineering-based activities has been maintained throughout the period of licence application. In addition, the appointment of pre-selected "project partners" has been advanced to the stage of legal agreements, final scopes of works and construction plans being well advanced across the range of primary and secondary level construction partners.
WKT has engaged a Project Manager to manage the co-ordination and project interface detail between the partner contractors. This close association between the company and the Project Manager allows the contracting and construction to be closely managed.
Technical Significance
The granting of the Mining Licence is a major milestone in terms of project development, representing the final major legislative requirement for the Project. It is particularly pleasing given the previous delays and challenges that had confronted resource companies operating in Tanzania. It provides the market with greater confidence and certainty with regards to the project.
It also allows WKT to agree final construction plans with respect to the Lindi Jumbo mine site, as well as allowing for finalisation of the Engineering, Procurement and Construction (EPC) Agreement with construction partner, Yantai Jinpeng Mining and Machinery Co. Orders can also now be lodged for the manufacture and supply of final plant equipment.
Furthermore, the grant of the Mining License allows WKT to further progress advanced project funding options, which have been pending the awarding of the mining license.
Acquisition of remaining 30% of Lindi Project
WKT also recently exercised its option to acquire the remaining 30% of the prospecting licence that hosts its Lindi Jumbo Graphite deposit. WKT now owns 100% of tenement PL9992/2014.
Technical Significance
The purchase of the remaining 30% project interest represents a significant value-adding transaction for WKT. Furthermore, this significant project milestone is indicative of the confidence that WKT management has in the project and in recent events in Tanzania.
Lindi Project Overview
WKT owns the prospecting rights over 325 sq km of four contiguous exploration licenses within the highly prospective Mozambique belt, a region that hosts some of the world's highest grade, coarse flake graphite deposits. The Lindi Jumbo Graphite Project is situated in south-eastern Tanzania, approximately 200km from the export port of Mtwara. The company took the project from discovery in October 2015 to the completion of a highly robust Definitive Feasibility Study (DFS) within 16 months.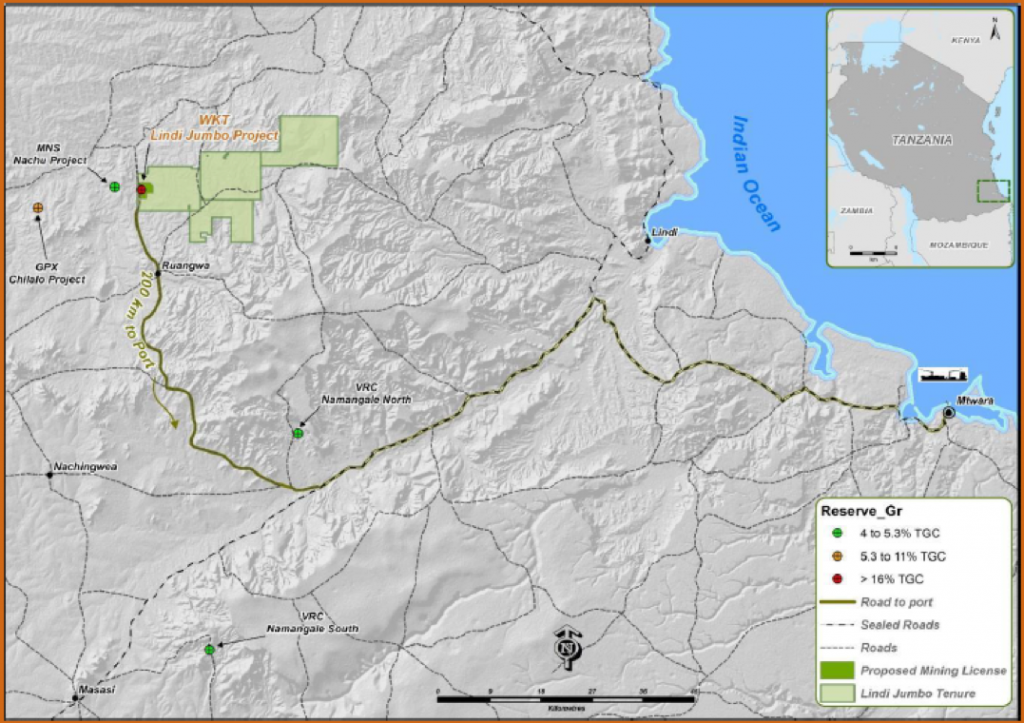 High-Grade Resource
The very high-grade and exceptional distribution of large graphite flakes within the Lindi Jumbo Project area provides a likely competitive advantage in terms of both capital and operating cost reduction, as well as metallurgical performance via the potential production of a sought-after, premium natural graphite flake product. The project includes a JORC 2012-compliant Proven and Probable Ore Reserve and a Measured, Indicated and Inferred Mineral Resource.
WKT declared a global Mineral Resource of 29.8Mt at an estimated grade of 10.9 % Total Graphitic Carbon (TGC). The high-grade Measured, Indicated and Inferred Mineral Resource contains a super high-grade core of 4.7MT at 22.8% TGC for 1,076,500 tonnes of contained graphite – making this the highest mineable graphite resource in Tanzania. The Proven and Probable Ore Reserve of 5Mt @ 16.1% TGC is based on 42% of the Measured and Indicated Resource only, with the mining plan utilising high grade (>17% TGC) plant feed in the first three years and +16% TGC over the Life of Mine (LOM). The Ore Reserve has resulted in a Life of Mine of approximately 20 years to produce 40,000 tonnes of graphite concentrate per annum. The LOM can possibly be extended through upgrading of the high grade portions of the Inferred Resource of the deposit or treatment of the lower grade stockpiles (<16 % TGC).
Robust DFS Results
Finalisation of the project DFS during mid-2017 was a major milestone event for WKT. It was conducted on a 100% basis in anticipation of its exercising its option over the remaining 30% project interest. The Study scope was focused 100% within the existing JORC 2012 Measured and Indicated Resources and it found the Lindi Jumbo deposit to technically and financially viable, with no immediate or obvious impediments to mining.
Key Outcomes:
Elective annual production target of 40,000 tonnes graphite in concentrate
Operating cost per tonne in concentrate estimated at US$292/t in concentrate delivered at mine gate – the second-lowest amongst its peer group and the lowest in Tanzania
Pre-production capex of US$38.7m – the lowest capital intensity amongst peer group. Ongoing sustaining and deferred capital of US$5.6m. Payback of less than 2 years
Pre-tax NPV10 of US$323m with Pre-tax IRR of 97% highly robust
Project Pre-tax NPV10 of US$133m and Pre-tax IRR of 50% at current 10-year low prices
Pre-Tax IRR of 94%
Post-Tax IRR of 85.9%
Operating Margin of 79%
Mine life in excess of 20 years
Product basket price of US$1,687/tonne in concentrate using reasonable assumptions for future pricing
Mill head feed projected at +17% TGC – leading to low working costs and capital requirements
Project almost completely de-risked – with built in capacity optimisation and expansion opportunities in the resource and the process plant
The development philosophy is underpinned by the unique and very high-grade nature of three discrete and visually distinct domains within the Measured and Indicated Resource. Comprehensive mining modelling indicate that these may be extracted with minimum contamination from lower-grade associated domains, such that a high-grade mill-feed in excess of 17.5% TGC can be delivered for the first three years – along with a life-of-mine average mill feed grade above 16% TGC.
As such, the potential high-grade feed favourably impacts the capital and operating margins, as well as mitigating potential market risks that may arise within the international graphite market.
WKT believes a second pillar of design needs to be the production of a premium product, which could be in short supply even in a highly-contested supply environment. The company has managed to achieve this with repeated test-work that has returned highly favourable ratios of the high-value, larger graphite flakes especially those in the Jumbo (+300μm) and Super Jumbo (+500μm) categories.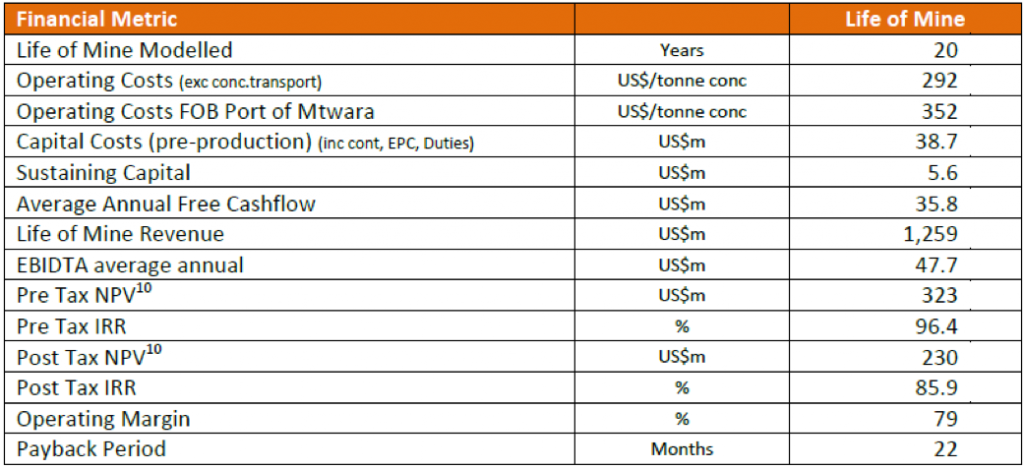 Table 1: Financial modeling results
This should allow the company to negotiate higher-than-average prices even during periods of softer pricing due to potential oversupply of general natural flake graphite product smaller than 300μm.
The third pillar of the design philosophy is to not target too large an operation, increasing capital and operational risk during the early stages. It would be much more prudent to increase production from a stable economic base than attempt too large an entry into the market which may be oversupplied with smaller flake natural "vanilla" graphite.
Summary
WKT's solid share price performance reflects renewed interest in the stock as a result of continued progress at Lindi and mining licence approval by Tanzanian authorities. This confidence is reflected in WKT's decision to exercise its option to boost its project ownership to 100%. The multiple and discrete domains of the Lindi JORC Resource have the proven flexibility and robustness to support a potential mining operation. Optionality is added by the potential for mining of substantially higher-grade zones during periods of economic downturn. WKT's development strategy envisages a focused, modest, low-risk approach to exploration and potential mine development.