Oklo Resources – (ASX: OKU, Share Price: $0.28, Market Cap: $99m, coverage initiated @ $0.08 in Nov 2015 – current gain of 250%)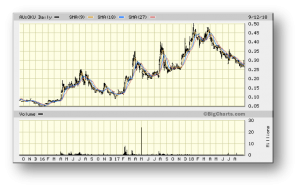 Key Catalyst
First-pass shallow geochemical auger drilling reveals a 6km gold corridor with extensive anomalies identified within the Kouroufing Project, 20km SE of its large-scale Dandoko Project.
OKU has been a success story since our initial coverage back in late 2015, with its share price at one stage hitting an all-time high of $0.50 during January 2018, prior to the recent sector-wide pull-back. Market interest has been driven by encouraging results that have identified extensive gold mineralisation over a 12km long corridor at the company's Dandoko project in Mali, with its Seko prospect proving to be a particular highlight with strike and depth extensions to the significant shallow oxide gold mineralisation already identified. Importantly, the mineralisation is of a similar style to many other large deposits found nearby in western Mali, which augurs well for OKU's attempts to outline a large, open-pittable gold deposit measuring in the millions of ounces. Significantly, OKU has just announced the potential for another major gold system at its Kouroufing Project, located just 20km SE of its large-scale Dandoko Project.
Latest Activity
Kouroufing Exploration Update
OKU has released initial auger results from its Kouroufing project from a program that comprised 690 holes for 10,210m of auger drilling. This drilling work was completed on a grid with lines 200 metres apart and at a spacing of 100 metres along each line (with an average hole depth 15m), in all covering approximately 25% of the total 90 sq km Kouroufing licence area.
This first-pass program of shallow drilling has generated significant results, identifying a 6km long gold corridor. Numerous gold anomalies in excess of 1km in length have been identified, with the best composite intersections comprising 8m at 14.35g/t gold from 5m depth, 5m at 2.18g/t gold from 7m and 15m at 1.25g/t gold from surface.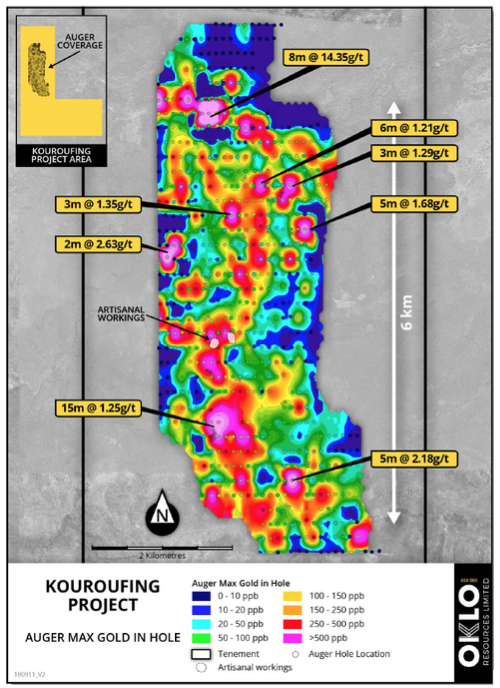 Figure 1: Kouroufing Gold Project, location of auger drill-holes and max gold in-hole values and contours
Technical Significance
The fact that maiden near-surface drilling has generated a 6km long corridor of high-grade gold anomalies is enormously significant. It is the same method of exploration that outlined an extensive 12km long gold corridor within the company's Dandoko Project acreage, situated just 20km to the northwest.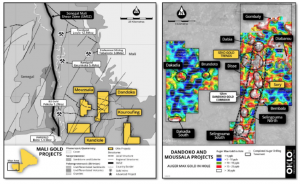 Figure 2: a) Location of OKU's Dandoko, Moussala, Kouroufing and Kandiole gold projects in west Mali b) Location of Seko trends within 12km long Dandoko gold corridor
The initial auger work at Kouroufing has identified anomalous gold values of up to 14.40g/t in one hole, S2T088, within the northern portion of the survey area, with the composite samples giving 14.30g/t gold from 5 to 10m and 14.40g/t gold from 10 to 13m at the end-of-hole. Furthermore, an artisanal working sits within the middle of the currently completed auger results, with stronger mineralisation identified to the south of the workings.
From a geological perspective, Kouroufing is located within the Kenieba Inlier to the east of the regionally-significant Senegal Mali Shear Zone (SMSZ) and consists largely of unexplored Proterozoic Birimian Greenstones with identified northeast-trending structures. This represents a similar setting to that of the Dandoko northeast-trending gold corridor, which was outlined by the exact same methodology – auger geochemical drilling, followed by deeper air-core, RC and diamond drilling.
The auger program has only covered 25% of the project area so far, with future drilling aimed at extending the dimensions of the gold corridor.
Gold Sector
The gold sector internationally has suffered over the course of this year, with trading momentum definitely on the negative side as speculators have sided with the US dollar. These pillars of global financial markets move inversely proportionately to each other – i.e. when one's rising, the other falls – and vice versa. Price weakness is predominantly related to short-term trading positioning, with speculators deeming the US dollar as the go-to safe-haven of choice whilst the current Trump-initiated trade imbroglio gets resolved.
In essence, the recent sell-off is overwhelmingly a transient phenomenon that's decoupled from any intermediate or long-term fundamentals, which presents a compelling opportunity for investors.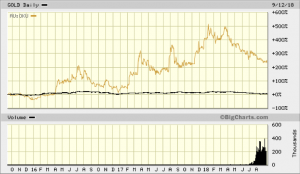 Figure 3: 3-year chart showing the relative performance of OKU v spot gold
Summary
As we've previously highlighted in prior coverage, drilling at Dandoko had highlighted potential for extensive gold mineralised alteration systems, most notably at the Seko area, which hosts robust gold mineralization starting from surface and extending down to around 200m depth. Importantly, the mineralisation is similar in style to many other large deposits found nearby in western Mali, which augurs well for its attempts to outline a large, open-pittable gold deposit – measuring in the millions of ounces.
Encouragingly, there is enormous regional potential as well – as evidence by initial auger results from the Kouroufing Project, just 20km SE of Dandoko. Both projects share the same geology – they're located within the Kenieba Inlier of western Mali – not far from B2Gold's 5.15Moz Fekola Project and 50km to the south-southeast of Randgold's 12.5Moz Loulo Mine.