Australia recorded another big trade surplus in September – not as large as August's record, but big enough according to figures released by the Australian Bureau of Statistics (ABS) on Thursday.
Seasonally adjusted, a surplus of $5.926 billion was recorded, down from $7.253 billion in July.
The market had been looking for a figure of around $6 billion.
So far the surplus for the first 2 months of 2019-20 is $13 billion.
Driving the lower figure was a 3% slide in exports to $40.982 billion in August, while imports dipped by just $137 million to $35.056 billion.
The ABS said the value of non-rural goods exports fell $971 million (or 4%), reflecting falls in the value of iron ore, copper, coal and LNG shipments. Shipments of non-monetary gold (a volatile commodity) fell by $601 million (22%). Rural goods rose $51 million (1%) and services credits rose $53 million (1%).
The value of imports of intermediate and other merchandise goods fell $424 million (4%), while the value of capital goods fell $115 million (2%) and consumption goods fell $76 million (1%). Imports of Non-monetary gold rose $313 million (40%). Services debits rose $164 million (2%).
Meanwhile, the September Commodity Price Index from the Reserve Bank this week showed another fall in the Australian dollar value of exports in September.
The RBA said that in Australian dollar terms, the index fell 3.5% in September. and over the past year, the index has increased 5.2% in Australian dollar terms, led by higher iron ore, beef and veal, and gold prices.
The RBA index shows that the index is now back to levels last seen at the start of this year and is down 6% from the peak hit in June.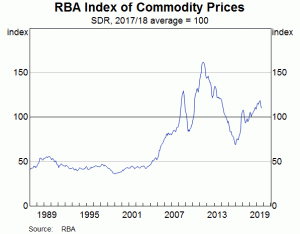 Graph: RBA Index of Commodity Prices