It makes sense that the fortunes of the mining services companies follow that of the mining sector in general. I am not sure if you have noticed it, but almost every resource company I have looked at is undertaking some form of drilling or mine expansion. Surges in the price of gold and precious metals, iron ore, nickel etc has triggered another wave of activity in the industry – large and small.
I can't recall which small-cap resource company it was, but in a recent announcement, the Company stated that drilling results were delayed because a second laboratory needed to be located to conduct tests because of excessive demand for lab test. That certainly sparked my interest and as a result, I wouldn't be surprised to see ALS (ALQ) that provides lab testing to the mining industry, is experiencing some heavy demand on their services and thus, upside risks to earnings.
The ALS share price has been strengthening of late and looks poised to enter a more sustainable trend as it breaks the daily downtrend below. On a historic price-earnings multiple of 25x there is scope for some re-rating given that ratios are often seen in excess of 30x.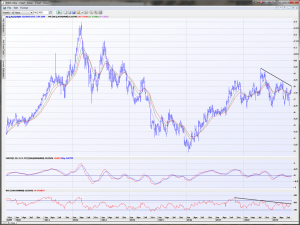 However, what is more attractive is that there is a collection of mining services companies beginning to experience some attractive breakouts that point to these flow-on affects from mining activity translating to a sustained increase in earnings.
Imdex (IMD) a drilling services and data logging business that is breaking through to fresh multi-year highs above $1.40. This is an 18-month consolidation being completed and this setup is one of my personal favourites, when accompanied by an underlying improvement either in the business itself or the macro-trend, which we are. Accompanying the breakout to new highs is the Relative Strength Index(RSI) which is breakout a three-year downtrend suggesting this latest break is "a big one" that will lead to a hefty re-rating.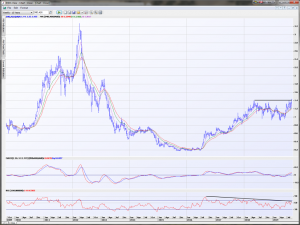 Ausdrill (ASL) after an exceptional profit result is also on the move. It too is breaching long-term resistance and completing an 18-month base formation. 15% growth in the underlying business and a solid order book (and tender pipeline) points to ongoing tailwinds for ASL. I expect ASL to steadily recover back towards $2.80/$3.00. Similar RSI trendline break that stretches back three-years exists here too.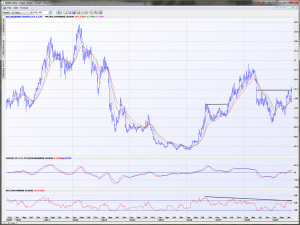 Explosive business Orica (ORI) has been performing strongly as well following its investor day at the end of July. Orica has traditionally correlated (with a lag) to the big gold miners like Newcrest (NCM) and we all know what a stellar run it has had this year. I would expect that Orica over the next 12 months will follow in the shadows of Newcrest's gains.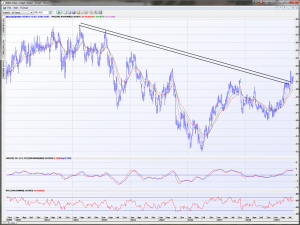 The left field play in the sector is Incitec Pivot (IPL) which also has an explosives business, but unfortunately has been dragged by a struggling fertilizer business. Much like how Lend Lease (LLC) has been dragged down by its engineering unit, any sale or confirmation that the fertilizer business is up for sale will boost the appeal of IPL. Incitec has for a long-time traded at a discount to ORI due to the fertilizer business and the announcement by the Company that it is officially under review has helped reverse the negative sentiment from its earnings downgrade.
If IPL were to sell this unit expect the share price to rocket, probably back into the mid-$4.00 range. As the broader mining services sector continues to benefit from the clear increase in activity, the pressure to remove the underperforming business unit will grow.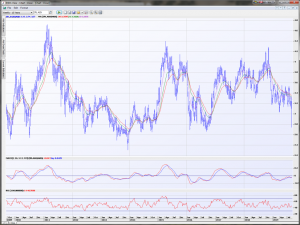 I am always encouraged when I see the majority of stocks in the same industry moving together. The rise in underlying metal prices is a persistent reminder for mining companies to expand operations and get active. While I am not expecting a complete resources boom once again, regular readers will know that I do expect a long-term one in gold and precious metals, and that in itself has already had positive flow on effects for the services industry. As other commodities, selectively join the party, these mining services companies will be the quiet achievers.
NEW – Greg Tolpigin's Million Dollar Trader

Greg has just released his brand new 141-page eBook "Creating Wealth From Explosive Stocks".

Learn how to identify stocks that are poised to increase 50%, 100% and even 500% in value and invest right as they begin to take off.

This educational path to profitable trading cuts away all the theory and hundreds of "historic examples" and uses only real trades Greg has used as a strategist and proprietary trader for the major US and Australian investment banks and continues to apply today.

Join the Million Dollar Trader club today to download your copy of "Creating Wealth From Explosive Stocks" plus watch the weekly video to learn how Greg has applied these strategies to continually identify new opportunities.