Whitebark Energy – (ASX: WBE, Share Price: $0.009, Market Cap: $23m)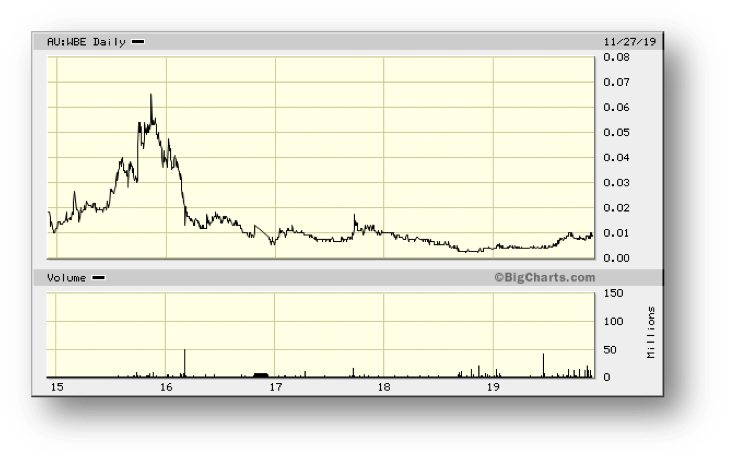 Key Catalyst
Wizard Lake Rex-3 well successfully drilled, the third well within the Wizard Lake field. Initial indications are that an excellent quality reservoir has been encountered, with excellent oil shows.
We introduced WBE to our coverage universe back in 2015, at a time when the company was a purely exploration-focused junior company, with its large-scale Warro gas field in Western Australia as its primary asset. There was never any doubt that the onshore Warro field hosts an enormous gas resource, however the challenge for WBE and other operators has been to try and demonstrate that a 'tight' gas reservoir could flow in commercial volumes. WBE has since elected to focus its energies on more advanced exploration opportunities that can be more easily commercialized, hence its move to Canada during 2017 where it aims to build a high-margin production base through the unlocking of stranded production and the drilling of new wells on existing assets. WBE is planning to continue to grow its Canadian assets during 2019, following successful acquisition and production growth during 2018.
Latest Activity
WBE has provided a progress update with respect to its Wizard Lake development in Alberta, Canada.
The latest of three wells, Rex-3, has been successfully drilled to 3,673m MD (measured depth), on budget and one day ahead of schedule. Initial indications are that an excellent quality reservoir has been encountered, with excellent oil shows and porosities up to 23% over horizontal intervals of at least 1,800m (compared to the Rex-1 well at 1,200m and the Rex-2 well at 1,500m).
The total length of the horizontal well from the heel (1,575m MD) to the toe (3,673m MD) was 2,098m. While the well remained within the Rex unit, it penetrated a 190m shaley lens along its length (vertical thickness less than 2m), before re-entering excellent quality reservoir and drilling to TD (total depth). The well drilled through the base of the channel as planned and the reservoir net-to-gross in the horizontal well remains very high at almost 90%.
The well is currently being prepared for a frac program of the Rex reservoir zone in the horizontal section of the well. As with the Rex-2 well, the company will use sliding frac sleeves to isolate each zone and focus the frac energy to ensure maximum penetration of the zone.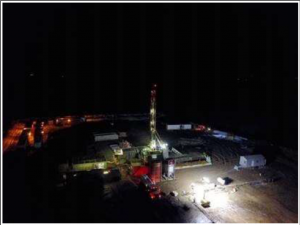 Figure 1: Rex-3 Surface Location
Technical Significance
Rex-3 is the third horizontal well to be drilled in the company's multi-well development of its Wizard Lake Oilfield. Rex-3 was drilled from the same pad as Rex-1 and Rex-2, following a drill path parallel to and ~300m to the east of Rex-2.
Encouragingly, excellent quality reservoir has been encountered in the Rex-3 well over at least a 1,800m section of the horizontal well, with free oil noted on the shakers, and oil shows (fluorescence and cut) together with elevated gas readings noted in the reservoir section.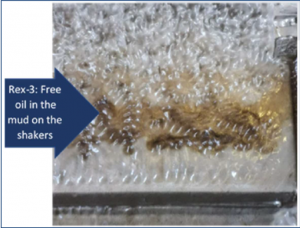 Figure 2: Free oil on the shakers in the Rex-3 well.
Furthermore, by drilling Rex-3 deeper than previous wells, the Rex-3 well passed out of the base of the channel as planned but importantly remained in oil up to that time, establishing a new lowest-known oil in the channel complex and confirming a minimum oil column of 49m. Further up-dip and down-dip potential remains to be tested.
The Rex-3 well has confirmed that the Wizard Lake field extends to the east and south of previous wells and maintains excellent quality reservoir properties over a wide area. The well results validate the geological model and provide strong support for additional development drilling in 2020, once the production facilities are operational.
Project Overview
During May 2017, WBE completed an acquisition of a 20% direct interest in the assets of TSX-V-listed Point Loma Resources for an investment of C$4.2 million. The acquisition included producing wells, land, property, equipment and production facilities.
The Wizard Lake development forms part of the Point Loma Joint Venture with Point Loma Resources, within the province of Alberta in Canada. WBE holds a working interest of between 20% and 30% in the joint venture, with the percentage varying on a licence-by-licence basis.
The Wizard Lake development program commenced during November 2018, with the spudding of the Rex-1 well. Initial flow-testing of the horizontal oil well recorded production rates of more than 300 barrels of oil per day, prior to the completion of testing. As announced by WBE during February 2019, total oil produced from the 16-day flow test was 2,845 barrels – a 55% increase on initial estimates.
During early June 2019, production facilities and a pipeline were completed, with the Rex-1 well beginning to pump fluids on 5 June. Importantly, WBE's work program for 2019 is fully-funded through a placement to Grand Gulf Energy of $1.95m and encompasses the already-constructed pipeline and production facilities, along with the drilling of two new Wizard Lake wells during H2 2019.
The Rex-2 well was drilled and fracced in August and tested during September 2019, with a peak production rate of 865 boe/d (540bbls of oil and 2 mmcf of gas), before the well had to be constrained due to unexpected high gas production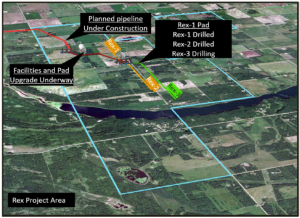 Figure 3: Wizard Lake Development
WBE's working interest in the Wizard Lake oil development is now 50% following the drilling and completion of Rex-3.
Whilst the initial independent reserves assessment following the discovery at Rex-1 indicated the likelihood of 12 to 17 follow-up well locations, WBE's securing of additional land at Wizard Lake has increased this to a minimum of 20 well locations.
Summary
The PLJV is a well-established producer, with existing oil and gas processing facilities and pipelines into markets. WBE's aim for the PLJV is for a significant increase in production through acquisitions, the workover and tie-in of behind-pipe reserves, and horizontal development drilling. A combination of modest drilling depths and technological advancements associated with horizontal drilling, can generate strong economic returns due to low-cost wells and the close proximity of production facilities and easy access to markets.
From a broader perspective, WBE's change of strategy reflects that junior companies need to be adaptable – if there's a technical roadblock with respect to one project, then there has to be a Plan B available. In this instance, WBE's plan B has involved moving away from the high-risk/high-reward appraisal of the Warro gasfield in WA, towards lower-risk projects in Canada that can generate near-term production and cashflow. We await further news related to production and well-drilling throughout the course of 2019 and into 2020. We note that WBE's progress has not gone unnoticed by the market, with its share price rising from a 12-month low of $0.003 to a recent high of $0.011.