Melbourne, north and northeast suburban areas have been clear top regional performers over the past year.
Despite a general easing of early spring market conditions, the north and the northeast each reported home auction clearance rates in excess of 60% over September which was well above the overall Melbourne rate of 56.9%.
Reflecting increased demand for unit living generally, auction clearance rates for apartments continue to track higher than houses in Melbourne with the September unit rate of 62.1% well ahead of the houses rate at 55.3%.
The northeast was also a top performing unit market with a clearance rate of 62.3% over the month.
Heidelberg A Key Growth Suburb – Unique Local Growth Advantages
Heidelberg is located in the north-east local government area of Banyule and has emerged as a key growth suburb fuelled particularly by the burgeoning medical precinct of Austin Health encompassing the Austin Hospital, Heidelberg Repatriation Hospital, and the Royal Talbot Rehabilitation Centre.

Continued government and private investment in medical and health services in Austin Health will ensure ongoing demand for local residential accommodation, particularly from medical professionals and associated entities.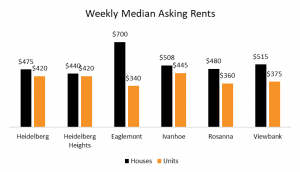 Growing local demand for housing has facilitated new development in the Heidelberg area with the emergence of mixed-density communities designed to meet changing lifestyle requirements.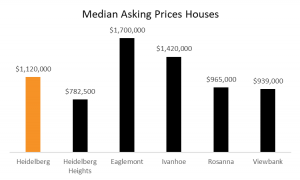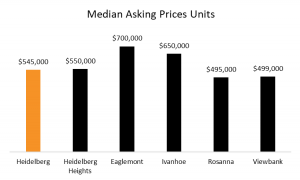 High demand for rental accommodation in Heidelberg has translated into rising rents which has resulted in maintaining relatively high yields compared to surrounding suburbs.