It seems that after several months of rest the gold price is showing promise again. Remember I am a gold bug who believes the gold price will be significantly higher in the coming year and years and have spoken at length about the basis behind why gold (platinum and silver too) will be much higher.
Just to recap here are the core reasons:
Low and negative interest rates creates a world where capital preservation is of importance
Global currency wars continue to create volatility in the value of "money"
China has limited capital outflows together with depreciating the yuan which means that gold is one of the most popular way for residents to maintain their relative wealth from within its borders
Geopolitical tensions
As a result in the underlying longer-term uplift in gold, there will be periods where it surges and times when it rests. In general it's the 80/20 rule. 80% of a market's move occurs in only 20% of the time. The rest is spent consolidating and broader directionless price action. It is important then to be exposed to those solid but brief surges.
I am encouraged by the early signs of gold with the consolidation since August having very similar resemblance to the consolidation in Feb-May of this year when I last began to push the gold rally potential. Below the two resistance trendlines are shown that capped gold, but as was the case earlier in the year, when it broke it led to a significant rally. This was also combined with a neat break of the trendline on the RSI indicator too (bottom), with a similar set up once more. This combination of trendline resistance on both the physical chart and the RSI excites me about the potential for gold if they break. An assault at US$1600/ounce would be the first target but a repeat of the mid-year rally would see levels into the US$1750/1800 zone. Gold could be preparing for a sizeable move.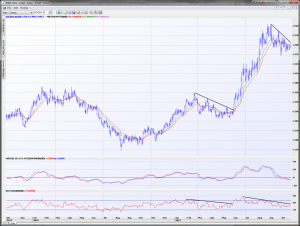 I always like to see similar "preparation" for a large breakout to appear on the gold stocks both locally and internationally. We are getting evidence appearing from the US gold ETF (comprising gold producing companies) as shown below. It may look no different to the chart pattern on the actual gold price, but trust me this ETF doesn't adequately reflect how the individual companies within this ETF look. The key for me here is the resistance on the RSI indicators again that are poised to give some very clear and powerful breakout signals.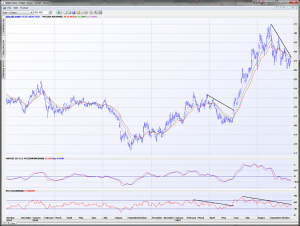 Locally, the gold stocks are very mixed. Not all have setups that look as good as the gold price and that is the nature of lead-lags that different producers and explorers have depending on how their mines are performing. One that technically looks attractive is Silver Lake (SLR) which I mentioned in June this year just prior to the big breakout that led to a 70% rally.
Silver Lake (SLR) merged with Doray Minerals earlier this year and today announced that they approved the go ahead to underground mining of the Santa mine at the Mount Belches Mining Centre. I have liked SLR since the merger with Doray was announced and continue to see upside potential for the producer as it turns itself into a 100,000+ ounce per year producer. The move through $1.05 today is the start of broader momentum beginning, especially given that this is the first time since the highs that the share price has been able to sustain any daily activity above the moving averages. This in watered down terms, is a clear shift in momentum and points to the likely start of new uptrend. The MACD is also about to break up through the zero line and unlike gold, the trendlines here have already broken. SLR looks strong and if you wanted to start picking up some gold stocks on this pullback, it's the best place to start.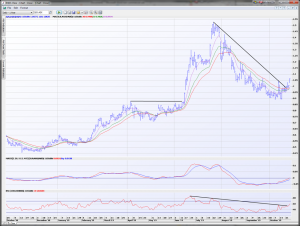 NEW – Greg Tolpigin's Million Dollar Trader

Greg has just released his brand new 141-page eBook "Creating Wealth From Explosive Stocks".

Learn how to identify stocks that are poised to increase 50%, 100% and even 500% in value and invest right as they begin to take off.

This educational path to profitable trading cuts away all the theory and hundreds of "historic examples" and uses only real trades Greg has used as a strategist and proprietary trader for the major US and Australian investment banks and continues to apply today.

Join the Million Dollar Trader club today to download your copy of "Creating Wealth From Explosive Stocks" plus watch the weekly video to learn how Greg has applied these strategies to continually identify new opportunities.