AusQuest – (ASX: AQD, Share Price: $0.015, Market Cap: $8m, coverage initiated @ $0.017 in Sep 2015)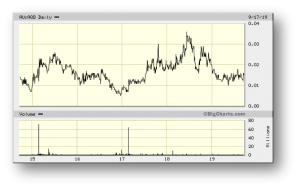 Key Catalyst
Active drilling period in Australia and Peru to the end of 2019, with compelling exploration targets at Hamilton IOCG Project in Queensland and Cerro de Fierro copper prospect in southern Peru.
AQD has remained a mainstay of our coverage universe on the back of its bold exploration ambitions and its success in recruiting 'big brother' joint ventures partners with deep pockets, to help fund its exploration activities. AQD's strategy of targeting exclusively Tier 1 exploration prospects has differentiated it from the vast majority of its junior peers, together with the fact that it seeks to minimize equity dilution via its JV farm-outs. AQD maintains an unique Strategic Alliance Agreement (SAA) with diversified miner South32 (ASX: S32), where AQD has developed a pipeline of high-potential exploration opportunities, with South32 funding all exploration activity. The SAA represents an exciting opportunity to work alongside one of the world's most successful diversified miners. Importantly, AQD currently has drilling programs on the go in both Australia and Peru, with plenty of news-flow expected before the end of 2019 and into 2020.
Latest Activity
Hamilton Iron-oxide Copper-gold (IOCG) Project
Diamond drilling commenced in early August at the Hamilton IOCG Project in northwest Queensland, under the Strategic Alliance Agreement (SAA) with South32.
The IP target has a strike length of ~1,000 metres and occurs immediately below the Cretaceous cover sequence, which is known to be ~200m thick. The four planned drill-holes are spaced at 400m intervals across the target to test the IP anomaly and its immediate surrounds for copper and gold mineralisation.
Assay results should be available by the end of September 2019.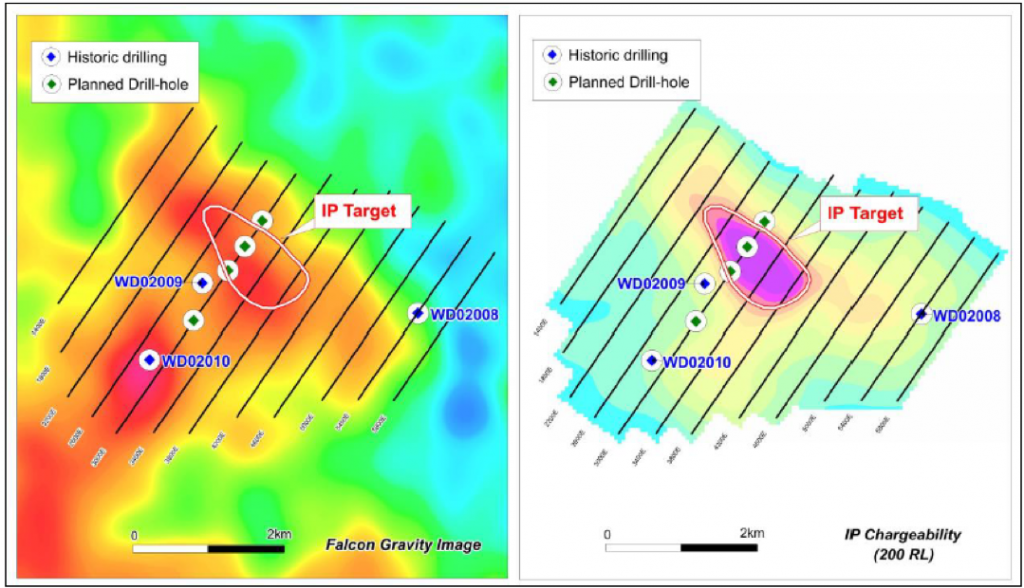 Figure 1: Hamilton Project showing planned drill-holes relative to gravity and IP data
Technical Significance
The Hamilton Project lies ~120km south of the world-class Cannington mine in northwest Queensland. The joint venture's maiden diamond drilling program (four holes for ~1,400m) will test an IP/gravity target that's located ~500m north of historical drill-hole WD02009, which provided strong indications (potassic alteration) of a nearby IOCG system.
Balladonia Project
In-fill air-core drilling (39 holes for 1097m) at the Telegraph Prospect, which forms part of the Balladonia Project in Western Australia, was completed during late July.
Hole depths varied from ~5m over the unaltered basement gneisses, up to a maximum of 99m within the target area where relatively sudden, deep weathering of the basement rocks (possibly due to alteration) was encountered.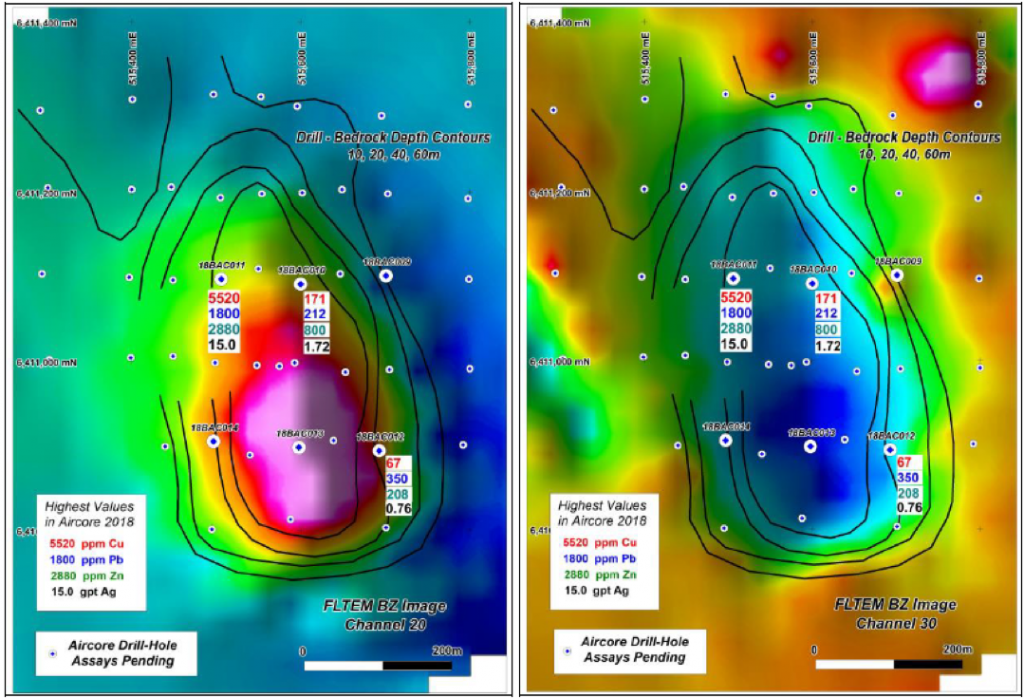 Figure 2: Telegraph Prospect showing infill air-core drill-holes and depth to bedrock contours
Technical Significance
The recent program was designed to follow-up highly anomalous copper (300 to 5,500ppm Cu), silver (1 to 15gpt Ag), lead (100 to 1,800ppm Pb) and zinc (300 to 2,900ppm Zn) values within weathered bedrock, intersected during the initial reconnaissance drill program (6 holes for 202m).
Composite samples were sent to the Intertek laboratories in Perth for analysis and assay results are expected over the coming weeks. Deeper target drilling will be considered once a full assessment of the pending assay data has been completed.
Cerro de Fierro
A proposal to undertake further drilling at the Cerro de Fierro copper prospect in southern Peru was approved at a recent SAA meeting with S32.
The initial drilling program at Cerro de Fierro was completed in late 2018 (7 holes for 3,544m), which intersected significant copper mineralisation within the inferred IOCG system. Compilation and evaluation of drilling data has indicated excellent potential for breccia-related copper mineralisation adjacent to the current drill-holes (CDFDD03, 02 and 06).
As a result, a minimum program of four diamond drill-holes for ~2400m) has been agreed to test this and other selected targets within the current Drill Permit Area. Access approvals and preparations for drilling have been initiated and it is expected that drilling should commence during Q4 2019.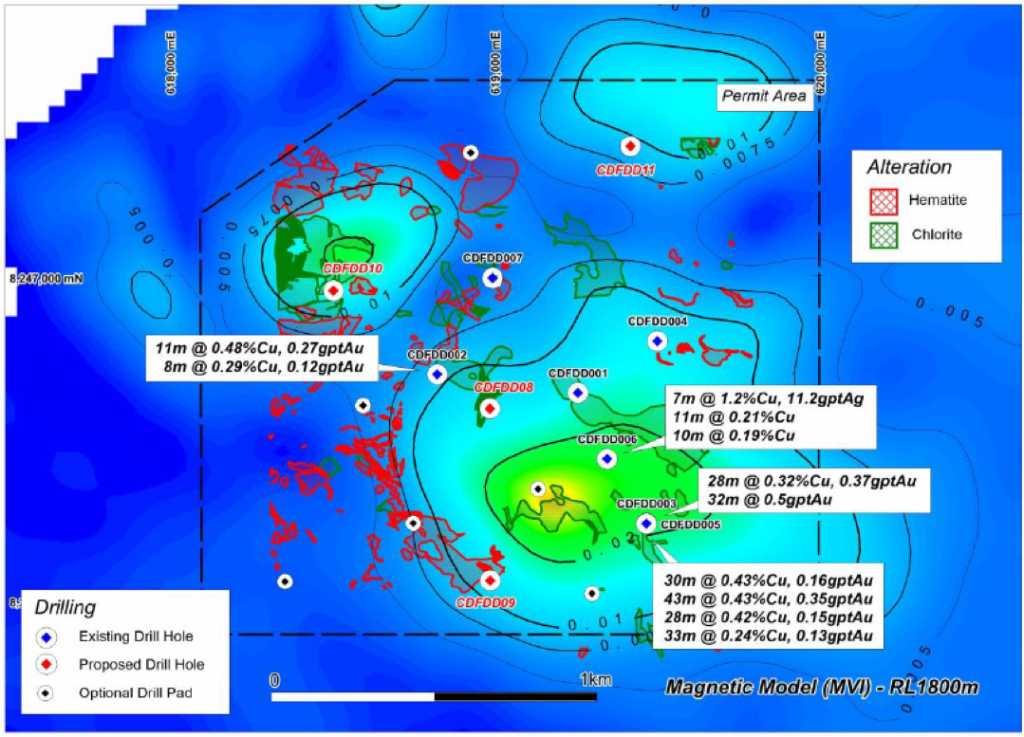 Figure 3: Cerro de Fierro magnetic model showing planned drill-holes and drill-pads
Technical Significance
Recent soil and rock-chip geochemical surveys across the tenements, coupled with geological mapping and ground magnetic surveys, have provided strong evidence for a significantly larger copper-bearing system (IOCG) than was initially inferred from the aeromagnetic survey.
Numerous copper targets have been outlined outside the current Drill Permit Area and additional drilling to test these targets is planned once the required permits have been obtained. Environmental base-line studies were initiated over the full tenement area to facilitate the approvals process, and allow drill testing of the additional targets to commence as soon as possible. Current indications suggest drilling outside the current Permit Area could start during Q2 2020.
Summary
AQD is like many junior companies in that its share price both rises and falls in line with drilling activity. Between now and early 2020, there promises to be consistent news-flow related to its exploration activities, both domestically and abroad.
Drilling is testing both the Hamilton IOCG Project in Queensland and the Cerro de Fierro copper prospect in southern Peru, whilst assay results are awaited from the recently completed Balladonia air-core drilling program in Western Australia.
The initial phase of drilling at Cerro de Fierro in Peru confirmed the presence of significant IOCG mineralisation in the area, whilst also providing strong evidence for the presence of a large-scale IOCG system. Having geological evidence to indicate that the high surface copper values around the margins of the prospect may be part of the same IOCG system, adds significantly to the potential scale of the opportunity.