Liontown Resources – (ASX: LTR, Share Price: $0.12, Market Cap: $181m – coverage initiated @ $0.025 in February 2019 – current gain of 380%)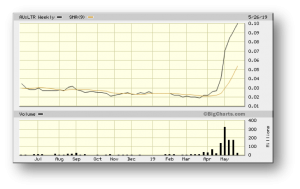 Key Catalyst
Latest drilling results generate a spectacular intercept of 90m @ 1.3% Li2O at Kathleen Valley, extending the high-grade system over >900m strike, including a thick, +600m long feeder zone.
LTR has broken out of its trading range between $0.02 and $0.03 over the past 12 months in spectacular fashion, with the market finally appreciating the significance of the high-quality exploration results its continued to generate from its Kathleen Valley lithium project in WA, which suggest a sizeable upgrade of the current lithium resource base. LTR's management approach has essentially been low-key, allowing the results to speak for themselves. A positive Scoping Study released during January 2019 highlighted the potential for a viable stand-alone lithium mining and processing operation, with a full DFS set for release during early 2020. In the meantime, ongoing drilling results have captured the market's imagination in terms of the resource upside, particularly in light of recent corporate activity within the Western Australian lithium sector, with Wesfarmers proposed $776m offer for Kidman Resources.
Latest Activity
Kathleen Valley Project Update
LTR continues to release highly encouraging assay results from ongoing resource expansion drilling activity at its 100%-owned Kathleen Valley Lithium Project in WA. The results have delivered thick, high-grade mineralised intercepts that have substantially extended the mineralisation to the northwest, well beyond the current Resource boundary.
The latest holes comprise KVRC0220 that intersected 90m @ 1.3% Li2O from 209m depth, KVRC0217 that intersected 35m @ 1.7% Li2O from 250m and KVRC0224 that intersected 43m @ 1.7% Li2O from 240m.
Results from these three latest holes have confirmed both the strike and depth continuity of the thick high-grade zone previously confirmed in other recent drill-holes featured in our coverage throughout April and May – namely KVRC0204 that intersected 52m @ 1.4% Li2O in and KVRC0218 that intersected 48m @ 1.5% Li2O.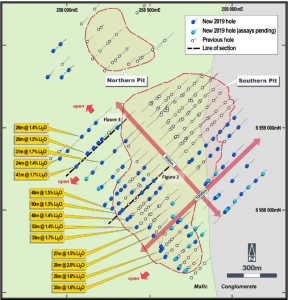 Figure 1: Kathleen Valley – Drill hole plan showing better lithium intersections from 2019 drilling program.
Technical Significance
At the time of our most recent note on 15th May, LTR was trading at $0.08 – and it has since hit a high of $0.12 at the close of Tuesday's trading – a gain of 50% in just two weeks.
LTR's share price performance is being driven by a much better market understanding of the significance of the results of its ongoing drill program, with the recent results all located outside of the conceptual Kathleen Valley open-pit (based on the maiden Mineral Resource Estimate released during September 2018 and the Scoping Study released during January 2019).
The latest assay results, combined with geological logging of recently completed drill-holes, indicate that the shallow-dipping Kathleen's Corner pegmatites are merging with the Mt Mann pegmatites at depth to form a thick (>30m), moderately dipping pegmatite body. This body remains open to the northwest and at depth, has been intersected over a strike length of at least 600m, and is interpreted to be the feeder zone for the Kathleen Valley pegmatites. This feeder zone is part of larger high-grade mineralised system which has now been defined over a strike length of at least 900m.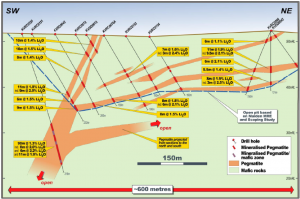 Figure 2: Kathleen Valley – Drill section showing mineralised pegmatites and better lithium intersections (see southern line of section on Figure 1 for location).
Furthermore, the latest data supports LTR's enhanced Exploration Target of 19 – 31Mt @ 1.2 – 1.5% Li2O, which is in addition to the maiden MRE of 21.2Mt @ 1.4% Li2O. If successfully converted to JORC-compliant Mineral Resources, it could substantially extend the potential mine life (a doubling or even more).
A further 2,000m of RC drilling is planned, with three RC rigs now operating and the program expected to take 1-2 weeks to complete. The current program is designed to increase both the size of, and confidence in, the existing MRE by drilling immediately along strike, down-dip and between previous intersections.
Since drilling re-commenced in February 2019, a further 105 RC holes have been drilled, including five re-entries, for 20,586m. This brings the total amount of drilling completed by LTR at Kathleen Valley to 294 holes for 43,819m, comprising 252 RC holes for 39,257m and 42 diamond core holes for 4,562m.
Once the current drilling program is completed, the results will be used to prepare an upgraded MRE for Kathleen Valley, which will be incorporated into further feasibility studies, including comprehensive metallurgical test work that is ongoing at ALS's Balcatta laboratory in Perth.
As previously advised, metallurgical test-work is a critical step in the appraisal process with respect to a commodity like lithium, where meeting end-user specifications is crucial. End-users must be assured of product quality specifications, whilst producers must be able to meet forecast production rates and project ramp-up schedules.
Test-work to this point has confirmed the potential to produce a saleable spodumene concentrate from Kathleen Valley, as well as confirming both the continuity of the mineralisation and robustness of the geological model used to prepare the existing Mineral Resource estimate.
Summary
I had the opportunity to meet with MD David Richards for dinner last week as part of Read Corporate's Resources Rising Stars investor road-show. The company's achievements are impressive, but they also underline that success is based on sound fundamentals and persistence, not over-promotion. Whilst LTR might seem like an overnight success, it's a story that's been brewing for the past 12 months, based on hard work at Kathleen Valley.
The resource expansion drilling program at Kathleen Valley is exceeding expectations in most areas, demonstrating the robust nature, high-grade and strong growth potential of the deposit. The latest intercept of 90m grading 1.3% Li2O from 209m down-hole is the best intercept recorded at Kathleen Valley so far, eclipsing the previous best intercept of 52m at 1.4% Li2O from 199m announced on 29 April 2019. Results like these add even more momentum to LTR's current drilling program, which continues to extend the robust mineralisation well beyond the current Resource boundary.