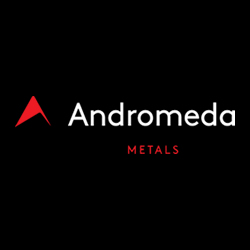 Andromeda Metals Limited
Andromeda Metals Limited is an Australian Securities Exchange listed company (ADN) with a focus on developing the Carey's Well halloysite-kaolin deposit in South Australia
The company has built a highly prospective exploration portfolio of projects covering 5,374 sq kms within 19 exploration licences located in South Australia, Queensland and Western Australia.
Andromeda Metals (previously Adelaide Resources) was incorporated on 23 December 1993 and subsequently listed on the ASX on 11 September 1996. The Company's head office is in Adelaide, South Australia.
Andromeda Metals' vision is to be a sustainable industrial minerals producer of high-quality halloysite-kaolin and high purity alumina material and thus providing shareholders with sustainable financial return on their investment in the Company.
Videos
Videos coming soon for Andromeda Metals Limited.
All Andromeda Metals Limited Content