Talisman Mining – (ASX: TLM, Share Price: $0.094, Market Cap: $17m, coverage initiated @ $0.49 in Sep 2015) – $0.22 since returned to shareholders via capital returns from asset sales.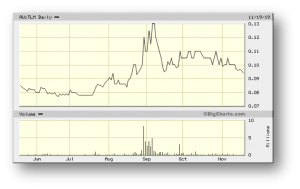 Key Catalyst
Farm-in agreement with privately-owned Lucknow Gold with respect to the Lucknow Gold Project (EL6455) in NSW, to test potential down-plunge extensions of high-grade gold-bearing ore shoots.
We initiated coverage of TLM back in late 2015, when the company was flying high on the back of high-quality exploration results from its Springfield joint venture project with Sandfire Resources (ASX: SFR) (70% and JV manager). The joint venture subsequently identified the high-grade Monty copper-gold deposit, just 10km from SFR's DeGrussa operations. SFR then made a move to acquire the project from TLM as it looked to bolster its DeGrussa project life, by way of a formal offer to purchase TLM's 30% stake in the Springfield JV for $72.3m cash, plus an ongoing royalty. The offer was accepted by TLM shareholders, generating net proceeds of $58.15m after repayment of loan obligations – a great outcome. In all, TLM has returned $0.22 per share (or $40.8m) to shareholders, retaining approximately $13.4m to fund active exploration programs on its Lachlan Copper-Gold and Lucknow Gold projects.
Latest Activity
TLM Farms Into Lucknow Gold Project
TLM has entered into a farm-in agreement with privately-owned Lucknow Gold Limited, with respect to the Lucknow Gold Project (EL6455), located in NSW.
Under the project farm-in terms, TLM can earn a 51% project stake by sole-funding $700,000 on exploration within 24 months, along with a further 19% interest by sole-funding an additional $800,000 during the following 24 months.
The Lucknow Goldfield was discovered in 1851 and was one of the earliest goldfields to be mined commercially in Australia. Historic production records at the project are incomplete, however in excess of 400,000 ounces of gold has reportedly been produced at grades of 100 to 200 g/t.
The Lucknow Goldfield is located within the Macquarie Arc in NSW which hosts extensive gold and copper mineralisation including the large Cadia-Ridgway (Cu-Au) and McPhillamys (Au) deposits, as well as the Browns Creek (Cu-Au), Forrest Reefs (Au) and Junction Reefs (Au) deposits.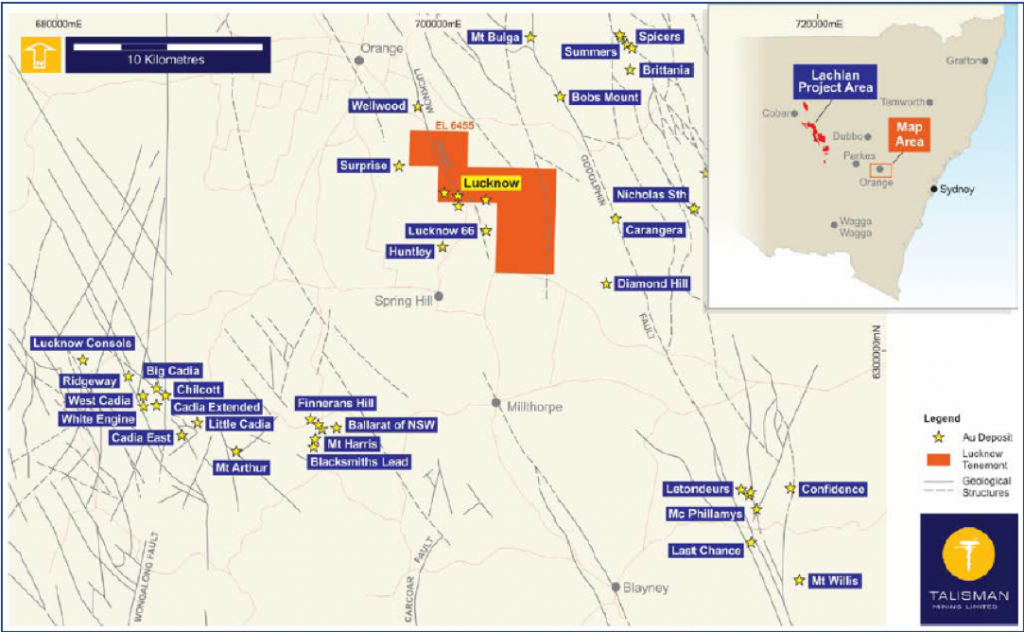 Figure 1: Lucknow Project and surrounding gold deposits and major geological structures within Macquarie Arc NSW.
Technical Significance
Even today, the Lucknow Project still ranks as one of the highest-grade gold mines globally; however very little modern exploration has been completed outside of the existing mine workings. TLM intends to undertake a program of geochemical surface sampling and mapping at the project ahead of a drilling program, to test for potential down-plunge extensions of the high-grade gold ore shoots and repeat structures throughout the project area.
There have been numerous recent examples in Australia of exciting new gold discoveries being made by using modern exploration techniques to target depth extensions in known goldfields. Lucknow is one of the world's highest-grade gold mining areas with reported mined gold grades in excess of 100 g/t, so the potential value of any new areas of mineralisation that can be identified is clear.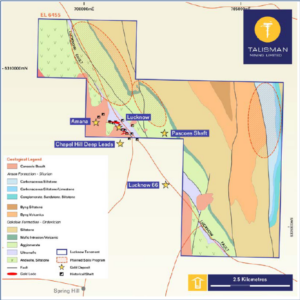 Figure 2: Lucknow Project, Geology and initial planned surface sampling program.
Next Steps
Initial exploration by TLM will include surface geochemical sampling and mapping along the north-western extension of the Lucknow Fault, as well as further to the east along a north-south trending fault where previous sampling has identified copper anomalism and low-level gold anomalism.
In addition, the geological interpretation of the Lucknow Goldfield will be reviewed to gain a better understanding of the structural controls on gold mineralisation. Once completed the interpretation will be used to target untested down-plunge extensions of the historic high-grade gold bearing ore shoots.
The bonanza-grade gold mineralisation occurs as steeply plunging shoots. There are approximately 20 recorded gold-bearing veins within the Lucknow Goldfield, which occur at irregular intervals within the footwall volcanic rocks.
Summary
TLM has managed to execute a strategy that only a handful of junior players successful manage – which is to explore, find, appraise, progress, commercialise. Following the sale of its Springfield Project, it generated dividend and capital returns to shareholders totalling $40.8m – or $0.22 a share. TLM will look to replicate this highly successful model at its Lachlan Project in NSW and its new Lucknow Project Farm-In. Lucknow is located within the same broad area as its Lachlan Copper-Gold Project and will enhance its exploration activities in this prospective mining region.
TLM retains approximately $18 million in funding to support its growing exploration activity in NSW.