Centaurus Metals – (ASX: CTM, Share Price: $0.016, Market Cap: $43m, coverage initiated @ $0.009 in May 2017 – current gain of 78%)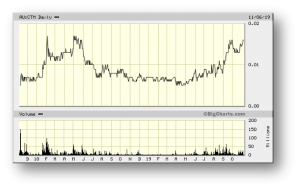 Key Catalyst
10,000m maiden diamond program underway at 100%-owned Jaguar Nickel Sulphide Project in Brazil, testing for extensions of known high-grade mineralisation outside the historical limits.
CTM has experienced the ups-and-downs of a volatile resource market since our coverage initiation at $0.009 in May 2017, having firmed to a high of $0.018 in May 2018 before retracing to a low of $0.005 in April 2019. CTM's two-thirds retracement from its mid-2018 high was somewhat incongruous, given the robust level of exploration activity it's managed to maintain on various fronts in Brazil. CTM has revitalized activity with respect to its development‐ready Jambreiro iron ore project, driven by domestic Brazilian iron ore supply concerns and renewed interest from prospective project partners and off-takers. Even more significantly, CTM recently agreed to acquire Vale's 100%-owned Jaguar Nickel Sulphide Project, with an associated $10m capital raising. Jaguar is an at-surface nickel sulphide project with a non-JORC compliant resource of 40.4Mt at 0.78% Ni (at a 0.5% Ni cut-off) for 315kt of contained nickel metal.
Latest Activity
Jaguar Nickel Project Update
CTM has commenced its much-anticipated maiden drilling program at its 100%-owned Jaguar Nickel Sulphide Project, located within the world-class Carajás Mineral Province of northern Brazil.
The initial diamond drill program, comprising 55 diamond drill holes for a total of 10,000m, is expected to take 4-5 months to complete.
The objective of the program is to extend known high-grade zones of nickel sulphide mineralisation and to identify new high-grade zones within the Jaguar and Onça-Preta Deposits and the Onça-Rosa Prospect. The first diamond drill-hole has been collared and is underway into the Onça-Preta deposit, whilst a second rig is also operating at the Jaguar South deposit.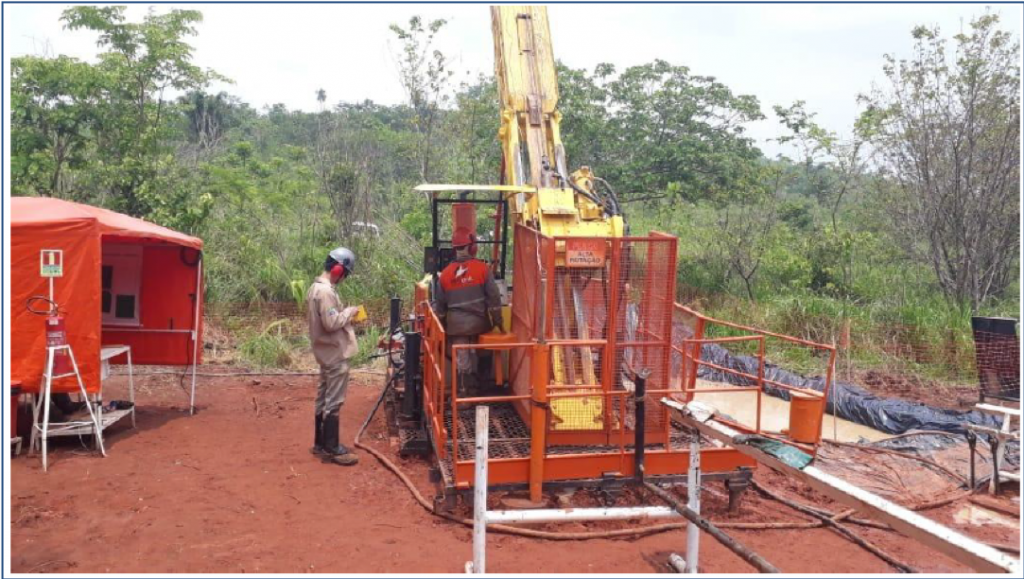 Figure 1: Servdrill diamond rig drilling JAG-DD-19-001 at the Onça-Preta Deposit, the company's first-ever drill-hole into Jaguar.
Technical Significance
The commencement of drilling at Jaguar marks the beginning of a period of substantial activity and news-flow, as CTM begins to delineate a potentially globally-significant high-grade nickel sulphide project.
The first holes are planned to extend known high-grade nickel sulphide zones, as well as to try and identify new high-grade zones within the Onça-Preta and Jaguar South Deposits.
Both deposits host multiple EM conductor plates identified over 300-500m of strike, where historical drilling returned outstanding intersections up to 34.0m at 3.31% Ni. While the historical drilling didn't follow up these high-grade hits, CTM will be focused on further delineating and extending these high-grade semi-massive and massive sulphide zones.
The program will also include drilling at the Jaguar Central, Jaguar North, Jaguar North-east and Jaguar West Deposits, where leading geophysical consulting group, Southern Geoscience, continues to work on the FLEM and DHEM survey data, with more results from this re-processing work expected over the coming weeks.
Exploration drilling is also planned for the Onça-Rosa Prospect, which hosts a 600m long FLEM conductor plate that has been tested by only two historical diamond drill-holes – both of which were mineralised with one returning an outstanding intercept of 7.9m @ 5.27% Ni that had no other drilling within 200m of this high-grade intercept.
Summary
The Jaguar project acquisition, which has been secured through an innovative agreement with Vale that includes a key asset-swap arrangement on CTM's Salobo West Copper-Gold Project, gives CTM the opportunity to pursue the development of an advanced and well-located nickel sulphide project that offers high-grade open-pit development potential.
The Jaguar Project provides CTM with exposure to a metal with strong supply-demand fundamentals and a solid outlook, given its use in the stainless-steel industry (which currently accounts for 70% of global consumption) and growing consumption by the lithium-ion battery sector.
Nickel sulphide deposits like Jaguar are extremely rare globally and for CTM to be able to successfully acquire such an asset is a positive outcome in my view. The deal has been assisted by CTM's solid working relationship with Vale and their belief in the mutual benefits that can be realised under their recently rolled out 'mini-mines' model for base metals.
CTM is fully-funded to undertake extensive in-fill and resource definition drilling on the high-grade zones of mineralisation at Jaguar over the next 12 months, together with further metallurgical test-work to put itself in a position to report a maiden JORC 2012 Resource during Q2 2020.