Gascoyne Resources – (ASX: GCY, Share Price: $0.265, Market Cap: $135m, coverage initiated @ $0.17 in Feb 2016 – current gain of 56%)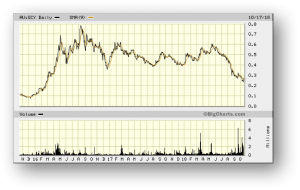 Key Catalyst
Commercial production for the Dalgaranga gold mine in Western Australia is expected to be declared this quarter, which with any luck will provide some degree of market reassurance.
GCY's share price has experienced significant volatility, as can be clearly seen from the 3-year price chart above. Despite this roller-coaster ride, the stock has still managed to generate a 56% gain since our coverage initiation in early 2016. The catalyst for the price instability has been a delayed and somewhat problematic production ramp-up at its Dalgaranga gold mine in WA. Nevertheless, production continues to increase towards the targeted 100,000 oz annualised production target, with GCY providing production guidance of ~25koz at an AISC range of A$1,250-1,350/oz for Q4 2018. GCY guidance for CY19 is forecast to be 105-115koz at an AISC of A$1,200-1,300/oz, which at the current spot gold price implies solid +$400/oz margins for over A$40M in operating cashflows. Sustainable commercial production is essential for the company to generate share price recovery.
Recent Activity
Project Commissioning Update
GCY's 100%-owned Dalgaranga project is located 65km northwest of Mt Magnet within the Murchison region of Western Australia. The project covers the majority of the Dalgaranga Greenstone Belt, with the key deposits of Gilbeys, Golden Wings and Sly Fox contained within a granted Mining Lease.
GCY achieved a major milestone during May 2018 with the pouring of first gold from Dalgaranga (which saw its share price touch $0.60). Unfortunately, there's been a subsequent price tumble on the back of ramp-up disappointments – largely related to mining, rather than any issues with the processing plant.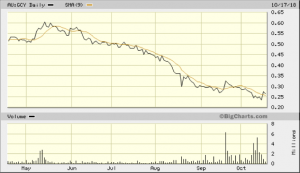 Latest Activity
Mining rates had been lower than expected largely due to delays with site establishment, machine availability, weather events and some unplanned additional blasting required for near-surface hardpan material. In addition, with the plant construction well ahead of schedule, the ore schedule was adjusted to facilitate early commissioning, necessitating the use of lower-grade material than originally proposed.
On a positive note however, broken ore stocks are now at the required levels and scheduled mining rates have increased to 55,000bcm/day – which is approaching the company's 60,000bcm/day target. Some additional drill and blast were required for some of the laterite caps, but mining is now moving as per plan into some softer ore at Golden Wings.
Further good news relates to the performance of the CIL processing plant, which continues to operate above design capacity. The plant has progressed well through commissioning (six weeks ahead of schedule) and is now expected to be operating above nameplate design of 2.5Mtpa. Gold recoveries and plant availability continue to improve, with both currently well in excess of 90%. Commissioning grades have also now risen towards LOM (life-of-mine) levels through 1g/t Au towards 1.3g/t Au, with cyanide reagent use currently lower than plan.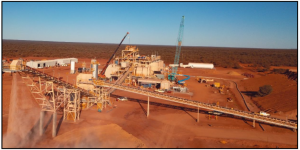 Photo 1: Dalgaranga Plant Ore Commissioning underway
Technical Significance
Dalgaranga plant performance is impressive and is the biggest achievement so far. It's also now encouraging to see mine performance improving. The key for GCY is to be able to demonstrate stable, steady-state gold production for consecutive quarters (beginning with Q4 2018).
Production continues to ramp-up towards the targeted 100,000 oz p.a. mark, with GCY providing Q4 2018 production guidance of 25,000 oz at an AISC range of A$1,250-1,350/oz. GCY forecasts production of 105,000 oz – 115,000 oz at an AISC of A$1,200-1,300/oz for CY 2019. Based on current spot gold prices, this suggests solid margins of +$400/oz, generating +A$40M in operating cashflows.
A crucial factor in GCY achieving its production targets will be its ability to ensure appropriate ore grades, which it needs to approximate LOM averages. An average mill head grade of 1.1g/t Au is forecast for the Q4 2018, which represents a 38% increase on Q3 2018 grades. A major factor helping GCY to achieve its budgeted ore grades is the fact that all three open-pits at Dalgaranga – Sly Fox, Golden Wings and Gilbeys South – are now supplying ore to the mill, with mining rates within 10% of scheduled rates.
Summary
The Dalgaranga Gold Project has the potential to transform GCY into a gold producer, with a subsequent share price re-rating. The deposit boasts characteristics that have resulted in lower-than-normal capital and operating costs – including the very soft nature of the ore, excellent metallurgical recoveries, rapid leaching and very low reagent consumptions. Simultaneously, ongoing exploration drilling continues to enhance the resource picture. Dalgaranga provides GCY with a relatively low-capex starter project that will allow it to leverage into its +1Moz Glenburgh project in WA's Gascoyne region. Both the Dalgaranga and Glenburgh projects in combination would see GCY with a potential production profile of +150,000 oz p.a. The key will be for GCY to establish solid steady-state production.