When navigating global equity markets, it helps to align one's sails to the major tailwinds of growth. We have written about the advantages of investing with tailwinds on numerous occasions in the past (most notably here), and in summary: businesses in industries that are growing naturally will typically find it much easier to grow revenues, expand profit margins and ultimately earn higher returns on capital investment.
One such global mega trend is the growth in the Asian middle-class associated spending. Based on analysis by Brookings[1], of the US$29 trillion increase in global middle class[2]spend between 2015 and 2030, more than 84 percent will stem from Asia Pacific. And of this, the vast majority stems from China and India.
Now, if global middle class spend is going to be dominated by growth in the Asia-Pacific region, then exposure to payment providers in this region may well make a lot of sense.
The Wall Street Journal (WSJ) published an incredible graphic last year which is worth revisiting. Shown below, the key message is this: "When it comes to mobile payments, China dwarfs the US." You see, the Chinese have not followed the same path of technology adoption as those of us in the West; in many areas, they have leapfrogged the West and adopted the latest technology up front.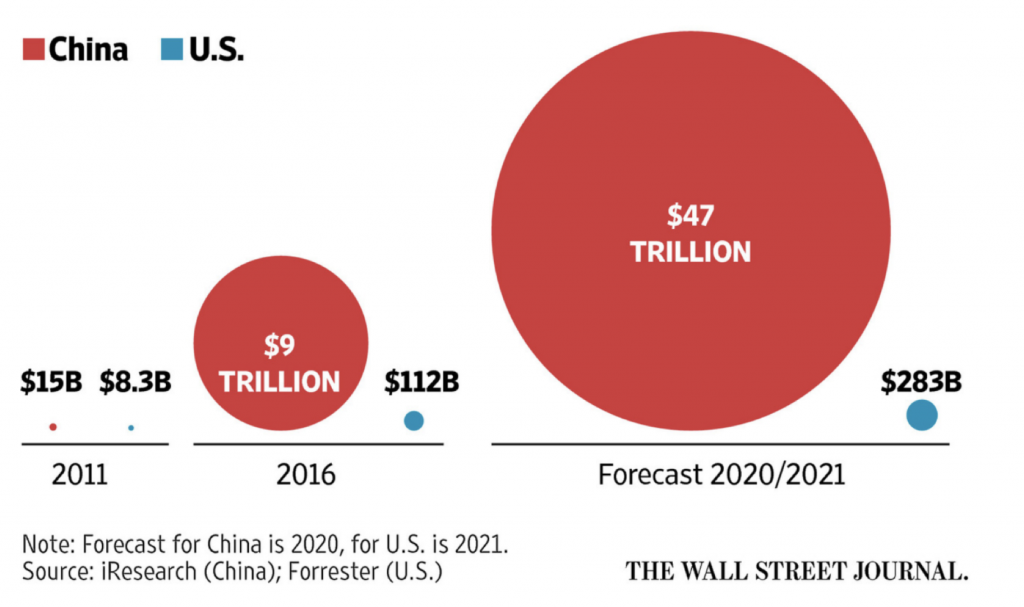 As the WSJ notes: "In China, QR codes are used widely by smartphone owners to pay bills and make purchases in shops and at vending machines—contributing to a $9 trillion mobile-payment market last year, according to iResearch. That is almost 90 times the size of the U.S. mobile-payment market of $112 billion, according to data from research firm Forrester."
And here is the kicker: approximately 90 per cent of China's online payments by transaction value are handled by the payments businesses of just two companies: Alibaba (NYSE: BABA) and Tencent (HKEx: 700).
In this sense, these two businesses hold dominant market positions in a rapidly growing global space. That is, they are sailing in a two-yacht race with strong industry tailwinds firmly at their back. And we happen to believe that these businesses remain materially undervalued today.
[1](Brookings) The Unprecedented Expansion of the Global Middle Class (February 2017)
[2]The middle class has been defined by Brookings as comprising those households with per capita incomes between $10 and $100 per person per day (pppd) in 2005 PPP terms. This implies an annual income for a four-person middle-class household of $14,600 to $146,000.