It didn't take long for the market to absorb the recent downbeat guidance by Asaleo Care (ASX:AHY), which makes and sells tissues, nappies and female hygiene products under brand names like Sorbent, Libra, and Handee. It rapidly wiped around 40 per cent off its share price.
Asaleo guided to a 9 per cent fall in revenue in 1H18 which it blamed on lower sales volumes from lost promotions and increased trade spend due to heavy competitor discounting, while underlying EBITDA fell by 24 per cent over the same period due to higher pulp and electricity prices.
The company also lowered its 2018 EBITDA guidance by ~30 per cent, blaming sustained higher pulp costs, tissue pricing and volumes and competition while flagging potential for material impairments.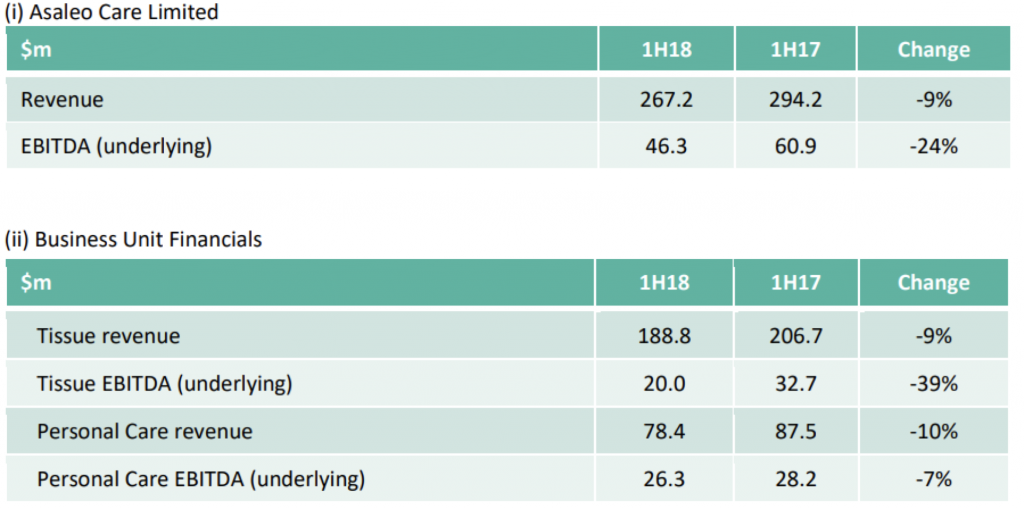 Source: Company documents
The market's reaction was swift, with the share price falling 35 per cent on the day, and >40 per cent for the week. The lower profitability will likely raise questions around the balance sheet (with net debt to EBITDA of ~4x at the revised forecast) and subsequently, the sustainability of the company's dividend and the potential need for an equity raising to reduce debt.
Reading the company update, I was reminded of the time of Asaleo's IPO in 2014 where the company promoted the "highly defensive" characteristics of its markets given the staple, non-discretionary nature of its products. It also cited high barriers to entry given consumer preferences, brand loyalty and existing customer and supplier relationships, amongst others. While I don't question the brand loyalty aspect of some of its product range, a more commoditised product like tissues is likely to see consumer switching should the price incentive be large enough.
The downgrade highlights the need to differentiate between the defensiveness of a product segment, and the defensiveness of the actual product within the segment. The market Asaleo serves is unquestionably defensive; people will always need tissues, nappies, and female hygiene products. However, the inability of Asaleo to push through price increases to recoup significantly higher input costs reflects its limited pricing power given the impacts of competition and strong customers (the supermarkets) – and the importance of making this distinction when assessing the quality and earnings outlook of a company.