In this increasingly connected world where any product is available at any time through an online offering rather than a traditional brick-and mortar store, it seems impossible to think there could be a $270 billion industry that has bucked the trend and gone the other way.
The U.S. pharmacy industry however has done just this, with online (including mail-order) prescriptions undergoing a staggering 33 per cent decrease in market share, falling from 16 per cent of the market in 2009 to just 12 per cent in 2017, with brick-and-mortar taking the difference. Meanwhile in general retail (apparel, shoes, electronics, etc) the trend has been the diametric opposite, with online having increased its market share by ~250 per cent over the same period.
Given this backdrop perhaps it was somewhat inevitable that the king of the online jungle, Amazon, would sense the lucrative market opportunity / inefficiency and come to feast. Which is exactly what happened after Amazon paid ~$1 billion to acquire Pill-Pack, a 5 year old start-up focused on U.S. mail-order prescriptions. Pill-Pack specialises in serving patients who suffer from chronic illnesses, and therefore require a significant amount of daily medication. While this group is small in number, it is highly lucrative with pharma giant, Express Scripts, a huge player in U.S. mail-order prescriptions (40 per cent share) noting "super spenders", or patients that spend >$50,000 on medicine per year, account for a jaw-dropping 20 per cent of the total market.
While the mail-order market will likely be impacted by Amazon's entry into the space, the most vulnerable group to disruption is the traditional brick-and-mortar pharmacy retailers, namely CVS, Walgreens and Rite Aid, who together account for >50 per cent of the $165 billion chronic pharmacy retail channel that Pill-Pack serves and Amazon now owns.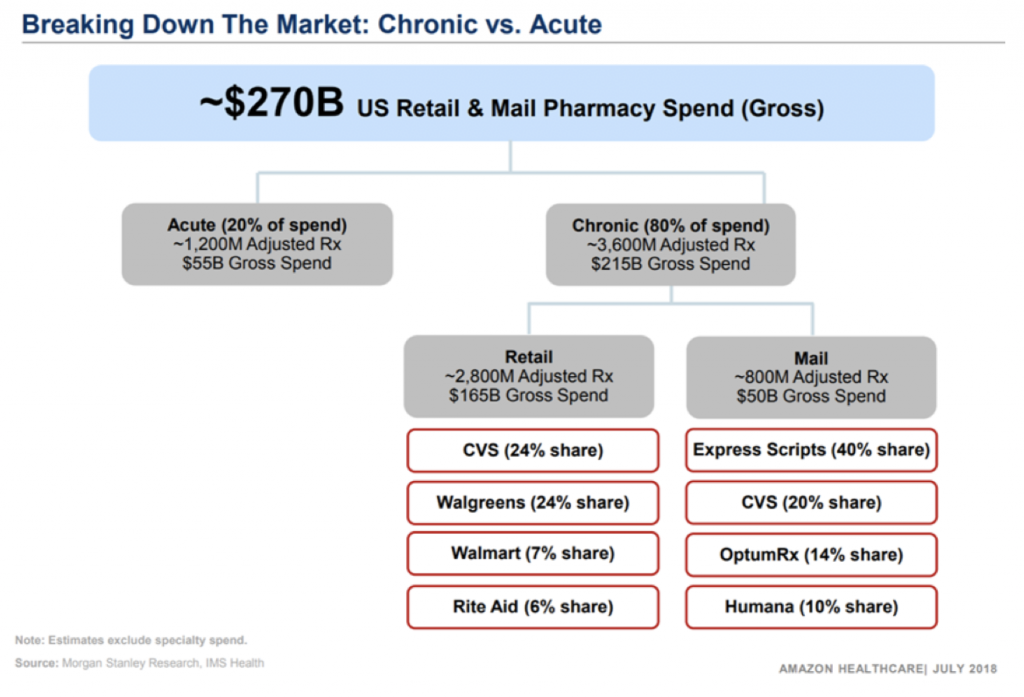 The impact of Amazon's entry into the market was immediate for the pharmacy retailers, with Rite Aid plunging more than 15 per cent and Walgreens / CVS sinking ~10 per cent each immediately after the news broke last week (June 28, 2018), collectively losing ~$11 billion in market value, meanwhile Amazon added more than $20 billion of value in parallel. At Montgomery Global we are focused on owning high quality businesses, with high barriers to entry and protections against disruption, or if the price is right, identifying and owning the disrupter!