The recent flare-up in trade tensions between the US and China has caused some of the global technology giants to temporarily lose their lustre, and none more so than Alibaba (NYSE: BABA), which is down more than 12 per cent from its mid-June highs.
With a share price in the mid-$180's, we believe the market implied expectations for this high-quality business are too conservative, especially compared to the healthy dose of optimism required to invest in the Amazon story. Both Alibaba and Amazon are considered the dominant commerce platforms in their respective geographies, but one often overlooked detail makes Alibaba look like a charity next to Amazon.
When analysing the revenue of a platform company, the two most important components are gross merchandise value ("GMV")—the value of transactions that take place on the platform—and the economics of the transaction that accrue to the platform owner, also known as the "take rate". Amazon operates a first-party retail business and a third-party ("3P") marketplace business. For its marketplace business, Amazon charges merchants a commission on sales and other fees for logistics/fulfillment and advertising. Alibaba operates two 3P marketplaces – Tmall for branded B2C merchants and Taobao for smaller C2C merchants, and mainly charges fees for marketing (both) and sales commissions (Tmall only).
So far, the two models sound pretty similar – the platform owner collects a fee (under various labels) for transactions that take place on the platform. But consider the chart below, which shows the effective take rate for Amazon and Alibaba on their respective 3P marketplaces.
Chart 1: 3P marketplace take rates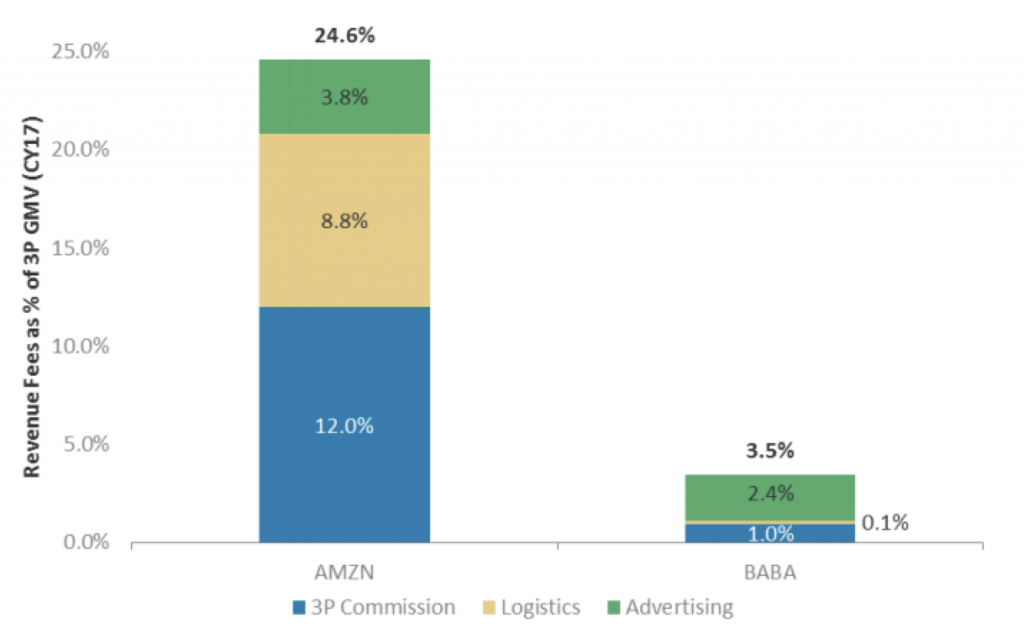 Source: Morgan Stanley
The chart shows that it costs merchants up to seven times as much to sell on Amazon than it does to sell on Alibaba. For a $100 sale, the merchant is paying Amazon $12 in commissions on average, $9 for logistics services if they use Fulfillment By Amazon, and another $4 if they use Amazon's marketing services. This leaves $75 to cover the merchant's cost of sales, other operating expenses, and a profit margin. The same merchant would only pay away $3.50 all-in to Alibaba for the same $100 sale.
What this suggests to us is that Alibaba is barely scratching the surface of what it could potentially charge merchants (i.e. pricing power). And this is for a platform that, arguably, provides merchants even greater exposure to consumers than Amazon does. Management has been very careful to not pull the pricing lever, instead relying on ad load increases and personalisation algorithm improvements to generate robust revenue growth. But when Alibaba does pull the pricing lever, a doubling of its take rate to 7 per cent would double revenues and more than double earnings (given the 60 per cent core EBITA margin) without transacting a single dollar more on its platform (yet GMV grew 28 per cent last year to RMB 4.8 trillion), and still be a fraction of Amazon's take rate.
Compared to Amazon taking up to a quarter of a merchant's sales, Alibaba's pricing does, indeed, seem almost charitable. But more importantly for investors in the Montgomery Global funds, the market expectations implied by the current share price is for Alibaba's take rate to remain flat forever. In our opinion, this is far too conservative – especially for a business that is relentlessly capturing an ever-growing slice of the Chinese economic pie.
The Montgomery Global Funds own shares in Alibaba. This article was prepared 04 July 2018 with the information we have today, and our view may change. It does not constitute formal advice or professional investment advice. If you wish to trade Alibaba you should seek financial advice.