If you're looking for a dose of optimism, then head to the recent interview on CNBC with billionaire hedge fund pioneer, Julian Robertson. Robertson says he's still bullish on this market, and he's particularly keen on leading tech stocks like Facebook, Google and Microsoft.
On 14 June, Robertson told CNBC: "I think we are at least six months [from a slowdown] and hopefully two years…I hope [the Fed] won't be too frightened when their own policies start to work…I don't think the FANGS or the tech stocks are frothy at all. I think relative to the rest of the market, never have stocks been this cheap. This is one advantage an old goat has."
"[Microsoft, Google and Facebook] …probably sell on average under a 25 per cent premium to the market…that's not terribly high for the greatest companies in the world…you have to look at them in relation to their growth".
Here are the trailing and forward PEs for Google, Microsoft and Facebook (as at 26 June 2018) as discussed.
| | | |
| --- | --- | --- |
| | PE (TTM) + (prem to S&P500) | PE (FWD) + (prem to S&P500) |
| Google | 35.85 (44.96%) | 28.21 (62.5%) |
| Microsoft | 30.47 (23.21%) | 26.27 (51.3%) |
| Facebook | 32.75 (32.43%) | 26.34 (51.7%) |
| S&P500 | 24.73 | 17.36 |
Source: Nasdaq.com
Interestingly, and perhaps belying his trading background, Robertson owns Twitter (trailing PE 764x, forward PE 131x), but later he says he doesn't know it.
It is important investors think about value – as we always do. While we all here believe that the market is expensive and valuations for some stocks are extremely stretched, there are opportunities. Figure 1 perhaps best summarises the current situation.
Figure 1. Value still exists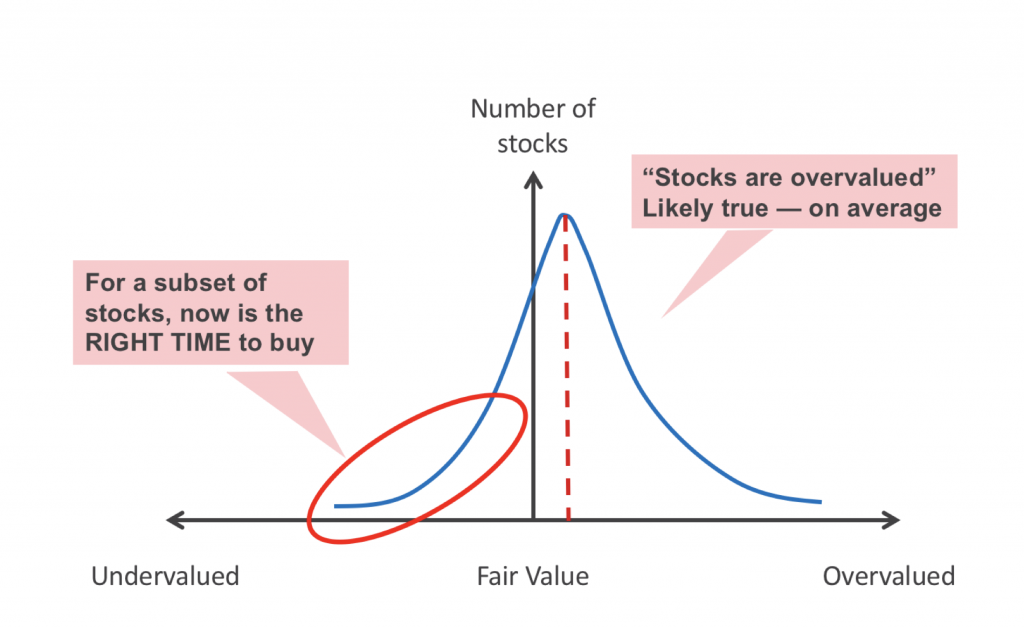 Source: Montgomery Global Investment Management
The bulk of companies are generally slightly overpriced and of course there is a tail of companies that are extremely overpriced. But there is also a tail of companies whose market prices represent good value.
It seems Robertson concurs.
Robertson's background makes interesting reading, you can find it here.
Watch Robertson's interview on CNBC here.