Back in March, we wrote about Codan (ASX:CDA), and how I am personally enthused about their technology. Today, the company has made two announcements that the market has reacted positively to.
First, after a competitive tender process Codan has won a $9.5 million underground Fleet Management System contract for BHP's Olympic Dam site.
Olympic Dam is the fourth largest copper deposit, and the largest uranium deposit, in the world and it's also one of the single largest revenue generators for BHP. Codan's subsidiary, Minetec, will supply technology that handles proximity detection, tracking and task management for all the equipment and personnel working underground in the mine. To be implemented over the next year, Codan have sold to BHP the proposition that knowing exactly where your assets are underground has valuable productivity and safety benefits.
The value to Codan may not be limited to the $9.5 million fee, it could also be that a deal with BHP increases the credibility of Minetec's offering when its sale people approach other mine operators. This less tangible benefit may be what the market has responded to.
The second announcement was a profit upgrade. Profit guidance for full year was changed from "above $25 million" to $38 million. Codan noted strong metal detector sales, singling out the new Equinox model, potentially rendering the company less reliant on sales of its range-topping GPZ7000 gold detector.
The announcement also noted a net cash position of $20 million at the end of April, up from a net debt position of $4.4 million at the half year result and following the payment of an interim dividend of over $7 million in March.
The market appears to have applauded the announcement with shares up nine percent at the time of writing.
Codan Share Price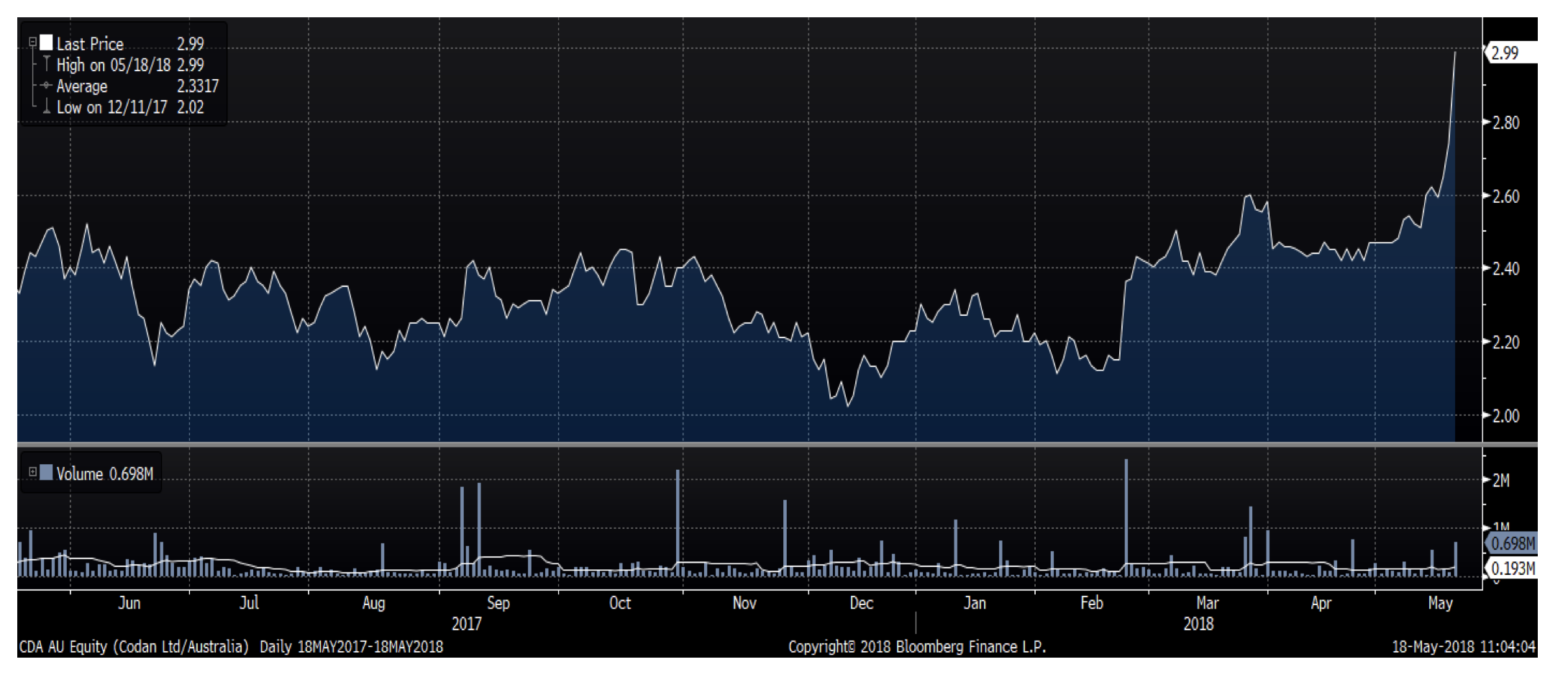 Source: Bloomberg
You can read my previous post on Codan here.
The Montgomery Funds own shares in Codan. This article was prepared 18 May 2018 with the information we have today, and our view may change. It does not constitute formal advice or professional investment advice. If you wish to trade Codan you should seek financial advice.