New CEO, Christian Sewing, has called time on Deutsche Bank's global Investment Banking ambitions and this will hopefully see an end of their nightmare on Wall Street. The March 2018 quarterly results saw the closure of Deutsche Bank's US bond and equities trading businesses and the immediate redundancy of 400 staff.
After peaking at €117 eleven years ago, the Deutsche Bank share price has meandered between €10 and €20 over the last two years. It closed at €11.84 overnight after the Company announced its results for the March 2018 Quarter – a 79 per cent decline in net profit after tax to €120 million on a 5 per cent decline in revenue to €7.0 billion.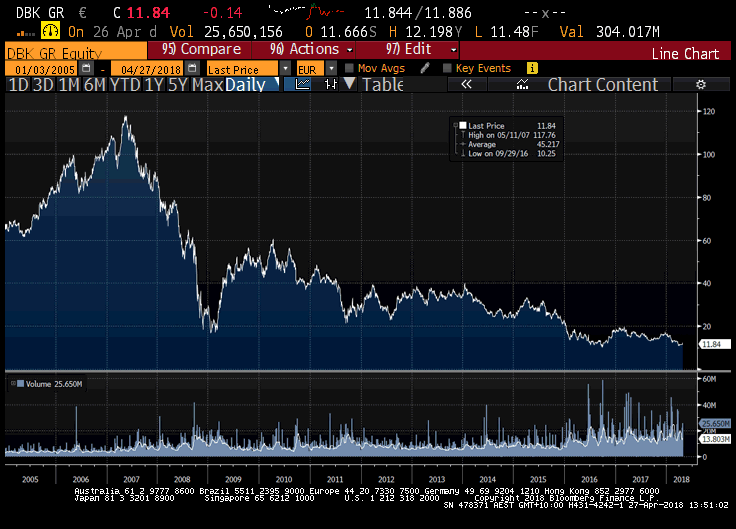 Restructuring and severance costs in the March 2018 Quarter were €41 million and with the "white flag going up" this is now expected to exceed €800 million for the calendar year. Staff numbers have come down by 4,000 to 97,000 more recently and a move to below 90,000 is now likely.
Sewing has a delicate balancing act given Corporate and Investment Banking accounts for 55 per cent of the Company's revenue. Deutsche Bank will focus its Corporate Finance business on industries and segments which either align with its core European client base or link to financing and underwriting products in which it enjoys a leadership position.
To meet and potentially improve on the 2018 adjusted cost base commitment of €23 billion, cost reduction measures will include the right-sizing of the Investment Bank and the supporting infrastructure functions, cutting layers of management and rationalising the global real estate footprint. (I wonder how much "right-sizing" we'll see in the Asia Pacific region?)
There will be some investment in German retail banking and European asset management, via their majority owned subsidiary DWS. The integration of Postbank and Deutsche Bank's Private & Commercial Clients business in Germany is proceeding on schedule.