One of the surest signs of business quality is pricing power: the ability to raise prices without a commensurate reduction in demand. In its latest earnings result, 51job (Nasdaq: JOBS) confirmed that it had enacted material price increases on a number of job ad products. The market took notice, with the stock up more than 35 percent since the result was announced.
51job has been a company the Montgomery Global team has been following for many years now. JOBS, the largest online recruitment portal in China, owns a website that allows employers to list job ads. In addition, it runs other HR-related services, with the aim of offering a holistic product suite that canvasses a range of recruitment and talent sourcing solutions for its employer clients.
The online job ad market in China is at a nascent stage of development compared to Western markets. JOBS makes efforts to educate employers about the benefits of online job ads: they are cheap, enable access to a larger pool of job seekers relative to any other channel in China, and have a ROI that is multiples higher than alternative recruitment options (such as newspapers, job fairs, or headhunters). Despite impressive historical growth and being the market leader in China alongside Zhaopin (owned by SEEK), there is still a very long runway of growth ahead for JOBS.
The chart below shows how despite being the market leader, JOBS's penetration of total online employers in China is still relatively low. In addition, there is the potential for a rising proportion of Chinese businesses to advertise job ads online over time.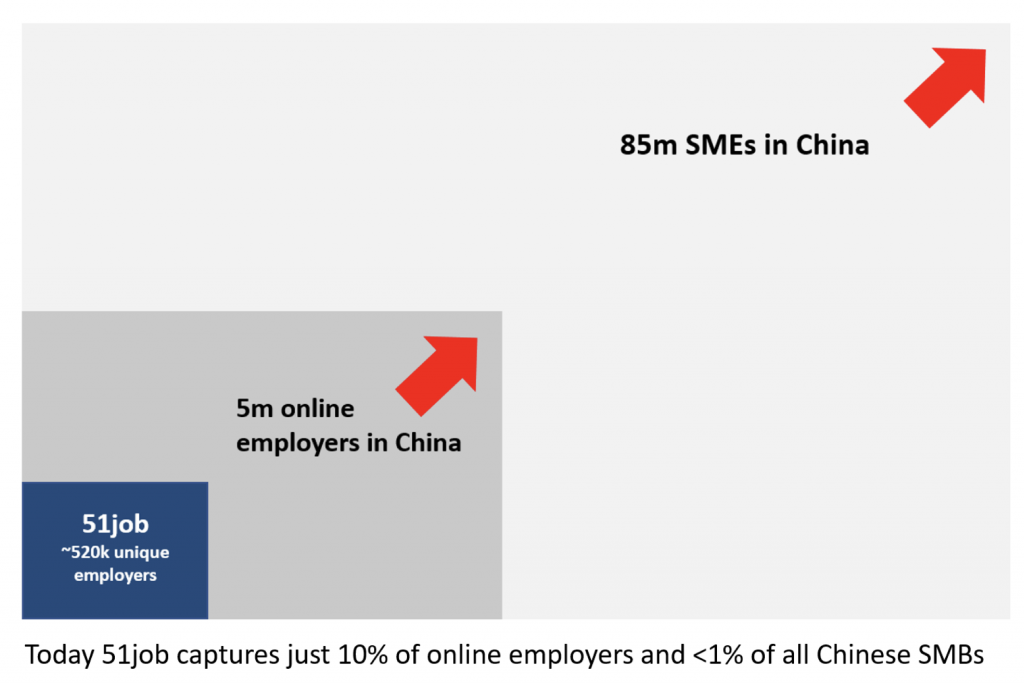 JOBS offers immense value to its employer clients, but they are charging an incredibly small sum for its services. An introductory monthly package that allows an employer to list 20 job ads on 51job's platform has historically cost RMB 600 per month, which works out at roughly A$6 per listing. This is pocket change for even the smallest firms looking to source talent, and this disconnect between the value offered by JOBS and the small price it charges customers has always been a very interesting aspect to our 51job investment thesis.
In the 4Q17 earnings result, management confirmed that as of 1 February, 2018, prices were increasing for a number of job ad products offered by 51job. The price increases, which will range between 0 per cent to 45 per cent, represent the first time that JOBS has put through significant like-for-like price increases since 2011. This is important for a number of reasons.
Pricing growth is one of the greatest types of revenue growth (if you can get it), given that it carries virtually no incremental costs. The price increases are thus likely to lead to margin expansion, as JOBS is getting additional revenues without having to incur additional costs. The decision for JOBS to increase prices also supports the view that JOBS has a dominant market position and offers services that are important to its customers. The global funds have been invested in JOBS and the stock has been a strong performer that has contributed to the pleasing returns for our investors.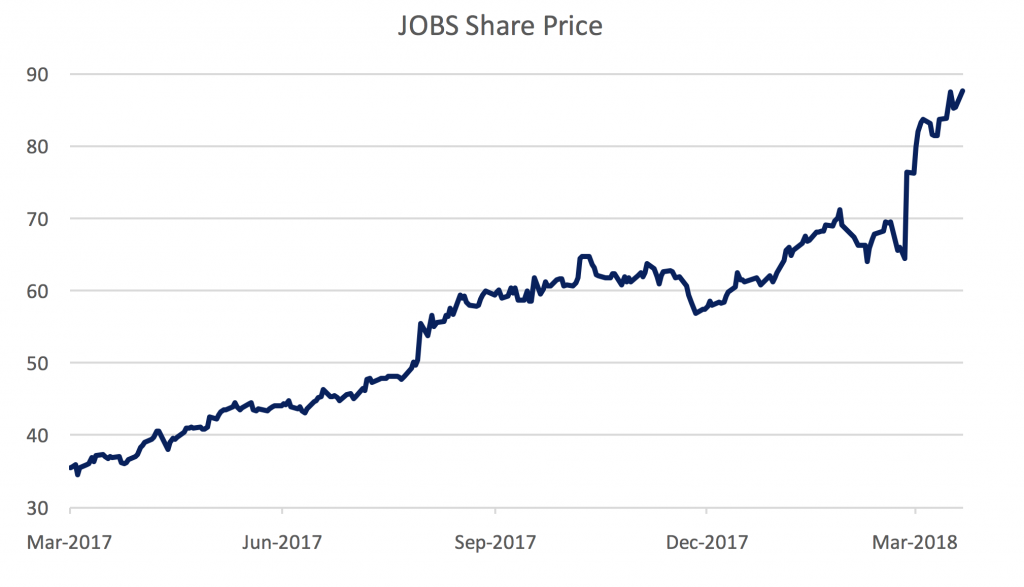 The Montgomery Global Funds own shares in 51job. This article was prepared 28 March 2018 with the information we have today, and our view may change. It does not constitute formal advice or professional investment advice. If you wish to trade 51job you should seek financial advice.