This year we've seen the most synchronized expansion of global economic activity since the GFC. It's certainly helped propel share markets. But with little reaction from the bond market, the goldilocks scenario – not too hot, not too cold – is being priced for perpetuity.
Is this realistic? I don't think so. I can think of six reasons to be wary right now.
The US Tax Plan
Individuals: Seven tax brackets to four; repeal estate tax; eliminate Alternative Minimum Tax; cap mortgage interest deduction at $500,000 while eliminating many itemised deductions.
Corporates: Lower the corporate tax rate from 355 to 20%; repatriation of currently deferred foreign profits taxed at 12%; machinery and equipment to be fully expensed; eliminate many tax expenditures; limit business net interest deductibility to 30%; and move to a territorial tax system.
Estimated cost of the tax package: US$1.5 – US$2.0 trillion.
S&P 500 Price to Sales Ratio; CAPE
The S&P 500 Price to Sales Ratio is up from sub 0.7X in March 2009 to 2.2X today, marginally below the March 2000 peak of 2.35X.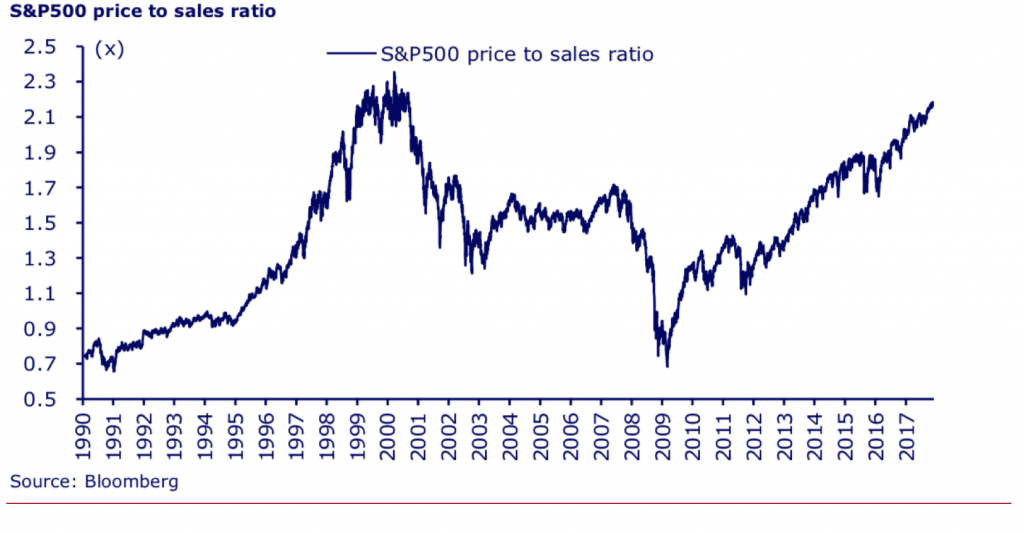 Over the past 135 years, the Cyclically Adjusted PE (CAPE) currently at 32X, has only been exceeded during one episode, and that was in December 1999 at 44X.
High yield rates are at an all-time low
The covenant protection for lenders is disappearing with 72 per cent of all leveraged loans written in 2017 in the US defined as "cov-lite" and this compares to 15 per cent in 2007. Writing loans in an environment where money is extraordinarily cheap is likely to have dangerous long term ramifications.
Banks more generous when money is virtually free
When money is extraordinarily cheap banks are less likely to write off a loan, and are more generous in keeping struggling businesses alive. The "zombie companies" phenomenon, first coined in Japan in the 1990s, is becoming increasingly evident. According to the Bank of International Settlement, over ten per cent of listed firms in developed markets are defined as zombie companies – they have a ratio of EBITDA/ Interest Expense of less than one, and have been around for more than ten years.
Money going into "new" capital-hungry industries
There are currently over 400 electric vehicle start-ups, and with the top five auto companies spending around US$45 billion annually on Research and Development, it seems likely most of the new businesses will repeat the auto experience of one hundred years earlier and fall by the wayside.
$8 trillion (17% of the US$48 trillion of Sovereign Bonds) trade at negative interest
A brief case study reveals seventy per cent of Japan's Sovereign Bonds trade at negative interest rates (two year -0.15%, five year -0.12% and ten year 0.03%), and yet the country has recorded its tightest labour market in 25 years with unemployment at 2.8% and the participation rate at record highs. When will there be a shift in the Bank of Japan's policy of quantitative easing?