IRESS is a company that we love at Montgomery Investment Management and it's been frustrating to watch the company's share price trade at a material premium to our estimate of its intrinsic value. But has its latest acquisition presented an entry opportunity?
IRESS is a supplier of share market and wealth management systems in Australia. The subscription base of its domestic equity platform provides a high level of recurring revenue but growth has matured, and so the company has been seeking to increase earnings by expanding into new markets and developing new products.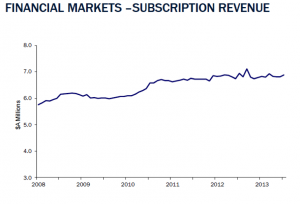 (Source: Company Reports)
The most promising development has been its wealth management platform, XPLAN. The service comprises a range of software tools for financial planners, such as data migration, documentation and client management. Conversely, the company's foray overseas has been rather challenging. The United Kingdom is one market in particular that the company has been trying to tap into, but the strategy has proven unprofitable thus far.

(Source: Company Reports)
Management determined that IRESS could only make an impact in the UK market via acquisition, and it has just announced the purchase of a major competitor, Avelo. The competitor is in a strong position within the wealth management and mortgage origination markets. Avelo's wealth management business mirrors IRESS's existing XPLAN technology by providing software solutions to a long-standing client base of financial advisers and brokers. The Enterprise Solutions business provides software solutions to banks and building societies for mortgage sourcing origination.

(Source: Company Reports)
The acquisition is significant in terms of revenue, and considerably diversifies IRESS's earnings stream by region and segment. The acquisition was designed to penetrate the UK market, and so was not made with the intention of generating synergies. In saying that, there are a number of opportunities that could provide upside risk to earnings:
• Avelo was in the process of developing a wealth management platform to compete with XPLAN. The acquisition means that future expenditure can now be reallocated
• IRESS believes that Avelo's existing assets are underleveraged and can provide immediate scale with new products
• Cost savings may be achieved through reductions in headcount
IRESS expects that the acquisition will improve the company's earnings per share by 10 per cent in 2014. While Avelo is a natural fit for IRESS, the company is also a major player in a mature industry, which makes it difficult to imagine that it will be able to drive materially higher growth than the parent entity. Unfortunately, incorporating this 10 per cent accretion into our estimate of intrinsic value does not justify the company's premium share price.
IRESS is a high quality company that we would love to buy at the right price and hold for a very long time. The acquisition of Avelo solidifies IRESS's earnings profile and certainly makes the company more attractive. But at its current share price we will prefer to wait on the sidelines until we have a better sense of whether the upside delivered by the acquisition can materially bridge the valuation gap.