A key investing theme at Montgomery Investment Management has for some time been the positive financial impact on healthcare companies from an ageing western demographic. Given that the sector is stable and growing, it's a must have, at the right price, in our investment portfolios. Of the invested assets in The Montgomery [Private] Fund, healthcare currently occupies approximately 26%.
People are living longer and the population is ageing. These two powerful forces will continue to result in an ever-growing reliance on, and demand for, products and services that offer better quality of life outcomes.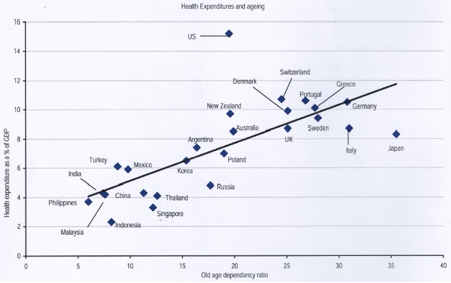 Other managers are running around trying to pick the bottom in sectors linked to mining capital expenditure – forecast to contract 75 per cent by 2017 – but we don't believe that this is value investing, because you cannot determine value confidently and therefore it is speculating not investing. Investing in healthcare when nobdoy else is looking is akin to stepping over foot hurdles, while picking turning points in mining services is akin to stepping on landmines.
Fortunately for Australian investors, there are a number of quality franchises that focus on treating, improving and extending life. CSL, RMD, RHC, SRX, MVP and COH immediately spring to mind, and many of these companies we have owned or still do.
Recently, a new entrant to the listed company space joined the healthcare bunch. Virtus (ASX:VRT) focuses not on extending life but creating it. Although we have since sold our holding, purely on valuation grounds, this is a quality, niche healthcare business and we believe it should be on a wide range of radars for the future.
We thought you might find it valuable to read a few insights about the company, taken from an extract from a much larger paper we drafted in-house for the internal purpose of assessing the opportunity to invest in the IPO.
As always, please be mindful that this post and all its associated comments, contents and the contents of any attachments of images represent general information and do not represent a recommendation to trade in any security. You MUST first seek and take personal professional advice before engaging in any activity in any security. We cannot predict share prices, so are making no statement as to the short term or long-term direction of share prices, nor the investment merit of the company or of the shares of the company discussed.