---
Berkshire By The Numbers
---
| | | | |
| --- | --- | --- | --- |
| | | | |
Over the weekend Berkshire Hathaway, the company that has been under Warren Buffett's stewardship for more than half a century, released its annual report and letter to shareholders. While the annual report contains the financial results of the all Berkshire's businesses for the preceding year, it is Mr Buffett's letter to his "partners" that the financial and media community hang out for. It's usually full of insight and wit juxtaposed with the dryness of the regulatory filing.
Alas, this year's letter didn't turn out to be a blockbuster. So it is with a healthy dose of irony that we found something quite interesting for investors on the very first page – a page whose contents has been presented (albeit updated) 53 times.
Each year Buffett's standard prelude to his letter to Berkshire shareholders is a table of numbers entitled "Berkshire's Performance vs. the S&P500". The table is reproduced below and sets out the annual change in the value of Berkshire's book value (per share), Berkshire's share price, and the S&P500 (a measure of the change in value of the top 500 US stocks, including share price movements and dividends). Buffett shows these returns for each year since "present management" (i.e. Buffett) took over Berkshire.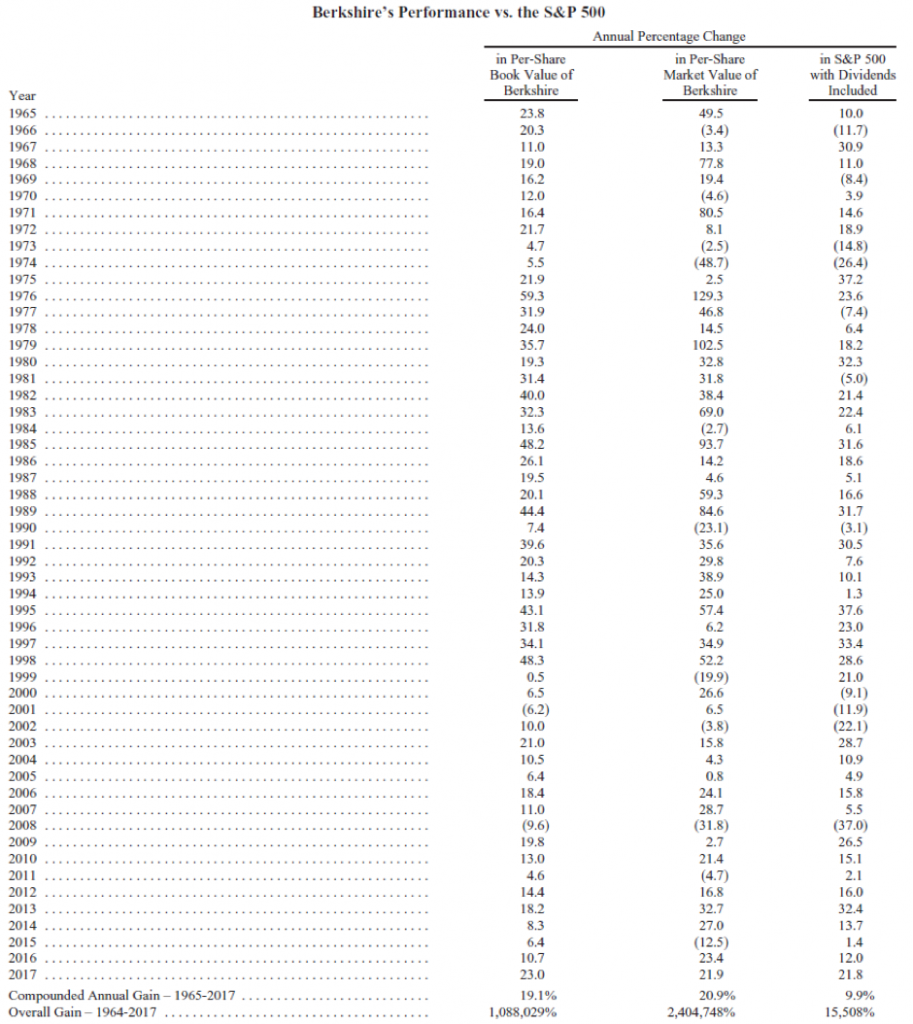 A couple of (obvious) points are worth noting about Berkshire's performance:
Berkshire's share price has outperformed the S&P500 considerably since the beginning of 1965.
In fact, the value of Berkshire's share has been multiplied by more than 24,000 times in 53 years compared to less than 160 times for the S&P500.
This astronomical gain equates to an annual average compounded rate of increase of around 21 per cent compared to 10 per cent for the S&P500.
But there is a less obvious – and just as important – point that we would like to make about Berkshire's returns compared to the S&P500: Berkshire has generated its returns with relatively low correlation to the market. In fact, the correlation between Berkshire and the S&P500 has been just 50 per cent since Buffett took the helm! As a frame of reference when we performed a correlation analysis* on the numerous managers of global equities in the Australian marketplace we found that over 80 per cent of them were more than 80 per cent correlated with global equity index, and half were more than 90 per cent correlated with global share market performance.
So aside from just wanting to be invested in a flat-out home run for 5 decades, investors in Berkshire would have had the added benefit of lowering their overall portfolio risk profile as Buffett generated returns that are so different from the market.
*Note: manager returns in Australian dollars were sourced from Morningstar and we made adjustments to estimate the US dollar returns. We did this to remove the distortions created by currency fluctuations in an effort to determine the true underlying correlation of performance.
You can view the full letter here.
---
---
---
---