---
Investors Vomit All Over Snap's Earnings, Again
---
| | | | |
| --- | --- | --- | --- |
| | | | |
Evan Spiegel, the CEO of Snap Inc. (NYSE: SNAP) has proven once again that he does a better job as Facebook's (other) Head of Product than as the chief of the "camera" company that he co-founded. Snap reported its third quarter earnings last week and once again disappointed expectations, sending the stock down as much as 20 per cent. The stock is now trading well and truly below its IPO price of $17, and serves as another stark warning against getting caught up in the IPO hype.
The maker of the Snapchat app and the Spectacles has had a rough time since it went public back in March. Beyond having its best product features slavishly copied and better-implemented by Facebook's Instagram, the young company's growth is falling off at a time when it is trying to redesign both its hard-to-use app and its unsustainable business model. Revenue for the third quarter came in at $208 million or 12 per cent below Wall St estimates, and its net loss nearly quadrupled year-over-year to -$443 million.
Investors might be able to forgive mounting losses at a young tech company if top-line growth is accelerating, but Snap's growth is rapidly decelerating off a small base. The company added 4.5 million daily users in the third quarter for a total user base of 178 million, well below the 8 million increase expected by Wall St analysts. Sequential user growth of less than 3 per cent marks the slowest quarter-on-quarter growth rate in the company's short history. Consider that Instagram's Stories feature, which Facebook copied from Snapchat Stories, now has over 300 million users.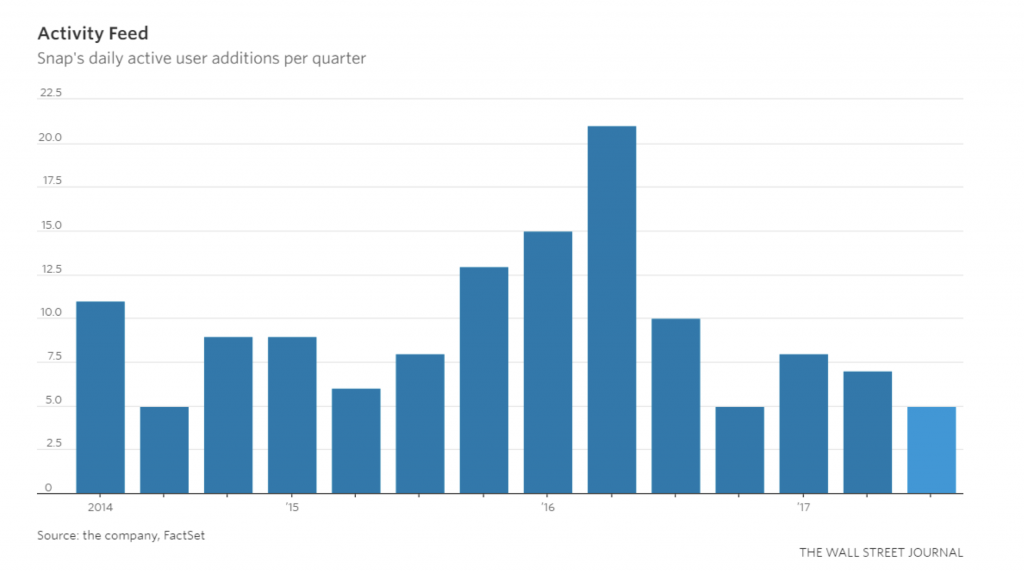 One of the key selling points of the Snap IPO was that Snapchat commanded the attention of teens and 20-somethings who were too "cool" for Facebook, and thus would be a treasure trove for advertisers trying to target this demographic. When Snap listed earlier this year, it still generated most of its revenue from a direct sales model, which allowed for premium (or "experimental", as it turns out) pricing but limited operating leverage, as additional sales staff were needed to drive ad sales. Now that Snap is transitioning to a programmatic ad-buying model, it is discovering just how ephemeral its advertisers' willingness to pay is – ad prices fell 60 per cent year-over-year even as the number of advertisers using programmatic buying increased fivefold through the quarter. So not only is Snap's user growth decelerating rapidly, its pricing power appears to be evaporating even faster.
And as for Spiegel's proclamation that Snap is a camera company, the company recorded a $40 million write-down on its excess inventory of Spectacles, the once-cool and now uncool video-recording sunglasses. Seems like it takes more than vision to make a successful hardware company.
---
---
---
---