---
GE's A La Carte Earnings Menu
---
| | | | |
| --- | --- | --- | --- |
| | | | |
Upon opening GE's (NSYE: GE) quarterly earnings press releases, the first thing that readers see on the top half of the first page is the below image. What may strike first-time readers as unusual is that GE seems to report three different earnings per share (EPS) numbers. In fact, GE explicitly reports four different EPS numbers, hints at a fifth, and leaves prudent investors to calculate a sixth number.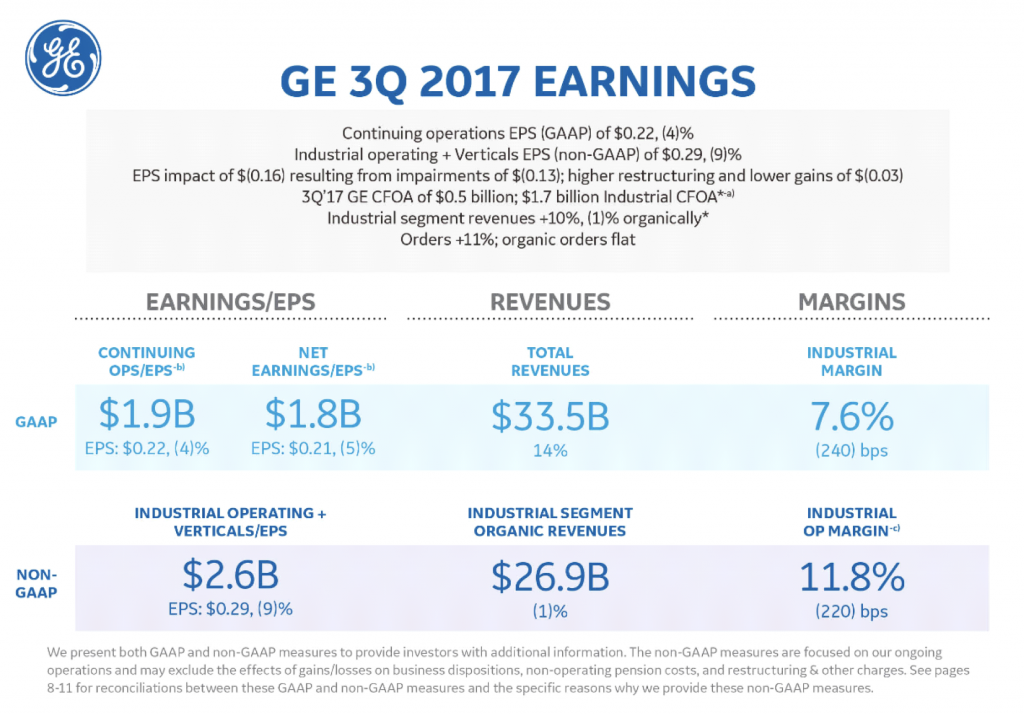 We often come across businesses where management have been excessively liberal with their definitions of "non-GAAP EPS" but GE certainly takes these earnings shenanigans to the extreme.
Let's start with what is GAAP? Generally Accepted Accounting Principles is a collection of commonly-followed accounting rules and standards for financial reporting.
GE's complex and opaque accounting, and the use of numerous different earnings measures, have long been a source of complaint from investors and analysts. Now, with performance deteriorating (stock price down -35 per cent YTD) and activist investor Trian Fund Management agitating for change, management may finally be compelled to reduce complexity and report fewer potentially confusing non-GAAP metrics.
For now, GE reports the following EPS numbers:
Stock-standard EPS under generally accepted accounting principles (GAAP).
EPS from continuing operations (GAAP). This measure excludes the earnings impact of operations that have been classified as discontinued on the balance sheet.
Industrial operating EPS (non-GAAP). This measure excludes i) non-operating pension costs, and ii) earnings or loss per share generated by the GE Capital business. The exclusion of "non-operating" pension costs is potentially misleading because this is a real cost of GE's unfunded pension liabilities, which stood at US$31 billion at the end of 2016. The exclusion of the non-operating components of the net periodic pension cost is equivalent to excluding the interest cost on debt drawn for share buybacks, because share buybacks are not an operating activity.
Industrial operating & Verticals EPS (non-GAAP), which is the previous Industrial operating EPS, plus the earnings from the profitable units of GE Capital that management intend to keep, but excluding the losses from the unprofitable units of GE Capital that management intend to eventually sell, but haven't gotten around to classifying as "discontinued" yet.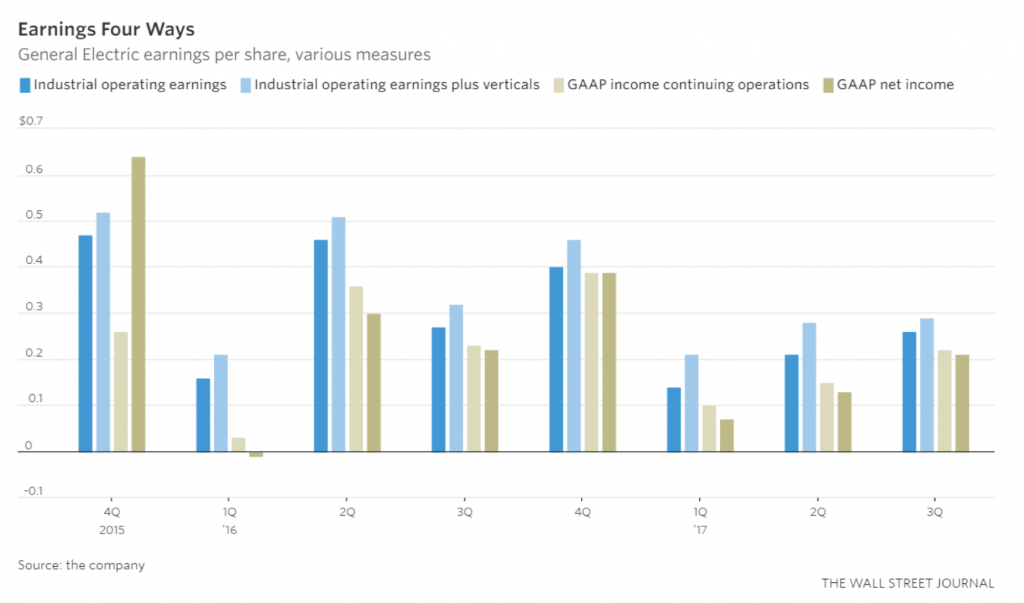 As if that isn't enough, the third line of the press release (see image at top) mentions a negative EPS impact of $0.16 due to impairments, higher restructuring costs and lower gains. Management is hinting that you should add this incremental $0.16 to whichever of the above four EPS measures you decide to use, and most careless investors probably would without bothering to verify the number.
It is common practice for companies to add back impairments and restructuring costs to their non-GAAP earnings on the premise that these are non-recurring costs that distort the underlying performance of the business. But GE's disclosure is misleading for two reasons: i) the $0.16 is the incremental negative EPS impact over 3Q 2016 restructuring costs – impairments and restructuring costs in the most recent quarter were actually $0.21 compared to $0.05 in 3Q 2016, hence the $0.16 impact; and ii) the line mentions "lower gains" but the numbers don't include any gains. (As an aside, it is up to the investor to determine if such "non-recurring" costs are truly non-recurring – some companies report "restructuring costs" every year for years on end!)
Finally, to do the non-recurring adjustments correctly, we must exclude the abovementioned gains on sale of assets, as these likewise distort the underlying performance of the business. But readers won't find the EPS impact of gains on sale in the press release – they would have to turn to slide 8 of the earnings presentation, a separate document, to find that there was a $0.21 gain on disposal of an asset. To the extent that an investor added $0.21 of non-recurring impairment and restructuring costs to GE's 3Q 2017 EPS, he would have to deduct a non-recurring $0.21 gain on sale – for a net effect of zero in this quarter, but could have a material impact in other quarters.
---
---
---
---